The Indian Institute of Management's (IIM) selection criteria is different for each & every IIM institute depending on the CAT score and academic requirements. IIM selection criteria changes on the basis of the yearly performance of the institute and admission statistics of the previous year. The admissions at IIMs for the session 2022-24 will depend on the evaluation of the CAT 2021 exam. In this, the article you can check out the IIM Admission/ Selection Criteria 2022-24. CAT 2021 result is expected to be released in 2nd week of January 2022.  
The selection process of IIM will be started once the result of CAT 2021 are out. You should note that is a separate selection criterion for all the IIMs that can be checked from their official website. You can also check the detailed analysis of CAT 2021 and CAT 2021 cutoff to calculate your chances of getting selected at any IIM. You can also predict your CAT percentile 2021, through our CAT Percentile Predictor 2021. 
IIM selection procedure 2022-24 will depend majorly on CAT score as the initial round of selection is done on the basis of CAT sectional and overall percentiles. Get the latest news and updated related to CAT!
IIM Selection Criteria and PGP Seats
Check the table provided below to know the selection criteria of IIMs and the total PGP seats available at the IIMs
| | |
| --- | --- |
| IIMs Selection Criteria | Total Number of Seats |
| | 395 |
| | 400 |
| | 460 |
| | 500 |
| | 450 |
| | 375 |
| | 240 |
| | 240 |
| | 180 |
| | 240 |
| | 260 |
| | 260 |
| | 60 |
| | 120 |
| | 185 |
| | 120 |
| | 160 |
| | 120 |
| | 140 |
Also Read: CAT Important Dates: Check Dates for Registration, Admit Card, Exam & Result Dates
Stages of IIM Admission and Selection Process
The admission/ selection process of IIMs is divided mainly into three steps as provided below
Stage 1: Shortlisting of candidates on the basis of their CAT exam score
Once the CAT results are out, candidates will be selected on the basis of their CAT scores. They will be invited to apply for the WAT/GD-PI round by each IIM. Candidates need to submit their name and CAT scores while applying for WAT/ PI round.
Stage 2: Written Ability Test and Personal Interview: 
Candidates will have to perform well in WAT, PI and GD rounds to get selected for the next round. These rounds will test the leadership qualities, personality, intelligence, knowledge and communication skills of the candidates. 
Stage 3: Calculation of Composite Score and Final Selection
In this stage, a final selection list will be prepared after considering the candidates' performance in WAT, PI, CAT exam, Work Experience, Diversity and Academic Records of the candidates. 

Candidates who get selected for admission will be informed about their selection via mail. They will then have to confirm their admission by filling up the offer acceptance form and paying the requisite admission acceptance fee (adjustable in the first instalment of tuition fee). Those who fail to submit the admission acceptance fee before the deadline will be considered uneligible and their seats will be passed to the next deserving candidate. IIM also offer a facility of deferring admission through which the candidates who want to earn some experience before pursuing the PGP course are allowed to postpone their admission for up to a maximum of two years. 
IIM Admission Process: Important Points to Remember
Some of the important points that the candidates must keep in mind during the selection process are listed below
Candidates who get selected for WAT/ PI round will be informed via mail after the result declaration
Candidates need to apply for the interview call. After which, the college will inform the candidates about their selection
Candidates need to participate in WAT/GD-PI to get selected for the final phase of admission 
IIM Admission Process on the basis of CAT
The step-wise process to get admission in IIMs on the basis of CAT can be checked from the infographic provided below.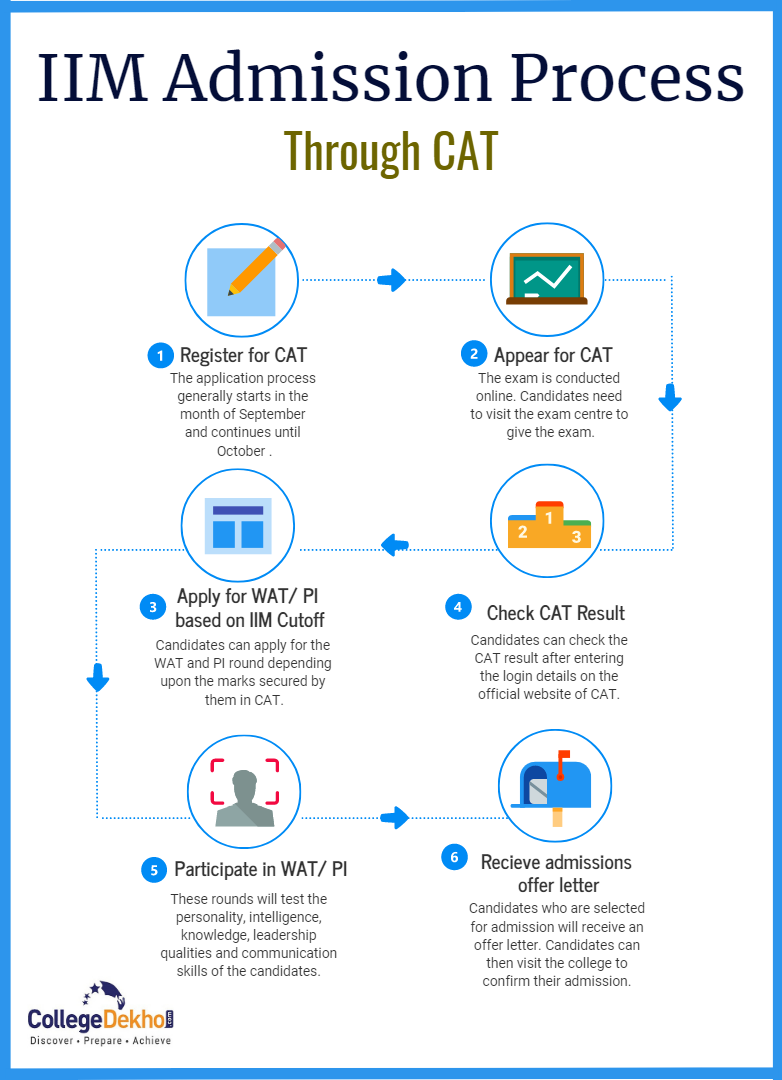 IIM Eligibility Criteria
The eligibility criteria of IIMs will as CAT eligibility criteria i.e 50% marks in graduation. Those who are eligible to apply for CAT are also eligible to ger admission in IIM. However, there are some additional requirements that the candidates must meet to get admission in IIM. The IIM eligibility criteria are provided below.
Candidates need to meet the shortlisting cutoff to get eligible for IIM interview call
Those who have satisfied the minimum cutoff of IIM need to satisfy the call cutoff of IIM to have higher chances of getting a call from IIM
Candidates who are appearing for the final year of graduation are also eligible for admission. These candidates will have to submit their passing certificate along with other documents before the date decided by the college. 
Also Read: IIM Cutoff 2021: CAT 2021 Cutoff for IIMs Section Wise & Category Wise
IIM Admission Status 2021
IIM admission status for 2021 will be updated below as soon as information will be available.
| | |
| --- | --- |
| Name of IIM | Admissions Status |
| | To be Announced |
| | To be Announced |
| | To be Announced |
| | To be Announced |
| | To be Announced |
| | To be Announced |
| | To be Announced |
| | To be Announced |
| | To be Announced |
| | To be Announced |
| | To be Announced |
| | To be Announced |
| | To be Announced |
| | To be Announced |
| | To be Announced |
| | To be Announced |
| | To be Announced |
| | To be Announced |
| | To be Announced |
Also Read:Common Admission Process (CAP) for IIMs
If you are targeting IIMs, it is important to realise that scoring a high CAT percentile is not enough. You will also require an impressive profile in order to get a call from either of the IIMs. This means that you must have a good academic background as well as quality work experience.
Performance in the personal interview (PI), group discussion (GD) and writing ability test (WAT) also play an essential role in the selection procedure. Candidates must also note that IIMs give points for gender diversity to maintain a balance on campus.
Applicants must keep IIM Selection Criteria 2022-24 in mind while targeting for colleges and preparing for CAT 2021. Those who have any doubt regarding the admission process of IIM can ask questions on the Collegedekho QnA zone. Besides this, those who are interested in admission to any top B Schools in India can fill our Common Application Form. 
Related Articles