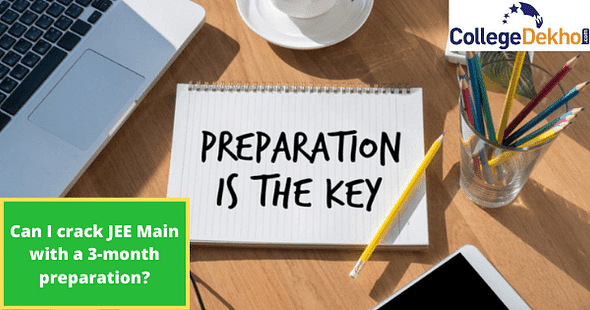 Can I Crack JEE Main 2024 With 3 Month Preparation Strategy? The Joint Entrance Exam (JEE) Main is one of the most important engineering entrance exams in India. Most of the colleges accept JEE Main scores for admission in Engineering colleges. Due to the high competition, students face a lot of difficulties in cracking JEE Main 2024 exam. Around 2 lac students appear across the country. It is the dream of every candidate to get themselves into the IITs and NITs. You need to prepare according to the 11th and 12th syllabi. There is always pressure on the students if there is a year gap. So, it is always advised to the students not to waste a year in between. A three-month study plan for the students along with the important topics of Mathematics, Physics, and Chemistry are discussed below.

NTA will release the JEE Main Application Form 2024 for Phase 1 tentatively in the first or second week of December 2023. The JEE Main Phase 1 exam 2024 will be held from January 24 to February 1, 2024, and the Phase 2 exam from April 1 to 15, 2024. The JEE Main 2024 Admit Card will be issued to the registered candidates only. 

LATEST: JEE Main 2024: Here is when application form is expected
Important topics of JEE Main 2024 Mathematics
The important topics for JEE Main Mathematics are:
Quadratic Equations and expressions
Complex numbers and probability
Vectors
Matrices in algebra
Circle
Parabola
Hyperbola in coordinate geometry
Limits
Functions
Continuity and differentiability
Application of derivatives
Definite integral in calculus
Also check: JEE Main 2024 Cutoff for JEE Advanced
Important topics of JEE Main 2024 Physics:
The important topics for JEE Main Physics are:
Fluids
Mechanics
Heat and thermodynamics
Waves and sounds
Magnetics
Capacitors and electrostatics
Optics
Modern physics
Electromagnetic induction
Important topics of JEE Main 2024 Chemistry:
The important topics for JEE Main Chemistry are:
Electrochemistry
Chemical and ionic equilibrium
Mole concept in Physical Chemistry and Organic chemistry
Coordination chemistry and chemical bonding in organic chemistry
Related Links,
JEE Main 2024: Three Months Preparation Strategy
Cracking JEE Main in just three months is a challenging task, but it's not inconceivable with the proper strategy, perseverance, and efficiency.  Following are the points discussed below will be helpful to you if you are eager to crack JEE Main 2024 with a three-month preparation.
Be confident in what you are going to do for the preparation
Understand the JEE Main 2024 exam pattern
Read and analyze the JEE Main previous years' question papers to get an idea about the type of questions asked
Be thorough with the subject-wise weightage to know the percentage of questions that can appear in the exam
Never ignore the syllabus of class 11. Around 40-45% of the questions from the JEE Main syllabus 2024 are based on the class 11th curriculum.
Also, check
 B.  Paper A and Paper B different strategies Preparation:
Paper 1 is for the engineering aspirants
Paper 2 is for the architecture aspirants
The time allotted for both papers is 3hours
The marking scheme is also the same for the papers. For every correct answer, students are awarded 4 marks, and 1 mark is deducted for every wrong answer.
Questions will be asked in MCQs.
Paper 1 is available offline as well as online whereas Paper 2 is available in offline mode.
Also check: What is a Good Score and Rank in JEE Main 2024?
C. Best books for JEE Main 2024
Gather the books and study materials beforehand from seniors or the books suggested by the JEE qualifiers. Online guidance is also available on the websites. Get in touch with some professional coaching centers
Also, check
D. Preparation through daily, weekly, and monthly Planners
Since there are only 3 months left to crack the JEE Main 2024, you have to go by the timetables according to daily, weekly, and monthly schedules. Preparing and maintaining a timetable is very beneficial as you will have a track to walk into. It also helps in accomplishing the short-term and long-term goals of the students. Here is an example of a weekly planner:
Week 1

Physics

Work, Energy, Power, and Gravitation

Chemistry

Solid Staes, and Atomic structure

Mathematics

Coordinate geometry
Similarly, you will have to prepare daily, weekly, and monthly planners.
Also check: JEE Main Preparation for Guaranteed Success
E. Continuous Revision
Revise as much as you can because anything read but not revised is as bad as not read. Try to finish the revision at least 1 month before the final exam.
Also check: JEE Main Vs JEE Advanced
F. Prepare for Mock tests and evaluate yourself
Start giving the exams after you are well prepared. Giving the mock tests unnecessarily will lead to a waste of time and money. Work hard on building accuracy and time management.
Also, check
G. Stay Motivated
Breaks and Rewards - Candidates should take quick breaks during study sessions to rejuvenate themselves from the tiring day due to heavy study schedules. Take enough breaks and reward yourself after every accomplishment.
Stay Hydrated and Eat Good- Drink at least 3L of water every day to stay hydrated. Dehydration can occur which will lead to hindrances in the schedule. The right hydration and nourishment are important for attention and energy. Eat a proportional diet and dodge excessive caffeine or sugary beverages.
Positive Mindset - Always be an optimistic person and believe in your capabilities. You are the best and can achieve any height no matter what. Wrap yourself with supporting companions and family members who inspire you. Avoid Pessimistic people.
Meditation is Compulsory - Practice Meditation or in-depth breathing practices to handle tension and stress. It can improve your focus and mental transparency and also relieve anxiety and hypertension.
8 Hours of Sleep - Adequate rest is important for remembering and overall cognitive process. Without proper rest after a long schedule may lead all the preparation to void. Sleep 7 to 8 hours every day for proper concentration.
Everyday Exercise - Include some form of physical activity in your day-to-day routine. It can help reduce anxiety, elevate spirit, and enhance concentration.
Seek Help When Needed - If you face problems in understanding any topic, never hesitate to ask for help from teachers, seniors, or online platforms.
JEE Main Exam Materials
You can click on the link below to access various exam-related materials pertaining to JEE Main exam -
Follow College Dekho for more articles and updates on JEE Main 2024.