The National Testing Agency (NTA) is responsible for administering the National Eligibility Cum Entrance Test for undergraduate medical admissions in the country. The responsibilities of NTA ends when the results are announced and the all-India rank list is released. After that, Medical Counselling Committee (MCC) begins counselling for All India quota (AIQ) seats, while state counselling authorities handle seats under state quota.
'What is the difference between NEET AIQ and State Quota?' is a common question among students. Here's a detailed review of NEET AIQ vs State Quota with the goal of clearing students' doubts and assisting them in anticipating NEET-UG rank depending on their score.
NEET Seat Distribution 2021
NEET-UG 2021 counselling is divided into two categories: AIQ counselling and state-level counselling. NEET-UG AIQ counselling is conducted by the MCC, whereas state-level counselling is conducted by the respective states.
| | |
| --- | --- |
| Reservation Quota | Percentage of Seats |
| All India Quota Seats (AIQ) | 15% |
| State Quota Seats | 85% |
NEET AIQ vs State Quota 2021
Before diving deeper, let's try to understand and get an overview of what the NEET All India Quota/ 15% Quota and NEET State Quota/ 85% Quota seats are and how they play an important role in the NEET counselling process.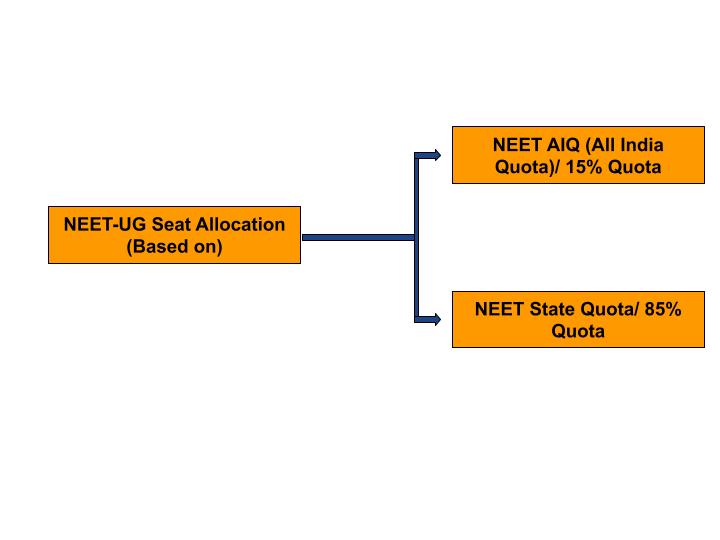 NEET AIQ Counselling 2021
The Directorate General of Health Services (DGHS) conducts counselling for the 15% seats under the All India quota for admission to MBBS and BDS programmes on behalf of the Medical Counselling Committee (MCC). There are various stages to the process. 
Seats in Deemed and Central Universities across the country, ESIC, and AFMC institutes are available through AIQ. Under this quota, 15% of the total seats in government colleges are filled by the AIQ, while the remaining 85% seats are reserved for state quota seats. The Medical counselling for AYUSH seats in the All-India quota is conducted by the AYUSH Admissions Central Counseling Committee (AACCC).
Admission to MBBS is considerably higher in the All-India quota than in the state-level quota. Candidates who score well in the NEET-UG exam can apply for MBBS admission in a variety of states through the AIQ quota. Admission is solely based on a candidate's performance in the NEET-UG 2021 exam.
Who Can Participate in NEET AIQ 2021?
All the Indian Nationals, Overseas Citizens of India, NRIs and Persons of Indian Origin are eligible for AIQ seats.

J&K, Telangana and Andhra Pradesh are the states that have opted out of the counselling.

If candidates from these states wish to participate, they must furnish a self-declaration form. 
NEET AIQ Reservation Policy 2021 
Only 15% of All India Quota seats are subject to the NEET 2021 Reservation regulations, whilst State Government seats are subject to the State Government Reservation policies.
A total of 15% of seats are reserved under the All India Quota, which follows to MCC's quota policy. The following are the various categories that reserve certain seats:
15% seats are reserved for SC candidates,

7.5% seats are reserved for ST candidates,

27% seats in Central Educational Institutions are reserved for OBC

5% for PwD category candidates.
Also Read: Admission to Top MBBS Colleges: Eligibility, Entrance Exams & Scope
NEET State Quota Counselling 2021
There are 85% of seats that are filled under the State Quota. The Quota seats are available to applicants from the corresponding states. After considering several factors such as the number of seats in the state's medical colleges, the NEET cut-off, and the types of students seeking admission to medical and allied programmes, the respective state counselling authorities publish merit lists for admission to the 85 per cent state-quota seats.
In each Indian state, candidates who live in the state have access to 85 per cent of the total medical seats (government).

The respective state specifies eligibility requirements and reservation procedures for admissions under state quota seats before commencing the counselling process.

In several states, specific laws apply to corresponding categories for seat reservation in MBBS/BDS programmes.

Admissions to medical courses in private medical colleges would be governed by state authority regulations.
Who Can Participate in NEET State Quota Counselling 2021?
Here are some examples that would help you understand the eligibility criteria for NEET State Quota Counselling better. 
Example 1: If a student belongs to the domicile of Karnataka, he/she can aspire for 15% AIQ and 85% state quota of Karnataka. If the student is unable to get admission under AIQ due to higher cutoffs, the chances of securing admission in top medical colleges under the state quota are high. As different states individually release a rank list for MBBS admission based on NEET rank, a student securing 100+ rank in AIQ has chances of securing less than 15 ranks in the state quota. 
Example 2: If a student belongs to the domicile of Maharashtra and his/ her AIQ is 1,000+, the chances of securing admission in top colleges under the All-India Level (15%) is limited. However, in the state rank list of Maharashtra, the student has chances of securing a state rank between 300-400. In such cases, admission to top MBBS colleges in Maharashtra can be possible. 
As state-level counselling begins after the conclusion of Round 1 AIQ, candidates are advised to participate in both levels for better admission chances. If you are not able to get admission under AIQ, an 85% state quota will be the best option. 
Also Check:-
​List of Colleges Based on NEET AIQ Rank 
State Wise MBBS Admission
Stay tuned to CollegeDekho for more updates and information!