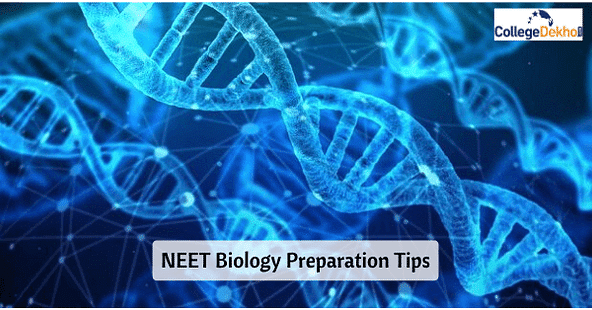 The NEET UG 2023 Exam (National Eligibility cum Entrance Test ) is the most important of all the medical entrance exams in India. The national-level entrance exam is conducted every year, where lakhs of students aspiring to pursue a career in the medical field appear to compete for admission to MBBS (Bachelor of Medicine and Bachelor of Surgery) and BDS (Bachelor of Dental Surgery) seats in various Top Medical Colleges in India. The NEET 2023 exam is all set to be held on May 7, 2023. Candidates can begin preparation accordingly. 
NEET 2023 Exam Pattern comprises three sections in which questions from Biology (Zoology and Botany), Physics, and Chemistry are asked. Biology makes up a major part of the exam and as per the observations made in the past few years, there has been a rise in the difficulty level of Biology in NEET. This article provides all NEET 2023 aspirants with the NEET 2023 Preparation Tipsfor Biology. Students aspiring to pursue their careers as a doctor or a dentist through NEET and secure a seat in a good medical college can refer to this post to better understand how to prepare for NEET Biology 2023.

Also Read: NEET UG 2023 City Intimation Slip
NEET Biology 2023 Preparation: Exam Pattern
The pattern of NEET 2023 will be the same as it was last year. The Biology section will comprise 90 questions – 45 questions from Botany and 45 from Zoology. Each question carries 4 marks, which means the total marks allotted to Biology are 360. The remaining 360 marks are allotted to Chemistry and Physics. A detailed look at the exam pattern below will prove to be of great assistance during the Biology preparation of NEET:
Subjects

Sections

Total Questions

Total Marks

Total Duration

Chemistry

Section A + Section B

35 + 10

140 + 40

3 hours

20 minutes

Physics

Section A + Section B

35 + 10

140 + 40

Biology (Zoology)

Section A + Section B

35 + 10

140 + 40

Biology (Botany)

Section A + Section B

35 + 10

140 + 40

Total

180

720
Also Read:

NEET Biology 2023 Preparation: Syllabus
The preparation of any subject begins with complete knowledge of its syllabus for the examination concerned. The Biology portion in the NEET 2023 exam consists of two sub-subjects – Zoology and Botany. Now that the exam is just around the corner candidates can have a look at the complete NEET UG Biology Syllabus below:
| | | |
| --- | --- | --- |
| Units | Topics from Class 11 Curriculum | Topics from Class 12 Curriculum |
| 1 | Structural organization – Plants and Animals | Genetics and Evolution |
| 2 | Cell Structure and Function | Biology and Human welfare |
| 3 | Diversity in the Living World | Reproduction |
| 4 | Human physiology | Ecology and environment |
| 5 | Plant Physiology | Biotechnology and its applications |
NEET 2023 Biology Chapter-wise Weightage & Important Topics (Zoology and Botany)
To study Biology for NEET 2023, candidates must first ascertain all the important topics from both the sub-sections of Botany and Zoology, the weightage they have, and the books which they must use for preparation. It has been said by many that Animal and Plant Anatomy are slightly more confusing among all the topics, therefore they require rigorous practice. Apart from that, Ecology, Human and Plant Physiology, Cell Biology, Human Physiology, Biomolecules, and Biotechnology are topics that carry a lot of weightage. The important topics and weightage are listed below:
Important Topics

Avg. Number of Questions Asked in Exam

Weightage Percentage

Zoology (50%)

Human Health & Diseases

3

9%

Animal Husbandry

1

3%

Origin & Evolution

3

10%

Human Reproduction & Reproductive Health

5

18%

Human Physiology

13

45%

Structural Organization in Animals

1

2%

Animal Tissue

1

3%

Animal Diversity

3

10%

Botany (50%)

Ecology

10

16%

Biology in Human Welfare

1

2%

Genetics & Biotechnology

15

24%

Plant Reproduction

5

9%

Plant Physiology

8

13%

Bio-molecule

2

3%

Cell Biology & Cell Division

6

10%

Plant Morphology

4

7%

Plant Anatomy

2

4%

Plant Diversity

7

12%

Also Read: What is a Good Score for NEET UG 2023?
How to Prepare for NEET Biology 2023?
Every subject requires a different technique of preparation and the exam for which it is being studied also has a major role to play in its preparation strategy. Some simple and necessary steps that have to be taken while preparing for Biology for NEET 2023 are provided here. Candidates preparing for NEET 2023 can take help from these tips to ace their Biology preparation for the exam.
Work Out a Timetable 
One of the first and most important steps before starting the NEET Biology preparation is devising a doable timetable. Students must plan their studies beforehand and go about the details gradually. Making a schedule or a timetable for proceeding with your Biology preparation is extremely important. Students should make a timetable for regular studies and allot time to all the topics of the subject according to their understanding. However, the benefit of such a schedule can only be availed if the student sticks to it and follows it without fail. They must ensure that they study every day as per the schedule that they have devised.
Prioritize High-Weightage Topics 
Choosing a convenient and helpful preparation strategy is another important step that students must never forego. It is always considered wise to pick up those topics and chapters which carry high weightage. Some topics take more time for preparation than others and some need to be memorized better. Focusing more on topics from which a decent number of questions are asked in the exam is considered a wise move as it helps to increase the chances of scoring significantly more marks.
Refer to the Right Books 
Consulting good books from reputed authors and publications is essential because students must refer to content that is correct and valid. There are some renowned authors whose books are studied by all NEET aspirants preparing for Biology. A lot of focus is given to NCERT books when studying for the NEET exams as these contain a detailed account of concepts, explanations and theorems for clarification and basic understanding. 
Learn the Tips and Tricks  
Making tables, charts, and personal notes prove to be quite helpful while preparing for NEET Biology section. As the subject is a theoretical one and there are a lot of topics that need to be memorized by students, it becomes convenient if they prepare notes and tables of those topics. Breaking such chapters into smaller sections and fragments gives much more clarity and the student can then retain the information easily for much longer. The usage of different colours of inks, highlighters, flowcharts, bulleted lists, etc. is of great assistance in making such notes.
Revise Regularly 
Regular revision is mandatory while preparing for NEET 2023 Biology. Only with frequent revision, students can memorize all the theoretical parts of the subject clearly. Revising daily helps to ensure that the course content stays fresh in the memory of students and they can also keep track of their progress in the subject. 
Opt for Mock Tests Daily 
Taking mock tests is crucial in ensuring top-notch preparation for NEET Biology. Students must take as many mock tests as possible before they appear for NEET 2023. Practising mock tests helps the candidates in gauging their preparation and performance while learning the skills of time management. It also gives them an understanding of the type of questions that will be asked in the exam. The candidates get to know which topics they have to focus on more than the others and the approaches they should apply to certain questions. Mock papers and old questions papers prepare the NEET aspirants for giving the exam.

Also Read: NEET 2023 Marks vs Rank
Experts' Tips for NEET 2023 Biology Preparation 
When it comes to competitive exams, the best way to go about it is to seek guidance from the experts. They can help you with some last-minute tricks to nail your preparation and ensure that you score the maximum marks in NEET 2023. Keeping that in mind, here we bring you some word of wisdom from the NEET toppers and experts themselves:
Start your revision with the topics that are elaborate and more challenging and then proceed to the easier ones

Time yourself when solving papers and taking mock tests

Seek guidance from online videos and lectures by the experts to clear doubts

Prepare a flowchart of all the formulae and diagrams, use coloured pens and markers to highlight them – that will catch your attention and help you memorize them better

Seek guidance from educational apps and online quizzes to learn and revise concepts on the go. 

Remember that NEET is a time-based exam, so the trick is to attempt the questions that appear easy to you first and then move on to the harder ones.

Weeks prior to the exam are going to be stressful but keeping up with good health and relaxing the mind is just as much important. So, make sure you are eating healthy and getting enough rest and sleep. 
Also Check: Class 12th CBSE Result
NEET 2023 Biology Preparation: Best Books
Since the NEET Biology syllabus mainly comprises chapters and topics from Classes 11 and 12, preparation is mostly done through books to cover the theoretical parts. Therefore, choosing the right and good books has an important role to play in NEET 2023 preparation for Biology. It is advised that instead of juggling between multiple books and study materials, NEET aspirants should mainly refer to NCERT textbooks as they cover the major portions of the syllabus, and have all the basic concepts and theories explained perfectly for the ease of understanding.
Going by the previous trends, it is seen that the majority of the questions in the NEET exam are asked from NCERT books. In addition to that, students are also recommended to refer to other books that are focused on objective-type questions. Some of the best books NEET 2023 Biology are listed below: 
| | |
| --- | --- |
| Name of the Book | Author/Publication |
| NCERT Biology (Classes 11 & 12) | NCERT |
| Biology Volume 1 and Volume 2 | Trueman |
| Objective Botany | S. Ansari |
| Objective Biology | Dinesh Pandey |
| Biology | G R Bathla Publications |
| Guide on Biology | Pradeep |

CollegeDekho also has you covered when it comes to the best books for Physics and Chemistry. 
Biology consists of half the total marks in the NEET exam and it is also the easiest of the three subjects to score. That is why most students aim for 300+ marks in NEET Biology. These tips and preparation techniques will definitely help all NEET aspirants to prepare for NEET 2023 Biology in a better way. NEET can be aced with regular practice and rigorous hard work while also having a good understanding and grasp of the syllabus. NEET 2023 Mock testsand NEET Previous Years' Question Papers also sweeten the deal. 

Must Read: 
Stay tuned to CollegeDekho for more news and updates regarding NEET 2023 exam and its preparation. You can call us at 1800-572-9877 or post your queries in the QnA section, and our experts will address them right away.