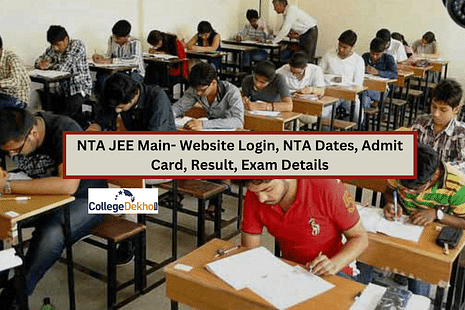 NTA JEE Main 2024 - The Joint Entrance Examination (Main), also known as JEE Main, is the exam conducted by the National Testing Agency (NTA). The national-level entrance exam is conducted to shortlist candidates for admission to B Tech, B Arch, and B Plan courses at the National Institutes of Technology (NITs), Indian Institutes of Information Technology (IIITs), and other Government-funded Technical Institutes (GFTIs). The JEE Main Session 1 exam dates are January 24, 25, 27, 28, 29, 30, 31, and February 1, 2024. The second session of JEE Main 2024 will be held from April 1 to 15, 2024. Candidates willing to appear for the exam must go through the JEE Main syllabus 2024 thoroughly. 

NTA is conducting the JEE Main Application Form Correction 2024 process at jeemain.nta.ac.in from December 6 to 8, 2023. The JEE Main 2024 Registration for Session 1 was concluded on December 4, 2023. The application form for JEE Main 2024 Session 2 is scheduled to be released on February 2, 2024. 

Latest: JEE Main Application Form Correction 2024 begins today for Session 1
What is NTA JEE Main Exam?
JEE Main exam is a prerequisite for the Joint Entrance Examination (Advanced), which is required for admission to the Indian Institutes of Technology (IITs). Every year, the National Testing Agency (NTA) administers the test in different sessions. The test is held in 13 languages in all of India's states as well as numerous other places. 
As per the exam pattern of JEE Main 2024, the national level exam will consist of three papers: Paper 1 for admission to BE/ BTech courses, Paper 2A for admission to B Arch courses, and Paper 2B for admission to B Plan courses. Candidates have to answer multiple-choice (MCQ) and integer value (Numerical Value Answer) questions in all three papers. Paper 1 will include 90 questions, with Paper 2A and 2B having 82 and 105 questions, respectively.
What is the official website of JEE Main?
To help candidates with smooth processing, the National Testing Agency (NTA) has launched an official website for the JEE Main exam i.e. jeemain.nta.nic.in. Candidates interested in applying for JEE Main exam 2024 can get all the required information in detail in the information brochure.

NTA JEE Main Login Process
Aspirants will have to register from the official website, jeemain.nta.nic.in by entering their credentials such as their personal details and address to create the JEE Main 2024 login. Candidates can follow the given steps to create a login-
Visit the NTA JEE Main 2024 official website - jeemain.nta.nic.in

Click on the registration link

Enter the requisite credentials

Press the submit button
NTA JEE Main Exam Dates 2024
Candidates willing to take JEE Main exam can check the JEE Main important dates 2024 including the application form, admit card, answer key, and result. The exam dates given below are updated and any further changes will be notified accordingly.
Events

Important Dates

JEE Main 2024 Application form date

January session- November 1, 2023

April session - February 2, 2024

JEE Main 2024 Registration last date

January session - December 4, 2023

April session - March 2, 2024

Release of JEE Main 2024 admit card

January session - January 21, 2024

April session - March 29, 2024

JEE Main 2024 exam date

January session - January 24, 25, 27, 28, 29, 30, 31 and February 1, 2024

April session - April 1 to 15, 2024

Declaration of JEE Main 2024 Result

January session - February 12, 2024

April session - April 25, 2024
NTA JEE Main 2024 Information Brochure
The JEE Main 2024 information brochure or pamphlet covers A-Z data of the Joint Entrance Examination (Mains). The brochure is officially issued by the test administering organization, NTA. Candidates applying for the exam are suggested to read the brochure thoroughly. 
JEE Main Application Form 2024
NTA conducted the JEE Main 2024 registration for Session 1 on the official website from November 1 to December 4, 2023 (late night). The JEE Main application form 2024 for Session 2 will be available at jeemain.nta.nic.in from February 2 to March 2, 2024. 
How to Apply for JEE Main 2024 at NTA Official Website?
The process for filling out the JEE Main application form can be completed in online mode only. The following simple steps will show you how to complete the JEE Main Registration 2024.
Step 1- Go to the official website
Step 2- Select "JEE Main 2024 Registration" from the drop-down menu
Step 3- To finish the registration, fill in the essential information and click the "Submit" button.
After completing the JEE Main registration procedure, aspirants will receive an email and a text message with the application form number and password in their registered email ID and mobile phone number. Candidates should maintain their registration information safe and secure.
Step 4- Candidates will be forwarded to the website where they may fill out the comprehensive application form after completing the registration process. Candidates should supply information about their educational qualifications, parents' information, communication and permanent addresses, and exam centre preferences at this phase
Step 5- Upload scanned passport images
Step 6- Pay the application fee 
Step 7- Following the successful payment of application fees, the application form will be immediately submitted
Candidates must download and print out the completed application form. Candidates should keep the print copy of the application form secure until the admissions process is completed.
NTA JEE Main Admit Card / Hall Ticket
Post completion of JEE Main registration, the NTA will release the JEE Main 2024 admit card in online mode. Candidates can download their admit cards from the official website after they are issued. To download the admit card of JEE Main 2024, candidates have to log in using their login credentials such as registration number and password, provided to them via email or SMS. The NTA will only provide the JEE Main admit card 2024 to those applicants who complete the application form within the deadline. 
The JEE Main 2024 admit card is required for candidates to take the exam; without it, no applicant will be permitted to attend the exam. Admit card for JEE Main 2024 will contain information regarding the exam day and time, the exam centre's address, basic candidate information like as name, photo, and signature, and information about the paper for which you will be appearing. Candidates should print their JEE Main 2024 admit card after downloading it.
How to Download JEE Main Admit Card 2024
Go to jeemain.nta.nic.in to see the official website

Select the link to download the JEE Main admit card 2024

Login with your JEE Main application number and birthdate

The admit card will appear on the screen

Print the document after downloading it
As per the exam pattern of JEE Main 2024, the paper will be conducted in online mode as a computer-based test. While filling out the application form, candidates have the choice to select over 501 locations across India and 25 cities outside India. 
NTA JEE Main Result 2024
Once the exam is conducted, NTA will release the JEE Main 2024 result in online mode. The result of JEE Main 2024 will include details such as the candidate's details, marks secured, All India Rank, and the overall percentile score.
To access their JEE Main result 2024, candidates must log in to the official website using their application number, password, and date of birth to see the JEE Main result. Candidates should download and print their scorecards since it will be necessary during the counselling and admission process.
NTA JEE Main Mock Test 2024 - Steps and Benefits
College Dekho offers JEE Main mock examinations for students to help them understand the question pattern, exam difficulty level, and types of questions that will be asked. As a result, students can strengthen their test-taking abilities and give the exam their all. The JEE Main sample tests will help applicants study thoroughly so that they may pass the JEE Main 2024 with flying colours.
Benefits of JEE Main Mock Test 2024
Solving JEE Main mock exams will help candidates prepare for the computer-based JEE Main exam. Additionally, candidates can obtain JEE Main previous year papers to gain a competitive advantage. Candidates should take free JEE Main Mock Tests for the following reasons:
Taking JEE Main Practice Tests can assist applicants to become familiar with a variety of similar-looking question papers, question patterns, marking systems, and other topics

It will enhance their problem-solving abilities and help candidates save time by increasing their speed and accuracy

Mock examinations can help candidates analyze their strong and weak aspects by allowing them to learn from their mistakes. Candidates may use JEE Main mock examinations to fix their faults and weak areas, as well as strategize appropriately

JEE mock tests are created to assess students' preparedness and assist them in preparing for the exam at their highest level
How to Take NTA's Free JEE Main Mock Tests in 2024?
NTA will shortly offer official mock exam questions for JEE Main 2024. The new sample exams will be based on the JEE Main 2024 exam format, which has been updated. The following are the steps to taking free mock tests:
To begin taking the NTA JEE Main online mock exam, go to nta.ac.in/quiz on the official website.

Candidates should first choose the test for which they are preparing and then a paper for that exam.

Select "Start Mock Test."

No credentials would be required of candidates. Then hit the login button.

General instructions will be given before the start of the NTA JEE Main Online Mock Test. The instructions would assist students in understanding the tasks in the mocks.

Click "Proceed" after making declarations on general directions.

The status of the questions in the fake test would be displayed on the question board on the right side of the screen. To represent the answer state of each question, various colours are used for different statuses.
Answer Status Based on Buttons or Symbols Color
Grey – Unvisited

Green – Answered

Red – Not Answered

Purple – Has been marked for review but has yet to respond.

Purple with a green circle – Marked for review but has been answered
How to Contact NTA JEE Main?
Candidates who are having issues with the JEE Main 2024 application procedure, downloading the admit card, or have general questions should contact the officials using the phone numbers and email addresses shown below:
Address:
Block C-20 1A/8, Sector- 62
IITK Outreach Centre, GautamBuddh Nagar,
Noida-201309, Uttar Pradesh (India)
Telephone Enquiry:
01169227700, 011-40759000