Symbiosis National Aptitude Test (SNAP) is the common entrance exam for admission to the postgraduate courses in Management offered by 15 SNAP participating b-schools affiliated to the Symbiosis International University (SIU), Pune.
SNAP has a total of 3 sections, which cover Verbal Ability, Reading Comprehension, Verbal Reasoning, Quant, Data Interpretation and Data Sufficiency subjects. The revised exam pattern of SNAP 2020 can be checked here.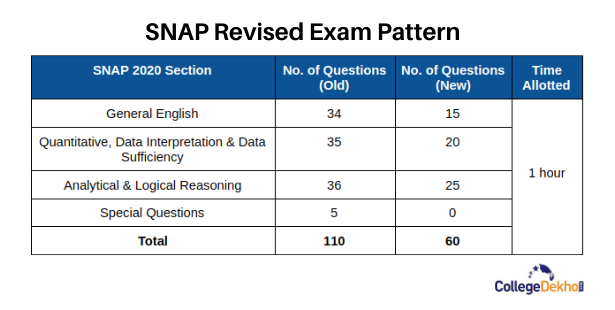 Note: Special Questions are a part of the Quantitative, Data Interpretation & Data Sufficiency section only.
Quantitative, Data Interpretation and Data Sufficiency (QA, DI & DS) are clubbed under a single section in SNAP. The section holds 1/3rd (one-third) of the total marks of SNAP and hence it is very important that candidates have a solid preparation plan for this section.
QA, DI & DS is considered to be the most time-consuming and one of the toughest sections in the SNAP question paper. This is because the section has heavy calculations, which require knowledge of not only basic concepts but also tips and tricks to increase your speed and accuracy.
In this article, we take a look at some of the best preparation tips for QA, DI & DS section of SNAP 2020. However, before that, here is a quick summary of what the section is all about.
SNAP 2020 QA, DI & DS Highlights
SNAP QS, DI and DS section was the longest section in SNAP with 40 questions in total. These included 35 MCQs and 5 Special Questions.
However, Special Questions have been removed from this year's question paper.
The number of questions in QS, DI and DS was reduced to 20 in the revised SNAP 2020 exam pattern but it still has 33.33% weightage in the exam.
The marking scheme is the same as last year. Candidates will get +1 marks for a correct answer and a negative marking of -0.25 for incorrect answers.
Also Read:Tips to Prepare for MBA Entrance Exams: Exam Pattern, Syllabus, Best Books
SNAP 2020 QA, DI & DS Syllabus
Given below are the topics included in the syllabus of Quantitative, Data Interpretation and Data Sufficiency section in SNAP 2020.
HCF and LCM

Number system

Trigonometry

Mensuration

Work and time

Number Base System

Arithmetic mean

Ratios and Proportion

Work, Pipes, and Cisterns

Compound Interest

Geometric Progression

Simple Interest

Averages

Arithmetic progression

Permutations and Combinations

Time-Speed-Distance

Geometric mean

Quadratic and Linear equations

Partnership

Profit and Loss

Percentages

Venn Diagram
Also Read:How to Build Your Profile for MBA Admissions
SNAP QA, DI and DS Preparation Tips
Quantitative, Data Interpretation and Data Sufficiency section tests the ability of a candidate to quickly understand and manipulate the available numerical data to arrive at an answer.
This section will definitely prove to be a bit easier for candidates who have a good knowledge of basic concepts in Mathematics. However, there is a lot more than goes into preparing for this section.
Here are some of the best tips to prepare for QA, DI and DS section of SNAP 2020.
Tip #1: Learn by Practice
Make it a habit to learn formulas and theorems by practice instead of going for rote learning. You should know how to apply a formula to different types of questions. Practising will also help you to find out how to do calculations faster and with better accuracy.
Tip #2: Make Short Notes
While practising, make short and clear notes of frequently used theorems, formulas and calculation. These will provide you with a single source to refer to for your preparation and save you the hassle of searching through the books again and again.
Tip #3: Learn To Manage Time
Solving questions is one thing but feeling the pressure when racing against the clock is another. Time management is central to QA, DI and DS as students frequently report this section to be the most time-consuming. It is easy to get lost in a problem and waste a lot of time on unnecessary calculations. Make it a habit to time yourself even when practising and learn how to make the best use of your limited time in the exam.
Tip #4: Choose Your Battles Wisely
Remember that it is not possible to solve each and every question in the exam within the stipulated time limit. There would be some questions that you would have to leave in order to finish on time. It is important that you keep this choice in your hands. Categorise questions between easy, borderline and difficult. Solve easy questions in the first go, save borderline questions for later and be very careful when you decide to attempt a difficult question.
Tip #5: Solve Mock Test and Sample Papers
SIU releases a SNAP Mock Test to give participants an idea of the exam. Make sure you attempt that mock test and become familiar with the interface. You should also look for SNAP Sample Papers from multiple sources to have the best idea of the exam pattern.
Tip #6: Learn Tricks to Shorten Calculations
When attempting QA, DI and DS questions, working hard is not the right way to go. Keep on the lookout for new tricks that help you reduce calculations as much as possible. You can also develop new methods of doing this on your own during practice. You would be surprised at how almost impossible questions can become very easy to solve once you learn how to remove difficult calculations from your plate.
Tip #7: Calculate Your Guesses
Going by guesswork is a bad idea especially when attempting the QA, DI and DS section of SNAP. It is best to only mark an option when you are absolutely sure of an answer. That being said, you can certainly make calculated guesses where required if you are sure that it won't affect your chances of clearing the SNAP sectional cutoff.
Also Read:Emerging MBA Specialisations in India: Colleges, Jobs and Salary Scope
Best Books to Prepare for SNAP 2020 QA, DI & DS
Here are some of the best preparation books for Quantitative section of SNAP 2020.
| | |
| --- | --- |
| Book | Author / Publisher |
| Quantitative Aptitude | R S Aggarwal |
| The Pearson Guide to Quantitative Aptitude for the CAT | Nishit K Sinha |
| How to prepare for Data Interpretation for CAT | Arun Sharma |
| TARGET SNAP 2020 | Disha Experts |
| Quantitative Aptitude for Competitive Examinations | Varun Gupta |
Here are some other related articles for more information about SNAP 2020.