For students who wish to study management, a strong profile always carries a lot of weightage both during MBA admissions and later during job placements. According to the latest trend, Top B-Schools in India are targeting the "Profile" of candidates to shortlist them for admissions. B-Schools are basically assessing an individual's capability by looking at his/her achievements beyond academics.
When applying for admission in top B-Schools, it is very important for candidates to present the best version of themselves to the ADCOM (Admission Committee). From a job perspective, involvement in co-scholastic activities like internship, sports, research, community, and services help in creating a positive impression on the recruiters and provides them with a good enough reason to make you a part of their team.
Building a strong profile for MBA admissions not only means that one should only focus on creating one but also to plug the gaps in one's existing profile.
What is Profile Building?
Technically, profile building is an activity that highlights the expertise, skills, and achievements of an individual that play an important role in enhancing his/her career aspects. In layman's language, "combining the series of achievements from (usually) class X till date to boost your career prospects" is known as Profile Building.
Proper planning and execution are very important while building a good profile, which will help you stand apart from the crowd. Profile building during the early stages of learning boosts your confidence, communication skills, personality and credibility, which prove highly effective during the job hunting process. It plays an important role in career advancement.
A fresher must possess a strong profile if he/she wants to compete with someone who has work experience.
Steps to Build Your Profile for MBA Admissions
While there are plenty of MBA entrance exams in India that students take for MBA admissions in India, it is not the only factor that determines whether or not you will get admission in your desired management institute. Apart from scoring well in MBA exams such as CAT, XAT, and CMAT, an MBA aspirant must not ignore building a good and attractive profile.
From what we've seen in the past, not scoring very well in entrance exams does not diminish your chances of getting into a top MBA college like S.P Jain Institute of Management & Research (SPJIMR), Welingkar Institute of Management Development and Research, or any other popular college where the focus is majorly on a candidate's profile.
In some of the top management colleges, candidates are shortlisted based on their composite score or their average score, which is prepared based on the evaluation of entrance test score, work experience, 10/12 scores, certificate courses, diploma, extracurricular activities, etc. and a merit list is prepared to shortlist candidates for admission under various MBA courses. In short, a good composite score is equivalent to a good profile.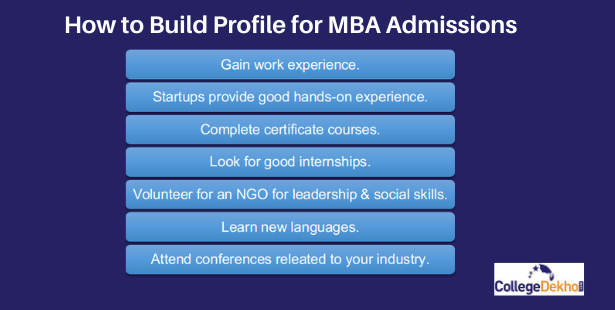 Here are some pointers that can help you build your profile for MBA admissions:
1. Work Experience
A candidate with work experience is usually given more preference due to his/her understanding of the business tactics and market requirements. If you decide to skip a year to prepare for an MBA entrance exam, we strongly recommend you to utilise that time period to gain some work experience. The work experience of a candidate will only be considered relevant if s/he has been working for more than 18 months including the training period, which can vary between 3-8 months.
2. Certificate Courses
Pursuing a certificate course/s in your subject of interest will help you develop a particular skill set. It will provide an added advantage to freshers or those who have left their job before 18 months. For example, pursuing an MBA in Finance, certificate courses in Excel, Financial Planner, etc. will be very helpful for you while you build your profile.
3. Internship
Internship plays a vital role in polishing your knowledge as well as enriching your professional experience even before your first job. It will allow you the flexibility to explore various career options before finalising the field of study you want to build your career in. Working in a professional environment during an internship will also improve your communication skills. Experience gained during an internship will help you ace the interview process during admissions.
4. Startup Experience
With entrepreneurship receiving a major boost in India, some MBA colleges favour candidates who've worked in a startup. A candidate who has worked in a startup will be well-equipped to handle situations like what is the product, wherein the economy it will fit into, who will buy the commodity and why, what exact problem is the product solving, products offered by competitors, etc. Each situation requires a totally different approach, which cannot be expected from someone who has a corporate work experience because his/her skill sets will be totally different.
5. Volunteer Work with NGOs
MBA colleges give a lot of preference to candidates who have worked for NGOs. Volunteering for an NGO will not only sharpen your social skills and leadership qualities but it is also a great place for networking. You will gain knowledge and confidence, which will improve your personality and hone your communication skills. It will also reflect that the candidate is ethical and selfless, and such qualities will add an extra point to the profile.
6. Learn a New Language
Apart from having good command over the English language, learning a foreign language like French, German, or Chinese will provide an added advantage while applying for MBA admissions. Candidates who know foreign language/s are usually placed in the top bracket of the merit list. Such candidates, after completion of MBA, attract well-paid foreign jobs and become a valuable asset to their employers.
7. Attend Conferences
Start attending conferences related to your field and interest from where you can draw various learnings like how the industry works, what is new in the market, etc. Attending such conferences will enhance your networking where you can get to interact with successful speakers and masters of the trade. Attending conferences will impart clarity regarding the MBA course you want to pursue.
Selection Criteria of Top B-Schools
When you are trying to improve your profile for MBA admissions, you should be aware of the selection criteria of your target b-school and prepare accordingly. Given below is the selection criteria of some of the top b-schools in India to help you get started.
Famous Alumni of Top B-Schools
Imitation is not only flattery, it can also be one of the best ways to reach where you want to be. Another greater way to check how to improve your profile would be to check what other people who visited that b-school have done.
Checking the profiles of famous alumni of top b-schools in India can help provide you with good references on how to build your MBA profile. It is also a good idea to reach out to previous-year pass outs. They can provide you with first-hand experiences regarding MBA admissions.
Remember, "Profile is the key" and a strong profile cannot be created overnight, which means you have to spend an appreciable amount of effort and time on it. Don't pursue any fancy activity to lend solidity to your profile as it may backfire while explaining your profile to the ADCOM or to the recruiters.
Top MBA Colleges in India
Once a candidate has built a strong profile for MBA admissions, they can start applying to the top business schools of their choice. While there is fierce competition for admission to the best MBA colleges, having a good profile will boost the confidence of a candidate.
Having a good background also helps make a candidate more versatile and interesting to the interviewer and they can tackle the questions with much more ease. Here are some of the well-known MBA colleges in India.
How to Apply to Top MBA Colleges
Once a candidate feels that they have a good enough profile for admission to their choice of B-School, the next question that arises is how to apply to the college. The process of application to the top b-schools in India is pretty simple. Mostly, colleges accept online applications, which are available on their website. Candidates can also apply through the counselling process of their given entrance exam.
CollegeDekho has further simplified the MBA application process with the Common Application Form (CAF). Candidates interested in taking admission to MBA colleges can fill our CAF and instantly apply to multiple colleges with a hassle-free process. By filling the CAF, candidates can also apply for FREE student counselling provided by CollegeDekho.
Here are some other articles that will help you prepare for MBA admissions in India.