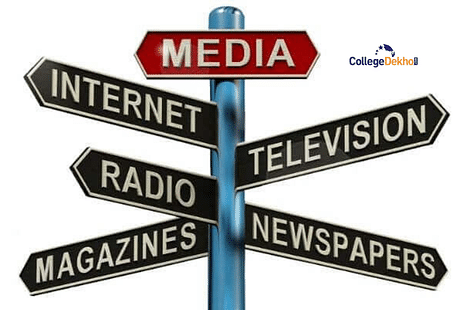 Top 6 Career Options in Media: Careers in the media industry involve producing and disseminating content to the general public. The industry encompasses a variety of fields, including communications, journalism, entertainment, and advertising. Media experts are responsible for creating content for organizations or newspapers to publish online, in print, on the radio, or on television. As technology advances, some media professionals may shift their focus to other platforms like apps and virtual reality (VR).
As a part of their job profile, all media professionals disseminate information to the public. Their roles range from producing a local TV news channel to directing feature films and commercial movies. They all disseminate information to the public. Most media professionals stick with one medium such as TV, films, or the digital media space. For example, if one starts as a cameraman or actor in a movie they can work their way up to being a director.
Some media professionals also transition between different media within similar roles successfully. For instance, a columnist for a newspaper might start writing books and eventually write and host television shows. Alternatively, it is common for an expert in a traditional industry (like radio) to shift to digital media (such as podcasts and webinars).
Those aspiring to pursue a career in media have a plethora of options, including the following top 6 career options in media:
Journalism
Writing and Editing
Advertising and Marketing
Production
Public Relations
Entertainment
Also Read:
Best Career Options After B.Com- Eligibility, Salary, Top Colleges

Let us discuss the kinds of job profiles, responsibilities, and salaries offered under these careers and the top recruiters offering the same.

Career Options in Media
Given below is a list of the 6 popular careers after pursuing media studies:
Journalism
Journalism is the process of gathering, preparing, and disseminating news, as well as related commentary and feature materials, through radio, movies, and television, as well as print and electronic media like books, magazines, newspapers, blogs, podcasts, webcasts, social networking and social media sites. Thus, the goal of journalism is to give the public the knowledge they need to make the most appropriate choices for their own lives, societies, communities, and governments.
Research is a vital part of the job profile of a journalist, who then writes news stories, features, and articles before editing, proofreading, and publishing them. Journalists must present a logical opinion because they are committed to finding the truth and educating the general public about it. Before writing on a subject, journalists must first acquire information. They frequently engage in conversation with other people who have knowledge of or involvement in the topic. Documentary filmmaking is a potent kind of journalism. 

Writing and Editing
Media writing encompasses a wide range of activities, from journalism to content marketing and filmmaking. You can work as a scriptwriter, news writer, marketing content writer, etc., based on your interests. If you are proficient in writing, you will have countless job opportunities.
A content writer is responsible for conducting in-depth research on issues related to their industry and coming up with concepts for fresh content types. Each of those authors usually has an editor, whose responsibility it is to make sure that the writing complies with the regulations set by the editors of the publication or programme.
Editors are language and proofreading experts that work in the writing industry. They possess the managerial abilities to oversee a team of writers and to maintain a close eye on what the readers want.
Writers and editors are employed by educational institutions, publishing houses, public relations and advertising firms, broadcast organizations, production companies, corporations, nonprofits, and a wide range of other industries. They could serve as independent consultants or work as part of a team.

Advertising and Marketing
Jobs in marketing and advertising can be extremely lucrative. Making sure that each department satisfies the needs of its customers and clients is the responsibility of an Account Manager. They address client complaints, resolve their problems, and uphold a favourable relationship between the two parties to facilitate future financial dealings.
Graphic Designers use hand tools, computers, and design software to develop and execute graphical designs and artwork and select colours, images, and typefaces to reflect a company's identity and objective. They must also present design concepts to clients or the art director.
Media platforms that would best promote the advertised brand or product are selected by media planners. To determine the target audience, media planners conduct market research, evaluate and comprehend data, as well as provide briefs for media buyers. They also create financial and media plans and forecasts.

Producing and the Production Team
Producers are in charge of a show or movie's overall performance. Movies, TV programmes, podcasts, and radio stories are all managed by producers. Participating in auditions and choosing performers are some of the responsibilities of a film director. Others include reading scripts and determining the theme, tone, and plot of the story.
They also watch rehearsals to ensure that actors are acting according to their artistic vision. A producer for a five-minute radio ad may also be the announcer/actor, editor, and writer. The responsibilities of a production team could include those of the leadership team, managers, assistants, technicians, and more.

Public Relations
Public relations experts serve as a point of contact between their customers and the wider population. They create and uphold the public image of their clients and provide content (such as press releases, speeches, and social media postings) to promote that image. On behalf of their employers, they reply to media inquiries as well. They frequently carry out focused research to comprehend or predict public opinion better.
A public relations account executive oversees a variety of client accounts across print, television, and online media. They frequently work with PR firms or large companies' PR divisions. Following the client's instructions and considering their aims and target market, they conduct appropriate market, consumer, and industry research. They develop PR plans and submit them for approval after making sure they satisfy the needs and financial constraints of their clients.

Entertainment 
This sector needs a lot of versatility and creativity since it involves entertaining people. A Radio Jockey (RJ) audience engaged with excellent conversational skills and a wonderful sense of humour. RJs are in charge of writing radio show scripts, selecting music for broadcast, creating programme schedules, conducting celebrity and other guest interviews, and informing listeners of news, traffic updates, weather forecasts, sports scores, and other current happenings.
A Video Jockey (VJ) produces and organizes films for live events and performances, especially those that feature music in some way. A VJ is someone who hosts television programmes about music where they update viewers about new music videos, interview celebrities, engage with a live audience or over the phone, and reply to fan mail and requests.
Job Profiles after Pursuing Media Studies
Individuals become eligible for the following job profiles after pursuing media studies:
Domain

Job Profiles

Writing and Editing

Author
Editor
Biographer
Copy Editor
Copywriter
Ghost Writer
Section Editor
Content Writer
Assistant Editor
Managing Editor
Technical Writer
Content Engineer
Content Manager
Editorial Assistant
Social Media Specialist
Digital Media Specialist
Communication Specialist
Communications Director
Communications Manager

Advertising and Marketing

Publicist
Art Director
Graphic Artist
Media Director
Media Planner
Creative Director
Account Executive
Graphic Designer
Marketing Assistant
Media Specialist
Merchandising Manager
Multimedia Designer
Multimedia Specialist
Promotions Specialist
Public Relations Specialist
Creative Project Manager
Multimedia Services Manager
Media Product Development Manager

Journalism

Announcer
Broadcaster
Journalist
News Analyst
Reporter
Television Announcer
Broadcast News Analyst
Broadcast and Sound Engineering Technician

E-Commerce and Communications Technologies

Graphic/Web Designer
Interface Designer
Web Designer
Java Developer
Network Engineer
Software Engineer
Web Product Manager
Web Systems Director
Web Content Executive
Electronic Marketing Manager
Intranet Applications Manager
Intranet Applications Specialist
Telecommunications Technician
Web Customer Support Specialist
Electronic Data Interchange Specialist
Graphical User Interface (GUI) Programmer
Media and Communication Equipment Operator

Producing and the Production Team

Animator
Line Producer
Photo Editor
Photographer
Producer
Videographer
Camera Operator
Production Artist
Production Assistant
Production Manager
Project Coordinator
Project Manager
Proofreader
Radio Operator
Recording Engineer
Sound Mixer
Technical Producer
Associate Producer
Administrative Assistant
Motion Picture Set Worker
Audio and Video Equipment Technician

Top Recruiters for Media Graduates
Eminent companies offering employment to graduates in Media studies are listed below:
Times Group
The Hindu
Zee Network
India TV
Zee Network
NDTV
Network 18
Hindustan Times
India Today Group
Doordarshan (DD)
All India Radio (AIR)
The Indian Express
Malayala Manorama
Jagran Prakashan Group

Salary After Media
The job profiles and estimated average salaries offered to graduates after pursuing media studies are provided in the table below:
| Job Profile | Annual Salary (in INR) |
| --- | --- |
| Content Manager | 7,00,000 |
| | 3,00,000 - 6,00,000 |
| | 2,00,000 - 8,30,000 |
| Creative Project Manager | 10,30,000 |
| | 3,10,000 - 13,70,000 |
| | 6,40,000 |
| | 3,40,000 - 18,50,000 |
| | 2,70,000 - 7,20,000 |
| | 2,40,000 - 15,80,000 |
| | 3,40,000 |
| Production Manager | 3,00,000 - 22,40,000 |
| Java Developer | 4,20,000 - 9,00,000 |
| Web Designer | 2,87,000 |
| | 3,45,000 |
| | 3,00,000 - 7,50,000 |
| | 3,00,000 - 5,00,000 |
| | 4,00,000 - 17,20,000 |
| | 3,80,000 - 10,00,000 |
| | 3,00,000 - 6,60,000 |
| | 4,10,000 - 8,70,000 |
Also Read:
Career Options After Diploma in Computer Application
The typical pay range for an individual studying media is between INR 4 LPA and 8 LPA. However, the salary package may vary based on your educational qualifications, work experience, and job description. It is given that interns and trainees are either hired free of cost or with a minimal stipend; however, the kind of exposure they get is a crucial stepping stone to their growth. Therefore, it is recommended that students start their journey via internships and training opportunities while pursuing their respective courses.
The field of media and communication is expanding incredibly on a global scale. India has had simultaneous expansion in all means of mass media, including print, television, radio, film, and the internet and it is anticipated that this growth will continue. Hence, students with a degree in media and communications can avail themselves of a plethora of career opportunities.