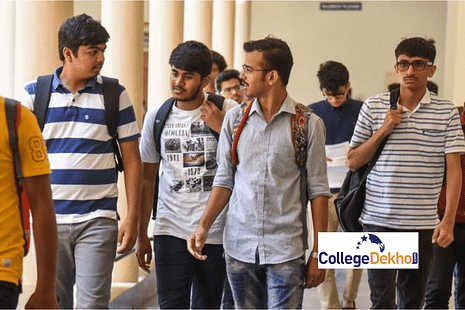 BTech Admission through COMEDK Counselling 2023: COMEDK Round 3 Seat Allotment 2023 result is released onAugust 26, 2023, for B. Tech admission.For BTech admission into the COMEDK participating colleges in 2023, candidates have to take part in the COMEDK counselling process. Candidates who are seeking BTech admission through the COMEDK counselling process 2023 can read this article to be aware of the important facets of COMEDK counselling 2023.

Latest: COMEDK Round 3 Seat Allotment 2023 Releasing Today
COMEDK Counselling 2023 - Eligibility Criteria
Candidates who are going to participate in the COMEDK counselling process should check the eligibility criteria as mentioned below. 
Candidates must have qualified the COMEDK 2023 exam.  
Candidates must have passed their higher secondary examination with 45% marks (40% marks for SC, ST, OBS of Karnataka State) in Physics, Chemistry and Mathematics along with Chemistry/Biotechnology/Biology/Electronics/Computer
Supplementary candidates are eligible to appear in rounds 2 and 3 counselling subject to the fulfilment of eligibility
COMEDK Counselling Dates 2023 
The dates pertaining to the COMEDK counselling process 2023 have been announced. Candidates can check the dates of COMEDK counselling 2023 from the table below.

Events

Dates

COMEDK counselling registration start date and document Upload

June 11, 2023 

Last Date to register for the counselling process

June 22, 2023

Document Verification 

July 3, 2023

Round 1 Schedule

Choice filling (for candidates whose document verification status shows Approved)

July 11 to 12, 2023

Mock Allotment Release 

July 14, 2023 

Making changes in the filled choices

July 14 to 16, 2023

Round 1 Allotment result release 

July 18, 2023

Confirming the choices allotted to the candidate and making the fee payment online

July 18 to 20, 2023

Reporting to the allocated institute with an allotment letter and fees receipt (for candidates who accepted or freeze the seat)

July 18 to 22, 2023 

Cancellation of the seat for the candidates who accepted the seat during the round 1 counselling

July 18 to 22, 2023

Round 2

Provision to make changes in COMEDK UGET choice filling form 2023

August 4 to 6, 2023 

Declaration of COMEDK UGET seat allotment result 2023 Round 2

August 9, 2023 

Decision making and Fee Payment

August 9 to 12, 2023 

Reporting to allotted college

August 9 to14, 2023 
Surrender facility 
August 9 to14, 2023
Round 3
Provision to edit/change preferences in web options form
August 23, 2023, 4 PM onwards
Till August 25, 2023, 11 AM  
Publication of Round 3 Allotment Result
August 26, 2023, 12 PM

Decision making and Fee Payment

August 26 to 30, 2023 
Reporting to College
August 26 to 31, 2023
Also Read: COMEDK B.Arch Counselling 2023 - Rank Card, Counselling Dates, Choice Filling, Seat Allotment
COMEDK Counselling Process 2023
The various steps involved in the COMEDK counselling have been mentioned below.
Registration and Payment of Fee Payment
Visit the COMEDK 2023 official website and click on the counselling link and log in by using their COMEDK UGET 2023 application number/registration number and password
Go through all the details and pay Rs. 2,000 as part of the tuition fee to participate in the COMEDK counselling process 2023
You will be then directed to the payment portal for the counselling fee payment
Carefully check the fee policy mentioned in the COMEDK 2023 information brochure before proceeding further
After the payment is made, re-login and click on 'Counselling Process' tab again
Option Entry and Locking
Fill and lock your choices of colleges and programmes as per order of priority. 
Once the preferences are saved and the process is completed, take a print out of your opted choices and verify the same again
During option entry for Round 1, you can modify your choice of college/programme any number of times
During option entry for Round 2, only saved or locked choices will be considered
No changes are permitted in the preferences selected during option entry period of Round 2
Only those who successfully complete 'Option Entry' during a round of counselling will be considered for seat allotment
Mock Allotment
The mock allotment status will be made available in the COMEDK login of individual candidates 
Click on the mock allotment link and log in to access the mock seat allotment result
In case you want to change your preference, click on the 'Close' tab on top of the page and click on 'Option Entry' tab
Add/remove/reorder preferences, if required, and click on the 'Save' tab
Take a printout of saved options for your references list
Seat Allotment
Seat allotment will be done in the online mode based on the ranks secured by the candidates in COMEDK 2023 exam, choices filled and availability of seats
Candidates who have been allotted seats will be able to download their verification entry card only after the payment of the fee in online mode
You must produce the verification entry card at the time of document verification
You must personally report for document and biometric verification in Bangalore
Documents Required for COMEDK Counselling 2023
The list of documents required by all candidates for the COMEDK counselling process 2023 has been provided below.
COMEDK Application Form 2023
COMEDK Rank Card 2023
COMEDK Verification Entry Card
COMEDK TAT with the signature of Invigilator
Candidate Original Identity Proof
Parents /Guardian's Original ID proof 
Fee payment receipt of INR 55,000
Date of Birth Proof of Candidate
Rank card of Higher Secondary Examination
SC/ST/OBC Certificate if applicable
Also Read: List of Documents Required for COMEDK Counselling 2023
Top Institutes for BTech Admission through COMEDK Counselling 2023
Candidates can check out the top institutes for BTech admission through COMEDK counselling 2023 as listed below.
Alliance College of Engineering and Design, Bangalore
Also check: Top COMEDK Colleges in Bangalore: Opening & Closing Ranks
For more updates on Comedk, stay tuned to CollegeDekho!