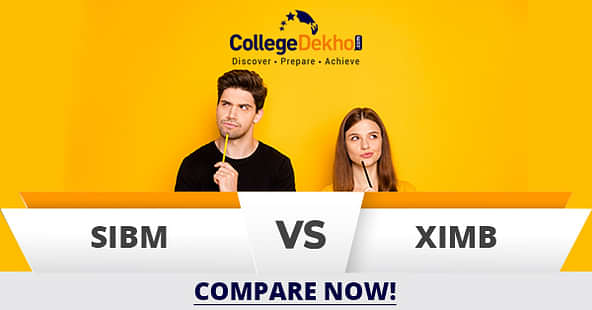 Planning to give your career a kick? Looking for MBA colleges in India to pursue a specialized course in the MBA stream of your choice? Confused between two colleges to pick from? Don't worry, you're at the right place. CollegeDekho has launched a series of popular college comparisons that you can take a look at for all information that you are seeking while comparing two colleges.
In this article, we will compare two colleges, one from west India while the other from east India. SIBM Pune and XIMB are among popular choices for MBA aspirants who have secured decent marks in MBA entrance exams. In order to compare SIBM Pune and XIMB, we have listed out a number of features, courses offered, placement scenario, types of companies visiting etc. in a tabular format below.
The most critical and challenging situation for the students is when they get an admission call from two top B-Schools in Indiaand they have to pick one while keeping their personal and career goals in mind.
Let's take into account a popular college comparison between SIBM Pune and XIMB. Symbiosis Institute of Business Management (SIBM) Puneand Xavier Institute of Management Bhubaneswar (XIMB) are rated among the tier-3 MBA colleges in India. You can check the detailed comparison between SIBM and XIBM before making a choice.
College Comparison – SIBM Pune and XIMB Bhubaneswar
Name of the Institute

Symbiosis Institute of Business Management (SIBM) Pune

Xavier Institute Management Bhubaneswar (XIMB)

Year of Establishment

1978

1987

Approved By

UGC

UGC, AICTE, NBA, SAQS, AIU

Affiliation

Symbiosis International Deemed University

Xavier University, Bhubaneswar

NIRF 2020 Ranking

22

31

Entrance Exam

Xavier General Management Test (X-GMT)

Courses Offered

MBA in Innovation & Entrepreneurship
MBA in Leadership & Strategy

MBA - Human Resource Management (HRM)
MBA - Urban Management & Governance (UMG)
Executive MBA in Business Management

Total Number of Seats

MBA: 180
MBA I&E: 60
MBA L&S: 60

360

Tuition Fee

MBA: Rs. 18.90 lakhs
MBA I&E: Rs. 14.00 lakhs
MBA L&S: Rs. 25 lakhs

MBA - BM: Rs. 17.30 lakhs

Average Package

Rs. 17.48 LPA

Rs. 15.42 LPA

Highest Package

Rs. 29 LPA

Rs. 26 LPA

Number of Companies Visiting Campus

83

199

Popular Companies Visiting Campus

GlaxoSmithKline Pharmaceuticals Ltd
Larsen and Toubro Infotech Limited
JP Morgan Chase & Co
Tata Motors Ltd.
Mother Dairy Fruit & Vegetable Pvt. Ltd.
Tata Communications
Accenture Capability Network
Google India
Bajaj Finserv

ICICI Bank
Tata Steel
HSBC Analytics
Royal Bank of Scotland
Amul
Capgemini
Larsen & Toubro
Goldman Sachs
Mahindra & Mahindra
Also Read: Distance MBA in India: Top Distance MBA Colleges, Courses & Fees
SIBM vs XIMB Admission Process
The SIBM admission and selection process is dependent on a candidate's academic record, performance in SNAP exam, group discussion and interview round after being shortlisted. On the other hand, XIMB selection process is more or less similar apart from the fact that it accepts scores of MBA entrance exams like CAT, XAT or GMAT. In a few cases, colleges may also conduct a Written Ability Test even for those candidates who have qualified the mentioned entrance exam.
Also Read: Colleges Accepting SNAP 2020 Scores, Courses and Cut-off
Other Popular MBA Colleges in India
Here are some of the other popular MBA colleges in India that you can check out.
| | | | |
| --- | --- | --- | --- |
| S.N. | Name of College | MBA Course Fee (Approx.) | Accepted Entrance Exams |
| 1 | | Rs. 23.60 lakhs | XAT, GMAT |
| 2 | | Rs. 5.66 lakhs | IBSAT, NMAT by GMAC, CAT, GMAT |
| 3 | | Rs. 17.50 lakhs | CAT, GMAT, XAT |
| 4 | | Rs. 4.70 lakhs | CAT |
| 5 | | Rs. 3.60 lakhs | |
| 6 | | Rs. 7.20 lakhs | GOT, CAT, MAT, GMAT, XAT, NMAT, CMAT |
| 7 | International School Of Business And Research (ISBR) , Bangalore | Rs. 8.00 lakhs | |
| 8 | | Rs. 18.34 lakhs | CAT, GMAT |
| 9 | | Rs. 12. 60 lakhs | CAT, XAT, CMAT, MAT |
| 10 | Narsee Monjee Institute of Management Studies (NMIMS), Mumbai | Rs. 20.80 lakhs | NMAT by GMAC |
Other Popular College Comparisons
Candidates can go through the comparisons of some other popular colleges given below.
For help with college admissions, you can fill the Common Application Form (CAF) or call our helpline number 18005729877. For any other queries, check out the CollegeDekho QnA Zone.​