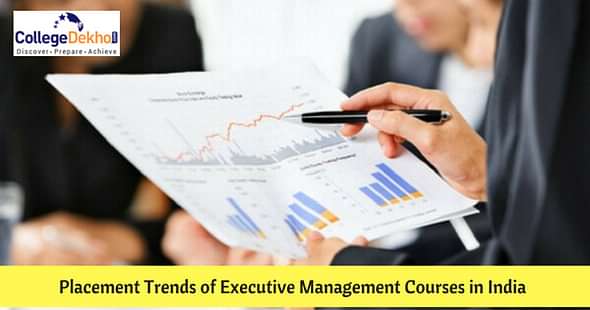 Executive MBA Placement at Top B-Schools 2023: It seems like executive MBA courses at leading business schools across the country are attracting popular recruiters. The recent placement numbers of top b-schools clearly indicate that the companies are keen to hire professionals with varied work experience. For instance, the average salary offered to executive management programme graduates at top B-Schools such as XLRI, IIM Calcutta, IIM Bangalore, IIM Indore etc., is Rs. 18 lakh per annum. The highest salary offered to executive graduates of these institutes is up to Rs. 90 lakh per annum.
One of the major reasons for the greater demand for executive management programme graduates is robust work experience and rigorous management education. As far as the large organisations are concerned, students are typically recruited for the mid-management level positions while smaller organisations prefer recruiting executive management programme graduates for senior level roles.

Also Read:IIT Roorkee MBA Placements
Executive MBA Placement Trends in Popular B-Schools:
The mean salary offered to an EPGP graduate of IIM Bangalore in the recent placements was Rs. 35.31 lakh per annum. Flipkart, Indian Ports Association and Accenture were the top recruiters on the campus.
Chairperson of EPGP at IIM Indore, Ashish Sadh revealed that the executive course is slowly gaining momentum in India, as alumni network becomes stronger and the awareness about the programmes increases with regards to the industry. Compared to the previous year, IIM Indore witnessed newer and higher recruiters turned up for placements this year. Students were offered better roles and responsibilities, he added. The average salary offered to IIM Indore EPGP graduates has increased to Rs. 34.8 LPA and highest CTC offered was Rs. 43.9 LPA.
Surge in Salaries for Executive MBA Graduates:
At IIM Calcutta, the highest salary offered to one-year PGPEX course graduates 2022 was Rs. 1.38 crores per annum. The average salary offered was Rs. 36.79 lakh per annum. The total number of recruiters who participated in the PGPEX placements this year was 78. IT service firms were the major recruiters while e-commerce was the second major recruiter.
At IIM Indore, the average salary package witnessed a significant growth of 20.8% to reach Rs. 30.21 LPA. The median salary also experienced a notable increase of 12.9% to reach Rs. 27.20 LPA. Moreover, the highest domestic package soared by an impressive 132.6% to reach Rs. 1.14 crores per annum, surpassing the previous year's record.
Apart from IIMs, XLRI observed a significant growth of 11% in the average CTC, amounting to Rs. 29.40 LPA. The median also rose by 6% to Rs. 27.50 LPA. The highest salary offered reached an all-time high of Rs. 80.35 LPA, while the top 10% of students achieved an average ofRs. 55.27 LPA. Furthermore, the top 25% earnedRs. 41.90 LPA, and the top 50% earned Rs. 35.89 LPA during the recruitment process.
Gurgaon-based Great Lakes Institute of Management recorded a surge in the number of companies participated in the placements this year. The popular recruiters visited the campus were Bain, ZS Associates, Accenture, ADP, Aditya Birla, Bridgestone, Michael Page, Bristlecone, Deloitte, Cognizant, FedEx, HCL, Dell, Incedo Inc., Optum, Tiger Analytics and Lowe's. The average salary offered by these companies was Rs. 18.10 lakh per annum and the highest annual package was Rs. 34 lakh per annum. There were 30 new recruiters including McKinsey & Company, Mahindra & Mahindra, HSBC, Berger Paints, Fullerton, Gale Partners, Infosys Consulting, Junglee Games, Olam, Aptiv, Bluestone, Mphasis, etc.
SP Jain Institute of Management Research – Mumbai  2023 batch recorded 100% placements. The highest salary offered was Rs. 77.8 Lakhs per annum while the average salary was Rs. 33.02 lakhs per annum.

Also Read: Check Out the Scholarship Opportunities at Various MBA Colleges in India