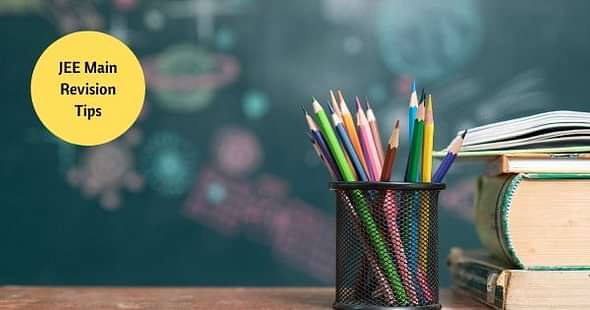 JEE Main 2024 Revision Tips - The Joint Entrance Examination (JEE) Main 2024 will be held by the National Testing Agency (NTA). The JEE Main 2024 exam is scheduled to be conducted across 2 phases from January 24 to February 1, 2024 and between April1 to 15, 2024. JEE Main Application Form 2024 will be released separately for both sessions, tentatively in December and February. After preparing well for the exam, candidates should improve their JEE Mains preparation strategy to confine additional practice and revision time for the syllabus. JEE Main 2024 revision tips will help the students with an effective revision of JEE Main 2024 syllabus. You can balance board exams and JEE preparation through our preparation tips. In this article, we have listed some tips that will help students in the effective revision for JEE Main 2024 exam.

Quick Link: JEE Main 2024 Exam Dates Released!

Also Read: JEE Main 2024 Admit Card
JEE Main 2024 Revision Tips
Here are some of the best revision tips for JEE Main 2024 -
Set a Goal
Before starting the revision for the entrance exam, it is important to set a goal first. You will have to figure out how many days you need for revision. According to experts, 30-day revision strategy is most beneficial for students. In order to help students, CollegeDekho has come up with 30 days and 60 days plans for JEE. Click on the links below for details –
| JEE Main 2024 One-Month Study Timetable | JEE Main 2024 Study Plan for 60 Days |
| --- | --- |
Focus on Most Important Topics
It is very important to focus on the most important chapters in Physics, Mathematics, and Chemistry. According to the previous year's paper analysis, we have listed out subject-wise important topics for JEE preparation. You can click on the links below to check the list of topics/ chapters –
You must understand that all the above topics/ Chapters might have already been revised for board exams, and all you need to do is re-revise the same.
Also check: JEE Main Preparation for Guaranteed Success
Prepare Short Notes
As questions in JEE Main are MCQ/ objective-based, it is important to make s short notes of important topics. This will help you with the last-minute revision for the entrance examination. Also, your memory power with regard to the topics will improve by making short notes. While preparing for the short note, it is advisable to list out the important formulae in all the subjects.
Also check: JEE Main 2024 Cutoff for JEE Advanced
Study Important Formulae
It is important to study important formulae at the time of revision. This will help you in solving the questions within a short time in the exam. As most of the questions in Physics/ Mathematics will be formula-based, it is important to stay in touch with the same for a better score in the exam.
Related Links,
Study NCERT Textbook
Instead of relying on various private study materials for JEE Main preparation, it is important to study NCERT textbooks. Note down the important points from each topic for last-minute reference. Textbook study plays a vital role in achieving 85+ percentile in JEE Main exam. You can also check the link below for more details –
List of Recommended Books for JEE Main Preparation
Check Difficulty Level of Past Exam
You will have to check the difficulty level of the previous JEE Main exam so that you can estimate the difficulty level of the upcoming exam. This will help you to plan the revision accordingly. Through this, you can prioritize the most important topics and least important topics. You can click on the link below for more details.
JEE Main 2024 Exam Analysis
Practice Old Question Papers/ Practice Papers
 Your revision for JEE Main exam will improve only by practicing old papers/ practice question papers. As and when you practice a paper, figure out the questions for which you have marked wrong answers and try solving them. This will help you in improving memory power with regard to concepts and formulae. Click on the links below for old/ practice papers –
| JEE Main Free Practice Papers with Answer Key (PDF) | JEE Main Old Question Papers (PDF) |
| --- | --- |
| | - |
Listen to IIT PAL Video Lectures
IIT PAL is a platform where you can access the video lectures for JEE Main exam. Top professors of various IITs have explained the concepts of the entrance exam in an easy manner. 

Also check: What is a Good Score and Rank in JEE Main 2024?
Be Confident
The final tip we can give you is to stay confident. Be positive. Nothing is impossible with hard work. Therefore, you can achieve a good score in JEE Main with hard work and dedication. CollegeDekho has all sorts of exam materials for JEE preparation and we hope that these will help you in preparing for the exam effectively.
If you are looking for direct B. Tech admission without an entrance exam, you can fill out the Common Application Form on CollegeDekho. Through this form, you can apply to multiple engineering colleges.
JEE Main 2024 Mock Test
The NTA will release free online JEE Mains mock test. NTA mock tests follow the same format, difficulty level, syllabus, and pattern as the actual exam. Students may also prepare for the exam by downloading these JEE Main 2024 mock exams in PDF format. Mock tests help students in analyzing their exam preparation, as well as understanding the exam pattern and difficulty level of questions asked in JEE Main 2024. Students can evaluate their mistakes in solving questions and prepare effectively for the exam by taking JEE Main mock tests. Students should solve previous year's JEE Main question papers in addition to JEE Main mock tests to understand the weightage of topics asked in previous years.
Also Read: JEE Main 2024 Passing Marks
JEE Main 2024 Previous Year's Question Paper
Students who are preparing for JEE Main 2024 can download and practice JEE Main previous year's question papers. The NTA releases JEE Main Question Papers separately for each course, such as B.E/B.Tech, B.Arch, and B. Planning (National Testing Agency).
The question papers for JEE Main 2024, as well as the JEE Main answer key, will be released a few days after the exam is completed. The main question papers for JEE will be available in 13 different languages. From 2003 to the preceding year, candidates can get JEE Main Question Papers PDF with Answer Key and Solution.
JEE Main Exam Materials
You can click on the link below to access various exam-related materials pertaining to JEE Main exam -
We hope that this article helped you in identifying the best revision plan for JEE Main.

All the Best!