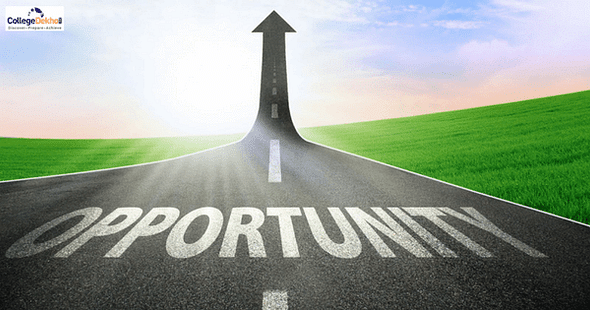 The Graduate Aptitude Test in Engineering (GATE) is conducted every year for technical and science graduates who seek admission in PG programmes offered by top institutes in the country or are looking for job opportunities in leading organizations in the world. GATE is conducted by either one of the IITs or IISc Bangalore and opens doors to many career options after qualifying GATE exam.
Thousands of students appear for GATE every year in order to pursue higher education. The unofficial GATE 2021 Answer Keys have been released that you can check here. GATE 2021 result is expected to be declared on 22nd March 2021. A good GATE score can open up a lot more opportunities than merely getting you admission in one of the top engineering and science colleges in India. This article discusses the different career options after qualifying GATE 2021 that can open up for you. You can also check the list of colleges accepting GATE 2021 score here.
Also Read:Check Out the Highest Paying Jobs in India and Skills Required to Get Them
Career Options after Qualifying GATE:
Following are the opportunities you can pursue if you score well in GATE:
Jobs in Public Sector Undertakings (PSUs) after GATE:
From the past few years, most of the PSUs in India have started hiring fresh talent through GATE score. On the basis of their score, candidates get interview calls from prestigious PSUs. On clearing the interview, candidates get the opportunity to work for these PSUs. GATE, being a core and subject-specific examination, has become the standard for entry into the top organizations in India.
Following are some of the organizations that recruit on the basis of GATE Score:
Bharat Heavy Electricals Limited

Oil and Natural Gas Corporation

Indian Oil Corporation Limited

Bharat Electronics Limited

Indian Space Research Organization

National Thermal Power Plant

Defence Research and Development Organisation

Gas Authority of India Ltd.
Fellowship and Research Opportunities through GATE:
Achieving a good score in GATE 2021 will also make you eligible for the award of Junior Research Fellowship in CSIR Laboratories along with a stipend of Rs. 31,000 per month. In addition to this, if you have already pursued your M.Tech degree then you can also for research positions open at R&D centres. An excellent score can also help you get research fellowships provided by government and private organizations.
International Opportunities after GATE:
For those of you who want to pursue your post-graduation like M.S degree studies from international universities, GATE score can help you get through. There are various renowned international universities including National University of Singapore (NUS), Singapore; Nanyang Technological University and few of the German Universities that take international candidates on the basis of GATE score. For international universities, GATE score is valid for 3 years after appearing for the exam.
Post-graduate Degree from Top Indian Colleges:
If you have dreamed of having a core job and want to pursue higher education in engineering and sciences, then GATE is the best way to get admission in top Indian colleges. Admission in PG courses offered by IISc Bangalore, IITs, IIITs and NITs is done on the basis of GATE score.
Opportunites with Various State Electricity Boards
Many of the state electricity boards have started collaborating with the IITs and are recruiting employees through the GATE exam scores. Earlier, these state electricity boards used to conduct their own selection exams for shortlisting potential candidates for various job opportunities. Candidates with a valid GATE score can apply for jobs in these state electricity boards with the help of their GATE registration numbers through the official website of the respective state electricity boards. Some of the leading state electricity boards which are recruiting on the basis of GATE exam scores are as follows - 
Odisha Power Generation Corporation Limited (OPGEN)

Punjab State Power Corporation Limited (PSPCL)

West Bengal State Electricity Distribution Company Limited (WBSEDC)
Research Scope
Various reputed organisations such as the Indian Space Research Organization (ISRO), Bhabha Atomic Research Centre (BARC) etc release research position vacancies for the GATE qualified candidates every year. 
Also Read:Why Top Engineering Graduates want to Pursue MBA? Find Out Here!
GATE 2021 is being organized by IIT Bombay. The exam was a golden opportunity for those who are passionate about science and technology. If you want to set up your career in either of the core branches, GATE is your ticket to the most reputed organizations and colleges around the world.