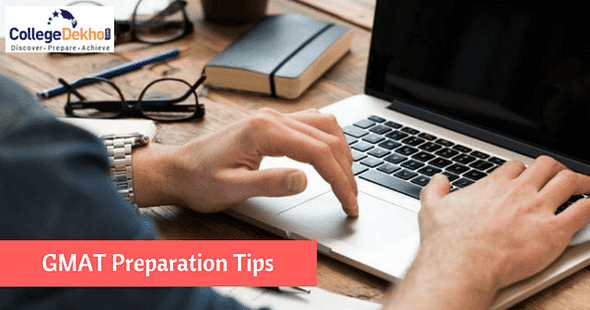 The good thing about GMAT exams is that it is also accepted by a lot of b-schools in India as well. GMAT is one of the most popular MBA entrance exams across the world and is known for its analytical selection criteria. It is a computer adaptive test and a good score in GMAT can help you target some of the top MBA colleges.
Students aspiring to apply for masters of business administration at abroad universities have to appear for the GMAT exam in order to take admission. GMAT is considered to be one of the difficult MBA entrance exams, however, one can achieve a score above 700 out of 800 with right planning.
If you are targeting top MBA colleges, make sure that you have devised a preparation strategy to help you achieve your desired score. Following are some of the tips that can help you clear GMAT in order to gain admission in masters of business administration.
1. Practice Consistently
The essential step while you are preparing for an MBA entrance exams is to practice consistently. Constant practice will help you in getting used to all the type of questions that are asked in the exam and raise your confidence while preparing.
2. Maintain a Study Journal
To keep a track of the topics that you have covered and the ones that are still pending, you can maintain a preparation journal or diary. Keep a daily record of the topics, questions and GMAT practice tests that you are covering each day. This way you can achieve your daily targets for GMAT.
3. Exponentially Increase your Study Time
Since GMAT is a computer adaptive test, make sure that you practice questions of different difficulty levels to get used to the exam pattern. As the date of the GMAT exam draws near, increase your study time and cover the syllabus effectively.
4. Focus on Sectional Targets
Don't stick to a single section while planning your daily targets. Make sure that you practice quantitative ability questions, as well as, verbal ability questions daily to achieve a balanced score in both the questions. It is essential to achieve good scores in both the sections as universities consider sectional cut-offs.
5. Practice Educated Guessing
It is quite likely that you will come across questions in the GMAT exam that will have to be solved through educated guessing. In such questions, you will have to analyse the information provided and the options to eliminate the wrong answers and guess the right one. Practice such questions to improve your educated guessing.
6. Make Time Targets
Apart from targeting the number of questions that you should practice also make time targets. Try to complete 30 set of questions in 20 to 25 minutes to improve your speed and accuracy. You can start with easy time targets them move to difficult time challenges.
7. Take Preparation Tests
One of the most important part of preparation is GMAT practice tests. Make sure that you take as many practice test as you can to get used to the proctored nature of the test in order to achieve a score above 700.
8. Analyse your Performance
After every GMAT practice tests, make sure that you have analysed your score in the test. Look back at the questions that you were unsure about as well as the questions that you got wrong. Practice more of such questions to get a hang of them.
Preparing for GMAT exam can be as exhaustive as preparing for any other preparation MBA entrance exam. Keep yourselves motivate and plan the colleges that you want to target. Talk to the counsellors and get extensive guidance about the exam.
Also Read:GMAT vs GRE: Which Exam to take for MBA in Abroad Universities?
Keep your head in the game. Keep up with the daily targets, practice every day and you will achieve a score above 700. Balance your preparation with short breaks and proper sleep to keep your mind fresh. All the best.