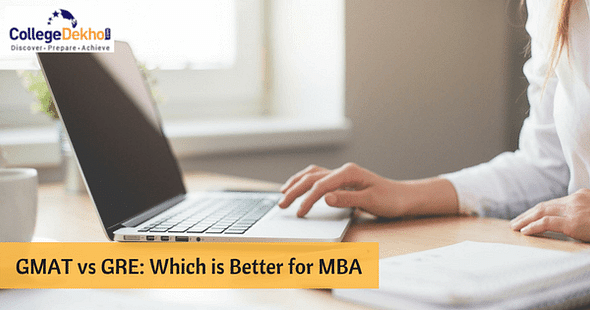 Are you applying for an MBA at universities abroad? You will be relieved to know that most of the universities abroad now accept the GRE scores for admission to MBA programmes. More than 1200 MBA programmes are available on the basis of GRE in the USA alone. However, there are a few universities that accept only GMAT scores.
You can choose either of the exams on the basis of the universities that you are targeting and your strengths in the aptitude domain. In order to find out the exam in which you will perform better, you must understand the type of questions asked and the distribution of sections. Following is the syllabus and pattern of GRE and GMAT
GMAT vs GRE - Differences in Exam Pattern
One of the major differences one may be able to witness between the tests is the exam pattern. The exam pattern for both GMAT and GRE, while may seem similar, there are distinctive differences between the two. Check out the table below to learn more about the difference between GMAT and GRE Exam patterns. 
Verbal Section:
Type of Questions

GMAT

GRE

Reading Comprehension

Reading comprehension in the GMAT exam will be more focused on business-related subjects.
Less than one-third of the verbal section of the exam will comprise reading comprehension questions.

Half of the verbal section of the exam will be based on reading comprehension questions. Few of the critical reasoning questions will also be asked in the reading comprehension format.

Critical Reasoning

These type of questions are a major part of the GMAT exam as they test your reasoning as well as analytical skills.

GRE has recently included critical reasoning in its verbal syllabus but comprises fewer critical reasoning questions.

Sentence Completion/ Correction

GMAT comprises 14 to 15 sentence correction questions where your grammar and syntax knowledge of the language will be tested.

GRE comprises sentence completion questions in MCQ format where you will be required to fill blanks on the basis of most favourable options given to you

Importance of Vocabulary

GMAT does not give too much importance to vocabulary and is more focused on testing the verbal reasoning skills of candidates

Vocabulary has a big role in this exam and most of the sentence completion questions will be based on the strength of vocabulary and understanding of words.
Quantitative Sections:
Questions in this section will be asked from topics like Algebra, Arithmetic, Geometry, Data Interpretation, Number Theory and Probability. GMAT will comprise more statistical and data interpretation questions than GRE. Also, GMAT has tougher quantitative section than GRE.
Name of the Exam

Type of Questions

GMAT

Data Sufficiency: These questions will comprise information in the form of two sentences and a question will be asked. Candidates will be required to answer whether the information is the statements is sufficient to answer the question or not.
Multiple Choice Questions: These will be asked in the usual 'question and four option' format from various topics of the mathematics section.

GRE

Quantitative Comparison: In these, you will be given the data as well as the question. Two quantities will be given to you and you will be required to tell whether the two quantities are greater than (A), less than (B) or equal to (C) each other. If neither of these three can be identified, you can mark option (D) i.e. cannot be determined.
Multiple Choice Questions: These will be asked in the usual question and four option format from various topics of the mathematics section.
Analytical Writing:
Exam

GMAT

GRE

Type of Essays

In GMAT, you will get argumentative topics and you will have to put forth your views regarding the topic and support them with examples.

In GRE, there are two different questions:
Issue Writing: in this you have to present your views with the help of examples.
Argument Writing: in this, you will have to weaken the argument and support your take with reason.

Domain of Topics

Most of the times, topics are asked from the field of business and management. Candidates must keep track of global business news as examples are necessary to support your argument.

Topics can be asked from any field. Candidates are required to understand the topics and present their views clearly. Marks are given out of 6 for both type of essays and the average is considered.

Time Allocated

30 minutes

30 minutes
Integrated Reasoning:
This section is included only in the GMAT exam and the time given for this section is 30 minutes. This section tests the analytical, verbal and logical skills of the candidates at the same time. The questions asked will comprise daily, true-to-life problems. The candidates will have to analyse the problem and provide logical solutions for the problem.
Which exam to give for MBA - GMAT or GRE?
Now that you have understood the syllabus and pattern, you can choose the exam in which you will be able to perform better. For example, if you are good at analytical reasoning and quantitative section then you can appear for the GMAT exam. Whereas, if you are good at answering verbal questions and vocabulary, you can give the GRE exam for admission in MBA programmes offered by universities abroad.
Top MBA Colleges and Universities in the World
Wish to apply for an international MBA degree? Then check out this list of top MBA colleges and universities in the world that offer a range of management and business courses.
Name of College

Country

Course Offered

Australia

Master of Business:-

Enterprise Resource Planning System

Supply Chain Management

Marketing

Finance

Management

Australia

Master of Business Administration

Master of Applied Project Management (Project Systems)

Master of Global Food and Agriculture Business

Graduate Diploma in Business Administration

Canada

Master of Business:-

Logistics and Supply Chain Management

Human Resource Management

International Accounting and Finance

Canada

Graduate Certificate in Marketing Management

Graduate Certificate in Advanced Manufacturing Management

UK

Executive MBA

MBA

Diploma in Financial Strategy

Diploma in Organisational Leadership

UK

Master in Management

M.Sc in Business Analytics and Big Data Science

USA

Postgraduate Diploma in:-

Business Management

Sports Management

USA

Certificate in Business Administration

Certificate in Marketing Merchandising
If you are interested in pursuing an MBA or a management programme in one of the many international colleges and universities, then head over to the StudyAbroad page of CollegeDekho. You will be able to choose from a sea of popular colleges for MBA or management programmes.
You can also write to us at abroad@collegedekho.com or call us at 785-9990-990 and clear your queries regarding international admissions. The team at StudyAbroad CollegeDekho wishes you all the best.