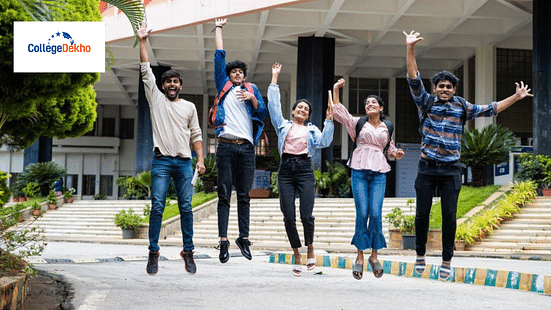 GRE vs GATE 2024: Which is better? - When it comes to pursuing higher studies, candidates often get puzzled while comparing GATE and GRE. Therefore, CollegeDekho offers a comprehensive guide on GATE vs. GRE to help you determine which is better. Let's first clarify what GATE and GRE exams are before getting to the distinctions. Read on to learn more.

Also Read: Top Engineering Entrance Exams 2024 - Exam Dates, Registration, Admit Card and Results
About GATE
GATE is a national-level test taken by applicants for admission to post-graduate programs (M.E., M.Tech, MS, and Direct Ph.D.) offered at prestigious institutions like lITs and lISc, among others, with funding from the MHRD (Ministry of Human Resource Development). Many different PSUs (Public Sector Undertakings) use the GATE scores while hiring applicants for demanded positions. The GATE examination consists of a total of 30 papers. Based on their subject degree or admission strategy, candidates may only apply for one of the papers. Candidates must keep in mind the eligibility requirements established by the institutions where they desire to be admitted when applying for the paper of their choice.
About GRE
The Graduate Record Examination (GRE) is an admissions test offered by the Educational Testing Service (ETS) for graduate and doctorate programs in fields such as engineering, sciences, humanities, law, and business, among others. The majority of Indian students who wish to study abroad in the United States, Canada, and a few other nations aspire to take the GRE 2024 exam. For this GRE test in India, more than 1 lakh students apply each year. Both the GRE general test and the ETS GRE topic test are available as options on the GRE exam. Both online and offline testing options for the ETS GRE will be available all year round.
Difference Between GATE and GRE
The table given below states the major differences between GATE and GRE. Students are advised to go through it for a better understanding of the difference between the two.
| Category  | GATE  | GRE |
| --- | --- | --- |
| Name of the Exam | Graduate Aptitude Test in Engineering | Graduate Record Examination  |
| Conducting Body | 7 IITs and Indian Institute of Sciences (IISc) | Educational Testing Services |
| Frequency | Once a year | Multiple times throughout the year, allowing students to take the exam whenever they are ready |
| Applicable Courses  | M.E, M.S, and PhD in India | M.S., MTech along with Management Courses  |
| Applicable Countries  | India | USA, India, UK, Australia, New Zealand, Canada |
| For whom it is? | Candidates who aspire to pursue further education or prospects for employment in technical fields | For master's or doctorate programs, along with some focused graduate programmes in disciplines like business, law, and education |
| Eligibility  | Bachelor's degree | No fixed criteria |
| Scope | Engineering, technology, architecture, and science-focused postgraduate programs at Indian universities mostly admit students through the GATE exam. | GRE is a more comprehensive exam that evaluates verbal, mathematical, and analytical reasoning abilities. It is used largely in the US and other countries to assess applicants for graduate programs (including those outside of engineering and science). |
| Variants | 30 Subjects | 3 Variants (General/Subject Test) |
| Total Sections | General Aptitude + Selected Subject | Analytical Writing + Verbal Reasoning + Quantitative Reasoning |
| Preparation | The GATE Exam necessitates a more specialized approach and calls for a solid grasp of the engineering subject the student has selected as well as high math skills and general aptitude. | The GRE Exam necessitates strong verbal, quantitative, and analytical writing-thinking abilities and its preparation calls for a more all-encompassing strategy. |
| Duration  | 3 hours | 3 hours 10 minutes  |
| Total Questions | 65 | Depending on the exam's mode of choice  |
| Mode of the Exam | Online  | Online and Offline  |
| Validity | 3 years | 5 years |
| Number of Attempts | Unlimited | Every 21 days up to 5 times in one year |
| Negative Marking | Yes | No |
Scope of GATE vs GRE
Aspirants can explore the various aspects mentioned below before deciding on which one offers a better scope between GATE and GRE - 
In the domains of engineering, technology, architecture, and science, GATE largely offers opportunities for postgraduate study and research. It allows you to enroll in Master's and Ph.D. programs at esteemed Indian universities like the IITs and IISc. Research and development (R&D) positions, academic professions, and specialized technical positions can all result from this.
Your options are expanded by the GRE across a range of disciplines, not just engineering and science.It is accepted for entry into many graduate programs, including those in the humanities, social sciences, business, arts, and sciences. As a result, you can explore a range of career opportunities, including corporate management, public administration, the arts, and international relations.
Both governmental and commercial sector employers are looking for GATE-qualified personnel. They can land jobs in sectors including civil engineering, electronics, information technology, aerospace, and more. In addition, several government employment possibilities in India, such as those in research organizations and PSUs, require GATE certification.
Universities and organizations all across the world are willing to accept GRE-qualified applicants. International organizations, research institutions, and multinational corporations all hire graduates from respected international universities. The GRE's adaptability opens up a wider range of employment prospects across different industries.
Through the GATE, obtaining a postgraduate degree from a reputed institution may increase one's earning potential in technical professions. Advanced degrees are frequently associated with higher income in fields like engineering, manufacturing, and technology. For instance, the average starting salary offered by PSUs can be anywhere between INR 6 lakh and INR 12 lakh. 
A graduate degree gained through the GRE may result in competitive pay depending on the sector you pick. For instance, a degree in business (MBA) can lead to management positions with great earning potential, while specialized degrees in industries like technology and healthcare can also result in lucrative jobs.
Considerations
While GRE offers a larger number of subjects and may open up more career options, GATE is primarily concentrated on technical and engineering fields.
GATE might better fit your objectives if you're very interested in working in technology or conducting research in India.
The GRE offers additional freedom if you choose to study abroad or explore different disciplines outside of technical subjects.
List of GATE 2024 Participating Colleges
Students can check the list below for the participating colleges for GATE 2024.
List of GRE 2024 Participating Colleges
Students can check the list below for the colleges which accept GRE 2024 scores.
When we concentrate on our goals, the "GATE vs. GRE" the dilemma becomes clear. GATE is the way to go if you're aligned on pursuing specialized engineering degrees in India. It opens up doors to prestigious universities and domestic research opportunities.
In contrast, the GRE is the route of a wider global viewpoint and various subjects. It provides access to several graduate programs throughout the world that support different academic specialities and professional paths.
Your choice needs to reflect your long-term objectives, character traits, and intended impact. Either path can be successful with enough effort. The secret is finding a path towards a fulfilling future and coordinating your decision with your goal.
Related Articles
Stay tuned to CollegeDekho for more recent academic news and updates!