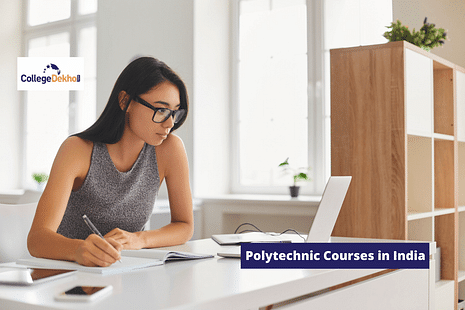 Polytechnic Courses 2024 - Many students might be considering what is actually a polytechnic course and whether there are any bright career opportunities for candidates if they secure a polytechnic degree. The one-word answer to all these questions is "Yes". Polytechnic courses are diploma or vocational courses that concentrate on providing technical education. Polytechnic courses are a three-year duration program, after completion of which candidates receive a diploma certificate. Many top engineering institutions offer diploma courses in several B.Tech specializations. For admission to polytechnic courses, candidates are required to score a minimum of 40% marks in their last qualifying examination with PCM subjects with English, Mathematics, and Science as compulsory subjects. 

Admission to polytechnic courses is done on the basis of merit and diploma-level entrance exams. Some of the entrance exams are AP POLYCET, TS POLYCET, CG PPT, JEXPO, JEECUP, etc. Some of the institutes are Government Polytechnic (GP), V.P.M.'s Polytechnic, S. H. Jondhale Polytechnic (SHJP), Government Women Polytechnic College (GWPC), etc. The polytechnic course average fee ranges from Rs. 10,000 to Rs. 5,00,000. Read this article to learn more about the different Polytechnic courses, specializations, entrance exams, admission process and more. 
What is Polytechnic Course?
Polytechnic is basically a diploma in technical courses. The polytechnic courses are ideal for students who wish to build their career in technical fields but do not want to or cannot attain that destination via the usual path of getting a bachelor's degree in engineering or technology right after completing higher secondary education. Polytechnic courses are diploma-level programs that the students can enroll in and later on they can defer to a B Tech (Bachelor of Technology) or B E (Bachelor of Engineering) course to pursue a career in engineering. Joining a B Tech course via lateral entry is also possible after pursuing a polytechnic course. Polytechnic courses give students an insight into the technicality of engineering and its subjects.
Difference between Polytechnic and B. Tech Courses
The key difference between Polytechnic and Bachelor of Technology (B. Tech) courses is that a Polytechnic is a diploma course whereas a B.Tech is a degree course. The duration of both courses also is different. Polytechnic courses usually take 3 years while B. Tech programmes are offered for a duration of 4 years. Therefore, anyone who wants to earn a degree will have to go for a Bachelor's in Technology and those who want to pursue a diploma should opt for Polytechnic courses. Furthermore, the Polytechnic vs B. Tech fee structure also serves as a major distinguishing factor; the annual course fee for B. Tech programmes is relatively higher than for Polytechnic programmes. 
Best Polytechnic Courses in India
Owing to the increasing popularity and demand for polytechnic courses, many colleges in India have started offering polytechnic courses in different subjects. Some new polytechnic colleges have been established by the Government of India which cater to diploma courses only. From some of the premier colleges of the country to private and self-financed colleges, all have incorporated a polytechnic diploma courses list in their curriculum. And have started accepting admissions of polytechnic diploma holders to their technical courses. Candidates can check the polytechnic diploma courses list given below. 
Polytechnic Courses After 10th Class
If candidates want to start their career early, then a diploma polytechnic course after the 10th class is the best choice for you. The demand for polytechnic diploma courses is increasing in India. As a result, candidates can find a job easily after completing a polytechnic course from a well-known institute. The minimum eligibility criteria to pursue this course is passing class 10th, which other degree programs don't have. If are planning to become an engineer polytechnic courses after the 10th class can help you with that. You can also opt to study further after polytechnic programs. Students can check out the  UP Board Class 10 Syllabus which will help them to score high marks in class 10. 
Polytechnic Courses After 12th Class
Students who wish to complete their 12th degree before applying for Polytechnic courses are in for a wider range of career options ahead. They can either go for advanced courses in a relevant domain or start their professional career in any of the varied job options. Additionally, having a higher degree also helps Class 12 graduates get better exposure in the job market and allows them to promote themselves more efficiently in their respective fields.
Polytechnic Course Admission Process
There are many polytechnic institutes in India and the admission process of these polytechnic institutes differs from the others. Some polytechnic institutions are privately operated and some are aided by the government. The admission process to a polytechnic also depends upon how the college or institute operates and the organization it comes under. In most cases, Polytechnic colleges conduct entrance exams to admit students.

The minimum eligibility a candidate must have to be allowed to appear for the exam is that he/ she must have cleared class 10. Every college has its own set of eligibility criteria that the students must go through before applying. Some institutes conduct admissions for polytechnic diploma courses on the basis of first come first served.
Polytechnic Admission Process: Steps-by-Step Guide
The Polytechnic admission process comprises multiple stages starting from registration to application form submission, issuance of hall ticket, appearing for the entrance exam, result announcement, and commencement of counselling. Aspirants can check the step-wise admission process below - 
Registration - The first stage involves registering for a Polytechnic entrance exam. Candidates are required to register and fill out the online application form released by concerned exam authorities within the specified dates. Applicants are required to fill in their personal and academic details, upload relevant documents, signature and photographs, and pay the requisite registration fee before the final submission to be eligible to appear for the Polytechnic exams.

Release of Admit Card - Candidates who complete the registration process within the specified period are issued admit cards for the respective entrance exams. The admit card serves as the hall ticket or gateway to the exam centre. Without this document, candidates shall not be permitted to sit for the test. The admit card includes all the details regarding the Polytechnic exam name, time and date, exam centre address etc. Students are advised to keep their admit cards safe till the result announcement, counselling and the final admission process since it is a crucial document through all the stages.

Entrance Examination - The state-wise Polytechnic entrance exams are conducted by the concerned authorities as per the schedule for admission to BTech and Diploma courses after the 12th Grade.

Result Announcement - Once the exams are conducted, the authorities publish the Polytechnic exam results for all the conducting states. A merit list of candidates qualifying for the state-wise entrance exams is published separately and only those who make it to the list are summoned to the counselling process. 

Counselling Process - Candidates who qualify the Polytechnic entrance exams are shortlisted for the counselling process. The counselling for Polytechnic admission is conducted separately over multiple rounds for each state by the concerned authorities rather than a centralized body. After each round of counselling, the authorities allocate seats to the eligible candidates based on merit rank, seat intake and preference. The final step involves reporting to the allotted colleges for Polytechnic admission as per the seat allocation.
State-Wise Polytechnic Course Admission Articles
Polytechnic Courses Eligibility Criteria
The eligibility criteria for polytechnic courses are set by the institute to which the candidate is seeking admission. Different colleges and institutes have different sets of eligibility criteria for conducting admissions in polytechnics. However, the minimum qualification that is required for a student to be considered eligible for polytechnic courses is more or less the same in every institute. To get admission to a polytechnic course of any college or institute, the student must have completed his/ her education of the 10th standard, which is also known as the Secondary School Leaving Certificate (SSLC), or an examination that is equivalent to it. The student must have obtained a certain number of marks in mathematics and science subjects which is decided by the college. Further, they must have cleared the board exams of all the subjects of class 10.
Many colleges conduct entrance exams for admitting students into their polytechnic courses and students have to qualify for the basic eligibility criteria to sit for the entrance exam. After completing the polytechnic diploma course, a student is eligible to enter a course of B Tech or BE in the second year through lateral entry. The guidelines for this differ from college to college. Some colleges admit students directly based on the marks they have obtained in their polytechnic diploma degree whereas some colleges conduct their own entrance test to gauge the knowledge of students before admitting them to their B Tech and BE programs.
Polytechnic Courses: Fee Structure
Polytechnic course fees are cheaper as compared to B. Tech/BE/B, Pharm programmes. The average course fee in India for a 3-year Polytechnic diploma degree ranges between INR 15,000 and INR 40,000 per annum. However, much of it depends on the specialization and the college to which one is applying. The fee structure in Government Polytechnic Colleges in India is relatively lower than in private colleges. For instance, the average annual course fee at Private Polytechnic Colleges starts from Rs. 35,000. The table below features the average Polytechnic course fee in India for different specializations.
| Polytechnic Course Name | Duration | Total Fees  |
| --- | --- | --- |
| Diploma in Architecture | 3 Years | INR 49,650/- |
| Diploma in Automobile Engineering | 3 Years | INR 49,650/- |
| Diploma in Chemical Engineering | 3 Years | INR 49,650/- |
| Diploma in Civil Engineering | 3 Years | INR 49,650/- |
| Diploma in Computer Engineering | 3 Years | INR 49,650/ |
| Diploma in Electronics Engineering | 3 Years | INR 49,650/- |
| Diploma in Electronics Engineering | 3 Years | INR 49,650/- |
| Diploma in Mechanical Engineering | 3 Years | INR 49,650/- |
Polytechnic Subjects & Syllabus
The syllabus of the Polytechnic colleges may vary from institute to institute. The Polytechnic courses curriculum of the polytechnic diploma course list includes various engineering subjects and intensive technical training. The Polytechnic subjects and syllabus vary as per the specializations. To get a fair idea about the course curriculum, candidates can go through the polytechnic subjects and syllabus specialization-wise given below. 
Specialization 

Polytechnic Subjects 

Digital Electronics and Microprocessors
Electrical Machines
Analog Electronics,
Electrical and Electronics Engineering Materials
 Installation and Maintenance of Electrical Equipment
Electrical Engineering Design and Drawing

Biomedical Engineering

Engineering Economics & Accountancy
Anatomy and Physiology
Anatomy and Physiology
Bio-Mechanics
Biomaterials
ANALOG ELECTRONICS
Biomechanics

Concrete Technology
Steel and Timber Structures Design and Drawing
Highway Engineering
Surveying
Irrigation Engineering and Drawing
Water Supply and Waste Water Engineering
RCC Design and Drawing 
Earthquake Resistant Building Construction

Computer Engineering

Computer Application and Programming
Computer Architecture & Organisation
Microprocessor and Interfacing
Computer Hardware and Networking
Digital Electronics
Engineering Economics & Accountancy

Agriculture Engineering

Water Resource Engineering
Farm Power and Machinery
Farm Structure
Rural & Entrepreneurship Development:
Rural Electrification and non-conventional energy
Process Engineering

Manufacturing Processes and Practices
Refrigeration & Air Conditioning
Production Management
Fluid Mechanics
Applied Thermodynamics
Industrial Training (4 Week after 4th semester)
Hydraulics and Hydraulic Machines
Strength of Materials
Machine Design
Maintenance Engineering
Automobile Engineering

Mobile Communication
Electronic Instrument and Measurements
Electronic Design and Fabrication Techniques
Network Filters Transmission Lines
Principles of Communication Engineering
Consumer Electronics
Advanced Communication
Microwave and Radar Engineering
Digital Signal Processing

Automobile Chassis & Transmission
Auto Electrical & Electronics
Automobile Workshop Practics
Auto. Repair & Maintenance
Engine & Vehicle Testing Lab
Project, Industrial Visit & Seminar
Automotive Estimation & Costing
Automobile Machine Shop
Cad Practice (Auto)
Special Vehicle & Equipment
Automotive Engine Auxiliary Systems 
Computer Aided Engg. Graphic
Automotive Pollution & Control

Basic Chemical Engineering
Industrial Stoichiometry
Environmental Engg
Applied Chemistry
Plant Utilities
Electrical & Electronics Engineering
Safety & Chemical Hazards
Industrial Management
Heat Transfer
Engineering Material
Fluid Flow
Thermodynamics
Chemical Technology
Note - The Polytechnic subjects and syllabus given above for each specialization may vary as each college has its own curriculum. These are not the diploma courses list of all the subjects of the Polytechnic syllabus  but a brief about it
Career Options in Polytechnic
Many career opportunities are available for students who complete their polytechnic courses after the 10th Class. In order to score good marks in class 10 which will later help you in getting admission to polytechnic courses, students are advised to prepare for class 10 exams using the UP Board Class 10 Previous Year Question Papers. Due to the intensive teaching and training that the students get throughout their polytechnic program, they have a thorough knowledge of the subject and its technicalities. Candidates are taught all the basic concepts of engineering in the course of polytechnic diploma courses which provides them transparency about the subject and ways to execute them when they step into their professional lives. Many companies hire students who have completed their polytechnic courses without making it mandatory for them to join a B Tech or  B E-course. 
Students can bag numerous job opportunities in the public as well as the private sector. Several companies that are run by the government or their allied PSUs (Public Sector Units) offer great jobs with lucrative salary packages to polytechnic diploma holders. Candidates who complete their polytechnic courses can find jobs at the junior level as well as technical level positions that are for both engineering and non-engineering students. Some of the leading government and Public Sector Unit organizations that employ polytechnic diploma holders are given below.
Indian Army
GAIL - Gas Authority of India Limites
DRDO - Defence Research and Development Organization
ONGC - Oil and Natural Gas Corporation
BHEL - Bharat Heavy Electricals Limited
BSNL - Bharat Sanchar Nigam Limited
NTPC - National Thermal Power Corporation
IPCL - Indian Petro Chemicals Limited
NSSO - National Sample Survey Organization
Jobs in Indian Railways
Jobs in Public Work Departments
Jobs in Infrastructure Development Agencies
Jobs in Irrigation Departments
Similarly, many public sector companies also offer many job positions to students who have completed their polytechnic courses after the 10th Class. Especially companies that deal in the domains of construction, manufacturing, electronics, communications, etc. provide several roles for polytechnic graduates. Some of the companies that recruit students who have a degree in a polytechnic course are given below:
Construction Firms - DLF, Unitech, Jaypee Associated, Mitas, GMR Infra, etc.
Airlines - Spicejet, Indigo, Jet Airways, etc.
Communication Firms - Reliance Communications, Bharti Airtel, Idea Cellular, etc.
Automobiles - Toyota, Maruti Suzuki, TATA Motors, Bajaj Auto, Mahindra, etc.
Computer Engineering Firms - HCL, TCS, Polaris, Wipro, etc.
Mechanical Engineering Firms - ACC Limited, Hindustan Unilever, Voltas, etc.
Electrical / Power Firms - BSES, Tata Power, L&T, Seimens, etc.
Apart from these jobs, some people also choose to go for self-employment jobs and start a business of their own after completing a polytechnic course.
Why Choose a Career in Polytechnic?
Some of the most common concerns among students are – 'Why choose a career in Polytechnic?' 'What is the scope after diploma?' and 'What type of job offers are expected?' To answer these queries, here we have listed a few reasons why a Polytechnic course is a good option to opt for.
Job offers after Class 10th/12th: One of the benefits of pursuing a Polytechnic course is the availability of job opportunities right after the 10th or 12th grade. Students who do not wish to continue with higher education and want to apply for jobs instead can get plenty of opportunities in their respective fields right after completing the diploma programme.

Placement opportunities: After the completion of the 3-year Polytechnic course, students can get placed as per their skills and qualifications.

Scope for government recruitment exams: Students with a Polytechnic diploma degree can apply for a number of government recruitment exams for various positions, such as a Junior Engineer, Loco Pilot, Technical Assistant etc. Thus, if your aim is to secure a job in the government sector, a diploma in Polytechnic will suffice.

Economical: Lastly, with the average annual course fee starting from INR 15,000, Polytechnic courses can be a good option for students who cannot afford exorbitant course fees for other engineering/management degree programmes.  
List of Polytechnic Entrance Exams in India 
There are a number of entrance exams conducted all across India for admission to Polytechnic courses. These exams are mostly conducted annually at the state level. Students who are interested and eligible for Polytechnic diploma programmes can apply through these popular entrance exams. We have also provided the tentative dates when one can expect these exams to be held. 
| State | Name of the Entrance Exam | Tentative Exam Date |
| --- | --- | --- |
| Andhra Pradesh  | AP POLYCET, AP DEECET | 2nd week of May, 2024 |
| Arunachal Pradesh  | Assam PAT | 3rd week of June, 2024 |
| Bihar | DCECE | 3rd week of June, 2024 |
| Chattisgarh  | CG PPT | 2nd week of June, 2024 |
| Delhi (state) | CET Delhi | 3rd week of June, 2024 |
| Gujarat | Gujarat Polytechnic | 2nd week of May, 2024 |
| Goa | Goa Polytechnic Admission | 2nd week of May, 2024 |
| Haryana | Haryana Polytechnic DET | 3rd week of May, 2024 |
| Jammu and Kashmir | JKPET | 4th week of April, 2024 |
| Jharkhand | Jharkhand Polytechnic (PECE) | 4th week of April, 2024 |
| Karnataka | DCET Karnataka | 3rd week of May, 2024 |
| Kerala | Kerela Polytechnic | To be Announced |
| Madhya Pradesh | MP PPT | 3rd week of May, 2024 |
| Telangana | TS POLYCET, TS DEECET | 3rd week of May, 2024 |
| Uttar Pradesh | JEECUP | 2nd week of August, 2024 |
| West Bengal | JEXPO | 3rd week of June, 2024 |

10 Best Polytechnic Colleges in India
In India, there are a number of institutes and colleges that offer Polytechnic courses. The fee structure of polytechnic diploma courses is also less compared to an engineering degree.  Candidates can choose the Polytechnic colleges according to liking, fee structure, and specialization they are offering. A diploma course list of the ten polytechnic colleges in India is given below.
| South Delhi Polytechnic for Women, Delhi | Baba Saheb Ambedkar Polytechnic (BSAP), Delhi |
| --- | --- |
| Government Women's Polytechnic (GWP), Patna | Kalinga Polytechnic Bhubaneswar (KIITP), Bhubaneswar |
| Ananda Marga Polytechnic, Kolar | Government Women Polytechnic College (GWPC), Bhopal |
| S. H. Jondhale Polytechnic (SHJP), Thane | Vivekanand Education Society's Polytechnic (VES Polytechnic), Mumbai |
| Government Polytechnic (GP), Mumbai | V.P.M.'s Polytechnic, Thane |
Related links
| CENTAC Diploma Polytechnic - Admission, Dates, Application Form, Eligibility, Courses, Merit List, Counselling Process | Polytechnic Diploma Admission: List of Entrance Exams, Application Form, Eligibility Criteria |
| --- | --- |
| Jharkhand Lateral Entry Diploma Admission - Dates, Entrance Exam, Registration, Merit List, Selection Process | DTE MP Polytechnic Diploma Admission - Dates (Out), Application Form, Merit List, Choice Filling (September 8 to 18), Counselling, Seat Allotment |
For more articles and updates on polytechnic courses and related ones, stay tuned with Collegedekho!