Since CAT 2020 result has been out, candidates who have been shortlisted for IIMs will be now gearing up for the Written Ability Test (WAT) and Personal Interview (PI) as that is an important and challenging part of the IIM admission process. They carry more than 50% weightage in the CAT selection process. Only those candidates who satisfy the IIM cutoff are called for the PI round. They will then have to visit the reporting centre decided by the IIM. In this article, we have provided the list of all the important documents that candidates need to carry for the PI round. We have also provided the tips to crack the PI round of IIM selection process here. 
Documents Required for IIM Personal Interview
Check the list of all the documents that are required for the IIM personal interview round
Original and photocopies of the 10th, 12th and graduation mark sheets

Printout of CAT scorecard

Valid Caste Certificate

Certificates of your achievements

Original Identity Card issued by government

Samples of your hobbies (if there are any) like Articles written by you or Paintings

Work Experience Certificate along with the proofs to support your claims like Joining Letter or Salary Slip

Form filled for the particular IIM

Resume

Passport size photographs(Optional)
Tips to Crack IIM Personal Interview
Cracking an IIM Interview is a very difficult task. Many aspirants prepare well for this round, go through all the business magazines, newspaper editorials and current affair journals, but fail to make it to their dream college. Knowledge is not enough to crack the IIM interview, candidates also need to have good personality traits like communication skills, composure and confidence. We have provided some of the tips below that can help you ace the PI round of IIM.
You should be well prepared regarding your goals and ambitions related to MBA. You are advised not to copy the answer to "Why MBA" question from any website. 

Read a newspaper every day and go through all the current affairs and important national and international events.

"Strengths and Weaknesses" is an important question that is asked in the IIM interview. You should prepare for this question by listing down all your strengths and weaknesses on a page.

If you have some prior work experience then you should be well aware of your job profile and company. You should have a good knowledge of the tasks and responsibilities entrusted upon you.
Most of the questions in the IIM interview will be based on the undergraduate subjects especially when you have just completed your graduation. You should revise all the important concepts and topics you have studied in your graduation before going for the interview.

You should answer the questions in the interview with confidence and smile. You should be as polite as you can with your responses.

You should go through the tips provided by the candidates who have successfully cracked the IIM interview. You can also check the tips provided by the IIMs alumni.

You should be honest to yourself and interviewers. The honest approach during the interview also makes the given responses genuine and natural.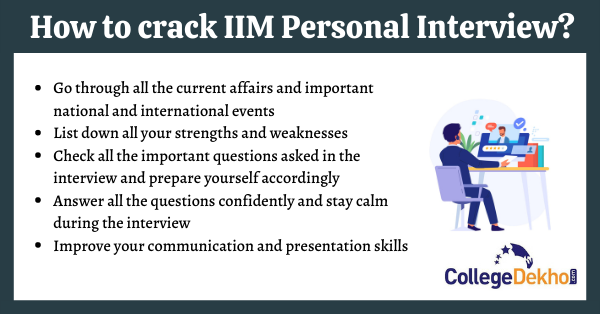 Skills Required to Crack IIM Interview
Here are the skills that are required to crack the final interview round of IIM successfully
Communication skills

Subject knowledge

Writing ability

Attitude

Listening power

Leadership skills

Confidence

Interactive skills

Presentation skills

Problem-solving ability

Open-mindedness

Critical and analytical thinking ability
Common Questions Asked in IIM Personal Interview
Provided below are some of the common questions that are asked in the interview round of IIM
What's your biggest weakness?

Are you a team player or you like to do things single-handedly?

Why MBA?

Why should we select you?

What do you think is the reason behind poverty?

Why exactly do you want to come to this IIM campus?

What is your greatest achievement?

What are your hobbies and interests?

Why Finance/ Marketing etc. specialisation?

 What is your expectation from this MBA programme?

Walk me through your profile/ resume.

What are your long-term goals?

Who has inspired you in your life and how?
Candidates are advised to go through the "About Us" and "About the Program" part of the college before going for the PI round. They are also advised to stay calm during the IIM personal interview round. Those who want to know tips related to Written Ability Test 2020 for IIMs and Other Top MBA Colleges can ask questions on the Collegedekho QnA zone. For admission related assistance, fill our Common Application Form. 
Related Articles