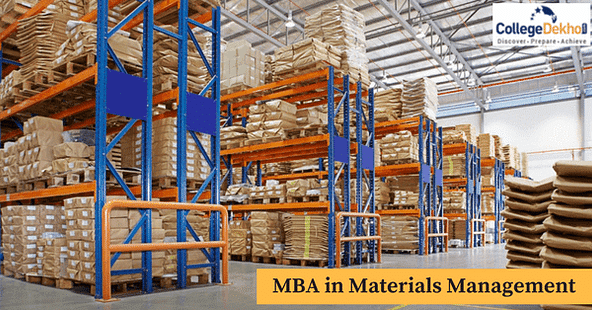 MBA in Materials Management is a popular course among candidates who are interested in the planning, designing, building, logistics, etc. of the material until it reaches its final destination. It is a 2-year course which involves a thorough study of all material related activities such as materials planning and identification, purchase of systems and procedure, handling and transportation, variety reduction, inspection, inventory management, vendor management, and the issue of materials to the internal customers.
It is also seen as a promising career option as a range of job opportunities are available in this field in both the public as well as the private sectors. Also, one must possess great communication and negotiation skills in this industry as the main aim of the material manager is to bring down the cost, without compromising on the quality and timely supplies. While there are many MBA colleges in India, among them are plenty that offer MBA in materials management course specifically.
About MBA in Materials Management:
Since materials management is an essential part of management, hence a master's degree in it can open new doors for the aspirants. To know more about a master's degree in material management read below:
Name of the Programme

MBA in Materials Management

Duration

2 years

About the Programme

Materials management is a study of planning and regulating the flow of material in a cost-effective manner. Market research and managerial skills are also an essential part of the programme.

Popular Areas of Study

Logistics
Inventory Management
Stock Control
Quality Management
Accounting
Capacity Management
Cost Elements
Negotiation Skills
Marketing Management
Human Resources Management
Business Environment and Ethics
Corporate Communication
Export Trade and Documentation

Fees

Annual fees for the MBA programme can vary from Rs.20,000 to Rs. 3 Lakhs. Fees for the government college is comparatively less than the private colleges.

Selection Process

Selection for the master's programme is on the basis of graduation grades and viva voice. Colleges may conduct their respective entrance exams, group discussions, and personal interviews.
Eligibility Criteria for MBA in Materials Management
Listed below are the eligibility criteria for pursuing MBA in Materials Management
Minimum eligibility criteria for MBA and Post Graduate Diploma in Materials Management is 50% aggregate in bachelors.
A student who has studied subjects such as Business Studies, Accounts, Economics and Maths will get an additional advantage.
Selection Process for MBA in Materials Management
Selection in the respective universities and colleges is on the basis of CAT, MAT, XAT, and other management entrance exams. Some colleges even ask for 2 years of relevant work experience as their eligibility criteria. The final selection is usually done on the basis of the scores of written test, Group Discussions, Personal Interviews, and work experience in a few cases. Few colleges prefer candidates from the engineering background as they can provide better technical support.
Skills Required for a Successful Career in Materials Management:
Given below are some of the skills which are required for a successful career in this field:
Negotiation skills and understanding the dynamics of the supply chain market are one of the most important skills required in material management.
Knowledge about the new logistic process, inventory management, customer satisfaction, and problem-solving are of utmost importance in this field.
Good communication skills and ability to work in a team also play a very important role.
MBA in Materials Management Colleges in India:
Some of the top colleges offering MBA in Materials Management are mentioned below along with their location and fees (approximate)
​Check out the complete list of Materials Management Colleges here.
Job Opportunities after MBA in Materials Management:
Material management has diverse employment options both in the private and government sector. From railways to research, to the military to public transport to supply chain industries, material managers can be found everywhere. Following are some of the popular jobs in the field of material manager:
Purchasing Manager
Quality Manager
Inventory Manager
Materials Manager
Materials Supervisor
Not only this with great managerial skills and zeal for your career, but you can also even go up to the level of Chief Purchasing Officer (CPO) and President.
Salary Scope in Materials Management Jobs:
From the past two decades, a lot has changed for aspirants who wish to make a career in the field of material management. An average salary for an MBA professional starts from Rs, 7 lakh- Rs. 8 lakh per annum. Whereas for candidates with the diploma, the average salary can be up to Rs. 4 lakh per annum. Please, note salary packages may vary as per industry trends and company to company as per candidate's ability.
If you need any admissions-related help in terms of choosing the right college/institute for pursuing MBA in Materials Management, you can contact CollegeDekho by filling our Common Application Form or calling our toll-free student helpline number 1800-572-9877.