Good Score in NATA 2022: The Council of Architecture conducts the National Aptitude Test in Architecture (NATA )for admission to the Bachelor of Architecture course in India. The candidates who passed the NATA exam take part in the state-level B.Arch counselling process. The NATA 2022 exam is being held in 3 sessions. The NATA session 1 and 2 exams have been conducted successfully. Now, the NATA session 3 exam will be conducted on August 7, 2022. The candidates can also apply for direct admission to different deemed universities on the basis of the NATA score. The candidate's score in the NATA exam plays a major role in their admission into the B.Arch colleges of India. It is, therefore, important that candidates must have a thorough understanding of what is a good score in NATA 2022 exam. To help you get a grasp of the good score in NATA 2022, we have provided important details in this article, that you can go through. 
Video - What is a Good Score in NATA?
NATA 2022 Marking Scheme
Before diving into what is a good score in NATA 2022, understand the NATA marking scheme. Candidates can check the latest marking scheme given below according to the NATA exam pattern 2022. 
There will be questions of the multiple-choice (MCQ), multiple-select (MSQ), preferential choice (PCQ), and numerical answer (NAQ) formats in the NATA 2022 exam
The NATA 2022 exam will be conducted for a total of 200 marks
The questions will be of 1 mark, 2 marks and 3 marks in the test
There will be no negative marking in NATA exam
NATA 2022 Qualifying Marks
Before knowing what a good score in NATA can be, it is important to have an idea of the qualifying marks required in NATA. As per the official brochure of NATA released by CoA, a candidate must score a minimum of 70 marks out of 200 to be declared qualified in the NATA exam. Therefore, it is important to score 70 or above to clear the exam.
NATA 2022 Result
The CoA will release the NATA result 2022 online on its official website for each session separately. Candidates can view information such as their secured section-by-section and overall scores as well as their eligibility status through the NATA 2022 result/scorecard. To be eligible for admission, applicants must achieve the NATA qualifying cutoff. The NATA result for 2022 is only valid for a year. To access the NATA result candidates should keep their login credentials given in the NATA admit card ready. The NATA result will be released separately for each attempt. The NATA session 1 result was released on June 20, 2022, and session 2  and 3 results will be released soon. 
NATA Cutoff
To pass the NATA 2022 exam, a candidate must achieve the minimum qualifying cutoff of NATA 2022, both individually and collectively. The minimum qualifying marks that a candidate must score to clear the NATA exam 2022 is 70 out of the total 200 marks. Candidates will not be qualified for admission into any NATA participating institutes cutoff is not met. The NATA cutoff is affected by various factors like the number of candidates applying for the exam, previous year's cutoff, number of seats available, candidate's category, total number of participating institutes, total number of qualifying candidates, etc. 
Good Score in NATA 2022
In every state, the NATA score secured by candidates is converted into ranks, and the admission process will be based on the rank. The score of NATA is the sole criterion for determining the ranks. The NATA score can be categorized into Very Good Score, Good Score, Average Score and Low Score. Check the table below to get a understanding about what is a good score in NATA 2022 –
| | |
| --- | --- |
| Type of Score | Marks |
| Very Good Score | 150+ out of 200 |
| Good Score | 120 – 150 out of 200 |
| Average Score | 90 – 120 out of 200 |
| Low Score | 75 – 80 out of 200 |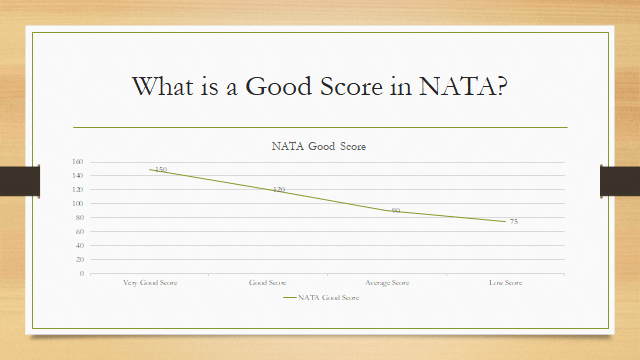 From the above table, it is clear that a good score in NATA 2022 can be around 120 to 150 marks out of 200. You can click on the links below for better clarity and understanding. Candidates are advised to appear for both Phase 1 & 2 of NATA so that the best score can be used for B.Arch admission. It is also a good chance to improve the score.
Related Links
On the other hand, it is not possible to figure out NATA marks vs rank, as CoA does not conduct central-level counselling for B.Arch admission through NATA. As most of the students appear for both JEE Main Paper 2 and NATA, the scores of these exams are combined to determine merit rank in many states.
Good NATA Score to Get Admission in Top B.Arch Colleges
For securing admission in top B.Arch colleges, a candidate must have a minimum of 120+ marks in the NATA exam. If you are aspiring for admission in top deemed universities such as LPU, Amity, GITAM etc, any score above 120+ will fetch you admission.
Popular B.Arch Colleges for Direct Admission
You can check the list of popular B.Arch colleges for direct admission in the B.Arch course (without participating in counselling). However, you must have appeared for NATA/ JEE Main Paper 2 to get admission to these colleges.
We hope that this post on what is a good score in NATA 2022 was helpful and informative to you. Stay tuned to CollegeDekho for the latest NATA 2022 updates.