Air Force Common Admission Test (AFCAT) is a national level entrance exam conducted by the Indian Air Force. The exam is conducted twice a year for selecting Officers in various branches including Ground Duty Branch, Technical Branch and Flying Branch. AFCAT 1 2022 will be conducted on February 12, 13 and 14. The exam will be conducted in two shifts. The schedule of AFCAT (2) 2022 can be found on this page. 
Candidates who want to apply for Ground Duty (Non-Technical) and Flying Branch need to appear for AFCAT while those who are applying for the Ground Duty (Technical) branches need to appear for both AFCAT and Engineering Knowledge Test (EKT).
AFCAT II Registrations ended on June 30, 2022.  Candidates who are appearing for the exam are advised to read all the important guidelines for the AFCAT 2022 exam provided here.
AFCAT 2 2022 Exam Schedule
Check the reporting time as well as the exam timings of the AFCAT II from the table provided below.
Activity

Shift 1

Shift 2

Reporting time

7:30 AM

12:30 PM

Verification of  Admit Card & ID Proof, Biometrics, Photo/ Thumb Impression/ Sign on Attendance 
Sheet & Candidate Seating in Exam Hall

7:00 AM to 9.30 AM 

12.30 PM to 2:30 PM 

Reading the Instructions

9.30 AM to 9.45 AM 

2:30 PM to 2.45 PM

AFCAT Exam Timings

9.45 AM to 11.45 AM 

2.45 PM to 4.45 PM 

Reading of Instructions by the candidates for EKT Exam

NA

5:00 PM to 5:15 PM

EKT Exam Timings

NA

5.15 PM to 6:00 PM 
Also Read:Documents Required to Fill AFCAT 2022 Application Form - Photo Specifications, Scanned Images
AFCAT 2022 Exam Day Guidelines
Here are some of the important exam day guidelines for the AFCAT 2022 exam.
Carry Your Admit Card and Valid ID Proof
Candidates are advised to carry their admit card while going for the exam. They can download the AFCAT admit card from the official website of the Air Force Common Admission Test. Candidates should note that they will also have to carry one Id proof such as Driving License, Voter ID, Aadhaar or Passport.
Reach on Time
Candidates are advised to reach the exam centre at least one hour before the exam. They can check the exam centre allotted to them from the admit card. The address, as well as the exam timings, will also be available on the AFCAT admit card. Candidates appearing for the Shift 1 exam will not be allowed to enter the examination hall after 8:00 AM and those appearing for the Shift 2 will not be allowed to enter after 12:30 PM.
Read Instructions Provided on the Admit Card
Candidates are advised to read all the instructions provided on the admit card as well as on the question paper. Going through the instructions will allow the candidates to understand the exam pattern as well as the important points that should be kept in mind while answering the questions.
Also Read:How to Score 200+ Marks in AFCAT
Avoid Wasting Time on Doubtful Questions
Candidates should avoid wasting time on doubtful questions. They should focus on answering the questions in which they are confident. The total duration of AFCAT exam is 02 Hours (120 minutes) and no extra time will be provided to any candidate.
Manage Your Time Wisely
The question paper of AFCAT will contain questions from Numerical Ability, Verbal Ability in English and Reasoning and Military Aptitude Test. Candidates are advised to divide the total time wisely so that they get enough time for all the sections of the exam. 
Take Proper Rest
Candidates are advised to take proper rest before going for the exam. They are also advised to avoid learning new concepts and topics on exam day. They can revise the notes prepared by them during the preparation.
Do Not Carry Any Prohibited Items Inside the Exam Centre
Candidates are advised not to carry any prohibited items inside the exam hall. They should not carry any other document except the admit card and ID proof. Those who are carrying any prohibited item will not be allowed to enter the exam centre.
ID Proof Required with Admit Card on AFCAT Exam Day
Provided below is the list of items that the candidates can carry as an ID proof on the AFCAT exam day.
Aadhaar Card

PAN card

Driving licence

Passport

Voter identity card
Also Read:What is a Good Score in AFCAT?
Items Allowed Inside AFCAT Examination Center
Candidates need to carry the following items while going to the AFCAT examination centre.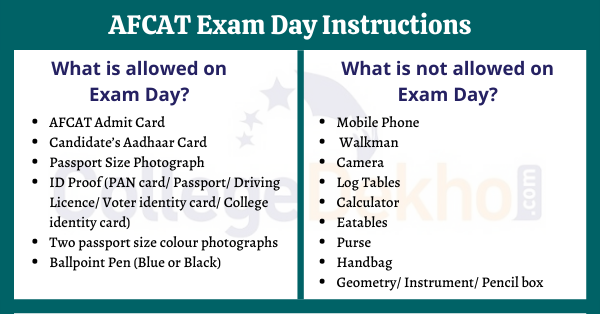 e-Admit Card of AFCAT 02/ 2022.
Another valid photo identity card such as PAN card/ Voter Identity card/ Passport/ Driving Licence/ College identity card or any other valid photo identity proof, with details of father's name, date of birth, name and a clear photograph.
Two passport size colour photographs- same as the photo uploaded during the application process (to be pasted, not stapled on Admit Card next to the printed photo and on the attendance sheet at the exam centre).
Aadhaar Card of the candidate
Ballpoint Pen (Blue or Black) for signing on the attendance sheet and rough work. 
Items not permitted inside AFCAT Examination Center
Provided below is the list of items not allowed inside the AFCAT examination centre.
Blue tooth device, electronic/ communication / digital/ wireless devices like docupen, calculators, electronic watches with facilities of calculator, cellular phone, memory card/ stick, personal digital assistant (PDA), pager, organizer, concealed microphone or camera, radio, headset, Walkman, recorder, translator etc.
Textual or stationery material such as log tables, pencil-box/ geometry box, book, clipboard, slide rule (except blue or black transparent ballpoint pen).
Personal items (bracelets, wristwatch/wristband, handbags, wallet, purse, head gear, ornaments, scarf, goggles, jackets) eatable items (chips, chocolates, food, drinks etc.).
If any candidate is found carrying any of the items listed above, his/ her examination will be cancelled. Furthermore, candidates are advised not to bring any valuable or expensive items to the Examination Centers, as their safekeeping cannot be guaranteed. The Indian Air Force will not be held liable for any losses incurred in this regard. 
Candidates are advised to go through the exam pattern of AFCAT to understand the marking scheme of the exam. Besides this, those who have not downloaded the admit card are advised to download the admit card as possible to avoid any last-minute rush. Candidates who have any questions regarding the AFCAT entrance exam can ask questions on the Collegedekho QnA zone.
Meanwhile, candidates can check some AFCAT related articles provided below.
For admission-related assistance fill our Common Application Form or call on our toll free number 1800-572-9877.