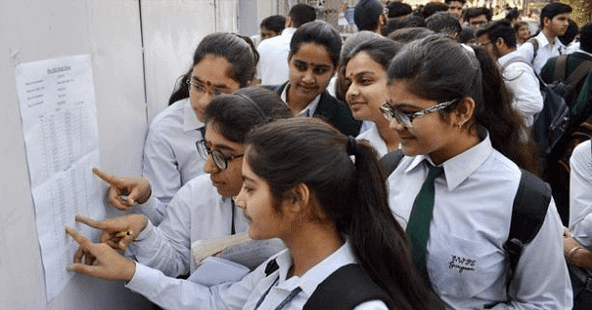 The results of CBSE and ICSE exams 2019 have been declared and the question that arises now is which board has performed better. Both are national boards and have schools following the two boards across India. Let's take a look at the two and compare which one fared better this year on the basis of the results of the board exams. Given below are various parameters to analyse which board performed better:
Students' Number
The number of students in CISCE is lower as compared to CBSE. For class 10 ICSE, 1,96, 721 candidates appeared and for class 12 ISC, the number is 86,713. On the other hand, for CBSE class 10 and 12, a total of 31 lakh students appeared.
Number of Languages
ICSE was held in 10 foreign, 22 Indian and 2 classical languages. ISC was conducted in 6 foreign, 14 Indian and 1 classical language whereas CBSE exams were held in Hindi, English and the various state-languages which depended upon the state the student had appeared from.
Pass Percentage
If you look at ICSE, the pass percentage is 98.54 and for ISC, it is 96.52. Regarding CBSE the pass percentage for class 10 is 91.10 and for class 12, it is 83.40.
Top Scorers
For CBSE class 10, total 2,25,143 students managed to score more than 90 percent, and 57,256 students scored more than 95 percent. For CBSE class 12, 94,299 students got above 90 percent and 17,693 students got more than 95 percent. No data is available for ICSE and ISC.
Also Read: Students Securing Above 95% Twice as That of Last Year in CBSE Class 10 Results
Passing Marks
For ICSE and ISC, the minimum marks to pass went down from 35 percent to 33 for ICSE, and from 40 to 35 for ISC. CISCE has 35 percent marks as the minimum. CBSE also had lowered the passing marks from 35 to 33 for both class 10 and 12.
Toppers
Hansika Shukla and Karishma Arora scored the top rank in class 12 CBSE with 499.500. The second rank was shared by three girl students, and 18 students scored the third rank with 497 marks and out if these 11 were females. Dewang Kumar and Vibha Swaminathan scored 100 percent marks in ISC, 16 students got the second rank with 399/400, and with 99.75 percent. 36 students secured the third rank with 99.50 percent and 398/400 marks.
Also Read: Manish Sisodia claims CBSE Delhi Government School Results 2019 Best in 21 years
13 students scored 499 out of 500 in CBSE class 10, 26 students got the second rank by scoring 498/500 and there was a tie for the third rank between 58 students. They all got 497 marks. In ICSE class 10, the top rank was shared between two students who scored 498 out of 500 with 99.6 percent. 10 students got the second rank with 99.40 percent i.e. 497 out of 500. 24 students got the third rank with 496 marks and 99.20 percent.