NIFT Situation Test 2023 will be held in the month of April, 2023 as per the official notification. The dates have been announced on the official website of NIFT at niftadmission.in. The situation test will be conducted for only those candidates who qualify in the written test (CAT and GAT). The NIFT Situation Test is conducted only for admission to the BDes course. It is essential to perform well in the Situation Test of the NIFT Entrance Exam as it is a major deciding factor for a candidate's admission. The final NIFT 2023 result is expected to be declared in the month of May 2023. 

Performing well in the NIFT 2023 Situation Test is extremely important as it is a major deciding factor for the candidate's admission because the NIFT Situation Test 2023 carries 20% weightage in the final result. In this article, we have provided some basic yet essential tips for the preparation of NIFT Situation Test. All design aspirants must go through the strategies explained here.
NIFT 2023 
NIFT 2023 exam is scheduled to be held on February 05, 2023. National Institutes of Fashion Technology (NIFTs) admission is done through a design entrance test held in several rounds. NIFT is among the premier design institutes of India and conducts its individual design entrance exam for selecting candidates for its several UG and PG programmes. The admission through NIFT Entrance Exam is a three-tier process. Aspirants have to appear for the Creative Ability Test (CAT) and General Ability Test (GAT) which is followed by the Situation Test.
NIFT Entrance Exam is organised for admission to the design courses offered at all the campuses of NIFT. These programmes include Bachelor of Design (B.Des), Bachelor of Fashion Technology (B.F.Tech), Master of Design (M.Des), Master of Fashion Technology (M.F.Tech), and Master of Fashion Management (M.F.M.).
NIFT Entrance Exam: Weightage of Each Section
The weightage given to each section of the NIFT Entrance Exam is different. The selection of candidates is done on the basis of their performance in every section and the weightage given to it. Everyone appearing for the test must know the NIFT Entrance Exam pattern and weightage allotted to every exam.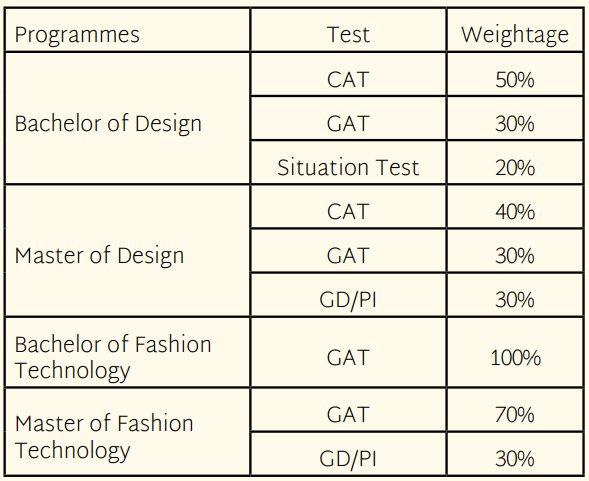 NIFT Situation Test Exam Pattern and Syllabus
There is no prescribed syllabus of NIFT Situation Test as such and candidates are tested on their creativity. They are provided with some material from which they have to make models. The aspects on which candidates are evaluated in the NIFT Situation Test have been listed below.
| | | |
| --- | --- | --- |
| Creative Thinking | Neatness | Innovative Ideas |
| Colour Scheme | Aesthetic Appeal | Working Methodology |
| Composition of Elements | Conceptualisation Skills | Creative Use of Material Provided |
| Space Visualisation | Overall Presentation | Observational Skills |
Within a span of two hours, candidates have to make 3-D models that are asked in the question paper. They also have to provide a caption and short explanation describing the model created by them. They are closely monitored while giving the Situation Test and how they manage time during the exam is also considered while evaluation.
Also Read: NIFT UG and PG Design Courses Fee Structure 2023
How to Prepare for NIFT Situation Test
Since the NIFT Situation Test does not comprise a specific or predefined syllabus, the preparation of the exam is not something that can be done through books or study material. Go through the points listed below to find out how you can not only prepare for the NIFT Situation Test but also excel while giving the exam. These tips will definitely help you with the NIFT Situation Test preparation.
Tip #1: Enhance your observation skills and pay attention to the details of all the basic things around you.
Tip #2: Try boosting your creativity through various tasks and activities. Think out of the box and give a new angle to simple tasks and objects.
Tip #3: Prepare a tool kit for model making with all the necessary utilities like a geometry box, foot rulers in metal and plastic, a pair of scissors (both big and small), paper-knife, glue stick, cello tape, fevicol, paper pins, markers etc.
Tip #4: During the preparation, try practising on as many kinds of material as you can. Make yourself acquainted with different products that are given for the model making of NIFT Situation Test and understand each one's usage.
Tip #5: Make sure you include some of the most common materials in your practice. Some of the materials you can practice with are:
Card Board
Hand Made Sheets
Thermocol (both Thick and Thin)
Different Types of Fabric
Glaze Papers
Cellophane
Kite Papers
Coloured Clay
Foam
Aluminium Foil
Cotton
Aluminium Sheet
Sun Pack
Straw Pipe
Transparent Sheet
Mouldable Aluminium Wire
Rubber Sheet
Decoration Stuff like Beads and Sequins
Gift Wrapping Papers
Velvet Paper, etc.
Tip #6: Train yourself to make a model within the time limit. Keep some extra time for writing the explanation of the model as well. Learn proper time management during your preparation.
Tip #7: Go through as many sample papers and previous year question papers of NIFT Situation Test as possible. Solve all the questions and get an understanding of what is asked in the paper.
Also Read: What's Next after NIFT Entrance Exam?
By following these tips and tricks, you can easily ace the NIFT Situation Test for B.Des admissions. You can fill the Common Application Form (CAF) or call on the toll-free number 1800-572-9877 for any admission related queries.
Stay tuned to CollegeDekho to get more information regarding NIFT admissions and courses.