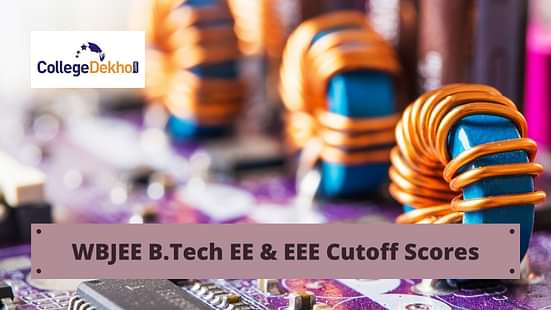 WBJEE EE & EEE Cutoff 2023 - On the official website wbjeeb.nic.in, the West Bengal Joint Entrance Examinations Board (WBJEEB) will announce the WBJEE EE & EEE 2023 cutoff. After each session of WBJEE counselling, the authorities will issue the WBJEE B.Tech EE Cutoff 2023 and WBJEE B.Tech EEE Cutoff 2023. The WBJEE cutoff 2023 is determined by the opening and closing rankings, and it is within the range that admission will be given to the participating colleges in the West Bengal Joint Entrance Examination 2023.
Latest Update:
The cutoff for WBJEE 2023 will fluctuate depending on the institute, course, and candidate category. For calculating the WBJEE cutoff 2023, the authorities will take into account a variety of parameters such as the number of applications, the number of seats available, the previous year's cutoff patterns, and so on. Because the WBJEE 2023 EE & EEE cutoff has not yet been issued by the authorities, candidates can use this website to reference past year cutoffs. Read the entire article to learn more about the WBJEE EE & EEE cutoff 2023, as well as the factors that influence it. The tables below contain the WBJEE 2023 B.Tech EE & EEE cutoff scores of some of the top WBJEE 2023 participating institutions according to the latest released WBJEE B.Tech EE & EEE cutoff list for round 1. 
What is WBJEE Cutoff?
WBJEE 2023 cutoff can be considered as the opening rank and the closing rank of the candidate required for admission into participating BTech institutes. WBJEE counselling 2023 registration commenced from July 20, 2023. The WBJEE counselling process will be conducted in three rounds i.e. allotment, upgradation and mop-up round. The cutoff of WBJEE 2023 will be released after each round of counselling.
What are The Factors Determining The WBJEE 2023 Cutoff?
Following are the factors that determine the cutoff of WBJEE 2023.
Number of applicants applied for WBJEE 2023 exam
Number of candidates appeared for WBJEE 2023 exam
The level of difficulty of the question of WBJEE 2023 exam
The total number of seats available in the institutes
The previous year cut off trends of WBJEE 2023.
WBJEE B Tech EE Opening and Closing Rank 2023 (Round 1)
The WBJEE 2023 opening and closing rank for BTech EE & EEE round 1 will be updated here. Students need to be well prepared in order to score good rank and land a good college.
WBJEE 2022 B.Tech Cutoff Scores
WBJEE B Tech EE Opening and Closing Rank 2021 (Round 1)
The WBJEE B.Tech EE opening and closing rank for the year 2021 (round 1) has been updated in the table below - 
| Institute Name | Category | Round 1 OR | Round 1 CR |
| --- | --- | --- | --- |
| | AI | 62 | 149 |
| Jadavpur University | HS | 150 | 298 |
| | AI | 552 | 995 |
| | HS | 1119 | 1646 |
| | HS | 1664 | 3291 |
| | AI | 2671 | 5728 |
| Government College of Engineering & Textile Technology, Berhampore | HS | 4153 | 6190 |
| | AI | 2465 | 6614 |
| Aliah University, New Town | HS | 4591 | 6969 |
| | HS | 3036 | 7964 |
| Ramkrishna Mahato Government Engineering College, Purulia | HS | 3463 | 8497 |
| Ghani Khan Choudhury Institute of Engineering & Technology, Malda | HS | 4458 | 9411 |
| University Institute of Technology, Burdwan  | AI | 2907 | 11529 |
| Techno India University, Salt Lake | AI | 4254 | 12332 |
| Techno Main Salt Lake, Sector-V, Salt Lake | AI | 6637 | 16051 |
| | AI | 7130 | 17812 |
| | AI | 3973 | 24419 |
| St. Thomas College of Engineering & Technology, Khidirpur, Kolkata | AI | 7212 | 25588 |
| | AI | 10718 | 27125 |
| | AI | 27510 | 27510 |
| | AI | 10380 | 27578 |
| | AI | 12876 | 28740 |
| | AI | 18531 | 34032 |
| Abacus Institute of Engineering & Management, Mogra, Hooghly | AI | 8187 | 38803 |
| Techno International New Town, Rajarhat, New Town | AI | 13990 | 41857 |
| Calcutta Institute of Engineering & Management, Tollygunge, Kolkata | AI | 5381 | 42252 |
| | AI | 9184 | 43007 |
| | AI | 19917 | 45978 |
| | AI | 37438 | 46060 |
| Global Institute of Management and Technology, Krishnanagar, Nadia | AI | 32468 | 48910 |
| Durgapur Institute of Advanced Technology & Management, Durgapur | AI | 2905 | 50670 |
| | AI | 12366 | 50678 |
| | AI | 18911 | 50844 |
| | AI | 20275 | 51872 |
| | AI | 17059 | 52500 |
| | AI | 20207 | 53545 |
| Modern Institute of Engineering & Technology, Bandel, Hooghly | AI | 53763 | 53763 |
| | AI | 18053 | 54030 |
| | AI | 6106 | 54512 |
| | AI | 14997 | 56025 |
WBJEE B Tech EEE Previous Years' Opening and Closing Rank Trends
The WBJEE B.Tech EEE previous years' opening and closing rank trends will help the candidates understand the range they should aim for to secure a seat in one of the WBJEE B.Tech EEE offering colleges - 
| Institute Name | Opening Rank Range | Closing Rank Range |
| --- | --- | --- |
| | 12000 | 75000 |
| | 1500 | 5300 |
| | 6000 | 55000 |
| | 17000 | 18000 |
| | 41000 | N/A |
| | 46000 | N/A |
| | 32000 | 59000 |

WBJEE B Tech EE Previous Years' Opening and Closing Rank Trends
The WBJEE B.Tech EE previous years' opening and closing rank trends will help the candidates understand the range they should aim for to secure a seat in one of the WBJEE B.Tech EE offering colleges - 
Important WBJEE Links
Some important WBJEE links have been provided in the following table -