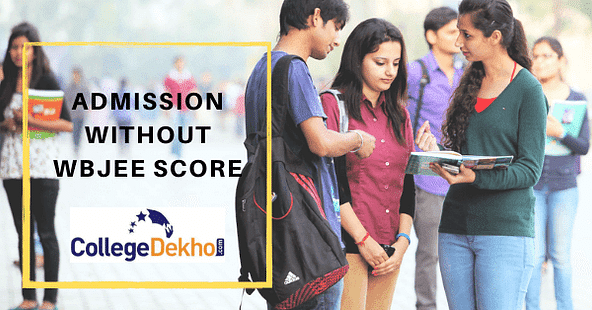 How to Get Admission Without WBJEE Score/ Rank?- WBJEE (West Bengal Joint Entrance Exam) is a state-level centralized entrance exam which is conducted by the West Bengal Joint Entrance Examinations Board every year. The exam is conducted to grant admission to students in the undergraduate courses in engineering & technology, architecture and pharmacy offered by the various government and private institutes in West Bengal.
This year, WBJEE 2023 counselling registration process commenced from July20, 2023. Students can check out the link WBJEE 2023 to get all the important details pertaining to the exam including important dates, examination centres, syllabus, exam pattern etc.
However, some students may not be content with the result of WBJEE and might be looking for other ways to secure admission into West Bengal engineering institutes. This article will discuss how students can secure admission into the West Bengal colleges of engineering without a WBJEE score.
Why Go for Direct Admission Without WBJEE?
There are many benefits of getting direct admissions in colleges/institutes without entrance exams. Such as:
Through the direct admission, the student can go for some of the top institutes in the state to pursue engineering which is not included in WBJEE participating college list

Going for top engineering institutes will also help the student get placed in a reputed organisation

If the student could not score well in the exam, it is better to go for the spot admission to get a good engineering college

Getting a direct admission will not have any effect on the campus selection after graduation

The admission will be without an entrance exam which will also reduce the burden of preparing for the exam
Alternative Exams Other than WBJEE
There are various entrance exams other than WBJEE which the student can attempt to get admission to West Bengal engineering colleges. These entrance exams have been enlisted below:
National Level Exams
JEE Main: JEE Mains is one of the most popular entrance exams in India for getting admission into B.Tech programs. JEE Main is followed by JEE Advanced which a student can qualify to get admission into IITs. For being eligible for JEE Mains, a student must have completed 10+2 with PCM and English as the compulsory subject. Read our JEE Main 2023 exam page to learn more about the JEE Main exam.

BITSAT: BITSAT (Birla Institute of Technology and Science Aptitude Test) is another most popular entrance exam in India which is qualified to get admission into BIT Colleges in India. It is conducted by Birla Institutes of Technology (BIT) through which the student can get admission into any of the three BIT campuses in India (Goa, Hyderabad, and Pilani). Students can read our BITSAT 2023 exam page to learn more about the exam.

CUCET: CUCET (Central University Common Entrance Test) is another engineering entrance exam in India which is conducted at the national level by eleven central universities of India. Check our CUCET 2023 exam page for more information.
West Bengal University Level Exams
Admission in West Bengal without WBJEE
There are certain reservations for the students in West Bengal that they can consider to get admission into engineering colleges without a WBJEE score. These reservations are explained in the section below:
85% for domicile
As per the domicile rule of West Bengal, the students who have been a resident of West Bengal for the past 10 years will be reserved for 85% of seats in government colleges/universities for engineering. The domicile rule will only be applied for government based colleges or institutes and will not be applicable to private colleges.
15% for Management Quota
The engineering colleges or universities in West Bengal also offer 15% of the management quota for the students. Through the management quota, the students can get direct admission into engineering colleges of West Bengal without any entrance exams. However, the students getting admission through the management quota will have to pay some extra fee every year as the management fee.
Spot counselling round by WBJEE
Spot counselling round is organised by WBJEE in case of vacant seats in engineering colleges/universities. If the seats in colleges remain vacant, they report to the examination board with the status of vacant seats. The WBJEE Board then conducts the counselling for those vacant seats to reallocate the seats. However, the spot counselling is conducted only if the seats are vacant in the respective year's admissions.

Also check:Important Dates for Upcoming B.Tech engineering exams
How to Choose a Good Engineering College?
Choosing the right college for engineering is of utmost significance as your entire career depends on it. Therefore, before deciding on a specific college for engineering in West Bengal, the students must keep in mind certain important factors.
Select Stream
The first and foremost criteria before deciding on which college to select is to choose the stream in which you want to take up engineering. This is required as some of the institutes might be the best for the computer science stream while others might have decent placement opportunities for mechanical engineering. So, it's necessary to filter out the institutes based on the stream you are choosing.
Enlist Potential Colleges
After you have decided the engineering stream you are opting for, search and enlist the best colleges/ universities in West Bengal for that stream. Students need to keep in mind that before selecting an engineering college, it is important to analyze various aspects like location, fees, placement, facilities ranking etc. and make a list to research before making a final decision. They can always refer for details on our top engineering colleges in West Bengal page.
Research
It is crucial to research well for colleges before choosing a certain college. Also, be swayed the brand name, or the infrastructure; rather, analyze the academic aspects of the college. Research well about the location, tuition fee, campus resources (labs, libraries, etc.), faculty, placement and internship, and other facilities for students. Also, take into consideration the reviews provided by the students of the same colleges from social communities and pages.
Rank the priorities
After researching and filtering out the options, assign priorities to the chosen colleges. For example, keep the institute you find most suitable as the first priority, and make a list of colleges as per your requirements and priorities. This will enable you to make a sorted decision.
Check for the Eligibility Criteria
For the college, it is also significant to check for the eligibility criteria of WBJEE 2023. Check whether you have the qualification and certification as specified by the college. Being aware of eligibility beforehand will save you from later issues.
Check for any Scholarships
After checking for all the aspects, check whether the institute provides any scholarship for engineering or not. Some institutes also provide scholarships based on the entrance exam score or the marks secured in their personally conducted entrance exam. It is advisable to check for the scholarship in advance as it can save your financial investment in the chosen college.
Top Engineering Colleges in West Bengal Accepting WBJEE Score
Given are the top 20 engineering colleges in West Bengal which accept WBJEE score along with the seats for intake and fee structure for each college. The below section will also include the opening and closing rank for each college to help you make a clear analysis and take a good decision.
| Name of the College | Number of Intakes | Fee Structure (1st year) |
| --- | --- | --- |
| | 792 | INR 9,600 |
| | 270 | INR 2,80,000 |
| | 450 | INR 1,38,600 |
| | 300 | INR 6,500 per sem |
| | 700 | INR 66,800 |
| | 630 | INR 1,93,000 |
| | 600 | INR 89,200 |
| | 240 | INR 3,27,200 |
| | 766 | 1,77,000 |
| | 360 | INR 24,000 |
* Note: These fee structures are subjected to change depending on the college
Also read:How to get admission in MBA without entrance exams
Opening and Closing Rank for Colleges
The opening and closing ranks of the colleges according to the different categories accepting WBJEE score are given as below:
Name of the College

General

OBC

SC

ST

Opening Rank

Closing Rank

Opening Rank

Closing Rank

Opening Rank

Closing Rank

Opening Rank

Closing Rank

1

4468

142

2980

221

16190

2049

57580

1102

4405

1232

3973

–

–

–

–

245

5816

280

1856

1034

22496

13012

68223

640

3613

1312

3014

4638

12739

23125

53030

1504

29137

3041

23210

11399

60747

39155

110600

853

12228

2778

10240

8297

14108

38317

63158

1869

21254

3140

12940

–

–

–

–

3517

13111

4204

12230

11708

29066

45988

102553

4341

23934

2541

13225

–

–

–

–

918

5251

1439

3886

3095

14860

24178

46026
For more articles like this, stay updated with our upcoming informative articles on Collegedekho.