AIBE 2022 is an entrance exam that provides a certificate of practice to aspiring lawyers. With AIBE 2022 scheduled tentatively in September 2022, candidates must be aware of all the right things to do to ace the law exam. Knowing the right preparation tips for AIBE will provide them with a strong grip over others and the chances to crack the exam will increase. AIBE is expected to be conducted on September 2022, by the Bar Council of India (BCI).
The All India Bar Examination (AIBE) is administered by the Bar Council of India (BCI) to determine whether advocates have been admitted to the bar. Due to the importance of the exam for law graduates, they must prepare well in order to pass the AIBE 2022 exam. Candidates may bring Bare Acts without notes to the AIBE XVII (17) 2022 exam. Candidates must prepare well in order to pass the AIBE 2022 exam on their first try because it is no longer an open-book exam. As a result, it is preferable to be ready for AIBE XVII (17) 2022 rather than relying just on the acts. The preparation for AIBE 2022 entails revising from prepared notes, practicing the AIBE test from the previous year, concentrating on how the marks are distributed among the various subjects, and many other things.
CollegeDekho has come up with a quick study plan for AIBE 2022 keeping in mind the last few days left for the exam. Candidates are advised to be consistent with the practice and go through the pointers discussed below in order to enhance their AIBE preparation. Applicants can also check out the last year's AIBE paper analysis to get an idea of the type of questions and difficulty level of the exam.
AIBE 2022: Last Few Days Study Plans
After enrolling in the State Bar Council, candidates have two years to take and pass the AIBE 2022 exam. The candidates should study according to the council's provided syllabus. Even yet, candidates struggle with knowing how to approach the AIBE exam. Here are some pointers to assist candidates in successfully passing the exam by solidifying their last-minute preparation for the AIBE 2022 exam.
Solve a Lot of Mock Tests
The AIBE 2022 mock tests have the potential of building the exam spirit of an individual. It provides a familiarity with the exam pattern and gives an idea of the type of questions that might come in the exam. 
Go through Sample Papers & Previous Year Question Papers
Dig out all the possible sample papers and previous year question papers of AIBE. Regular practice from the model papers helps in increasing speed and accuracy. Also, they provide an understanding of the marks allotted to each section & question. The previous year question papers and sample papers of AIBE are the best medium through which an individual can improve his/her final performance.
Take Proper Sleep & Rest
An aspirant needs to sleep for 8 hours a day and keep taking short breaks between study time. They must also take a properly balanced diet as it will help in maintaining focus and concentration for the exam day. Under sufficient rest, both body and mind work efficiently and can help the individual in performing better.
Revise Everyday
Applicants must keep revising the important topics so that the concepts remain fresh and at their fingertips. It will help them stay well-prepared for the exam.
Do not study any new topic
Candidates gearing up their preparation for AIBE 2022 exam must not touch any new topic just a few days before the examination. Studying any new topic just a couple of days before the exam can confuse candidates and might leave them in a dilemma that could create a loss of confidence and more doubts.
Take Study Breaks
Taking study breaks after every hour can keep the mind fresh. However, continuously studying for the entrance exam can be tiring. An individual can utilise the break by doing something refreshing like engaging in a hobby or exercise. This would provide enough rest to the brain which would, in turn, reflect on their final performance.
No comprehensive revisions
Do not commit the folly of making a thorough, last-minute syllabus rewrite. The entire curriculum will require a lot of time and work to review. During the revision, if there is something you can't remember, you might start to worry. This can cause you to feel insecure and self-conscious, which will both have a detrimental effect on how well you perform on the actual exam.

Keep your notes handy
One of the most important exam preparation tips for the last minute is to remember to review the notes you took while studying. All the crucial information from each topic that will help you do well on the test is covered in the succinct notes you took while studying each topic for the exam.

Clarify Minor Doubts
It is typically crucial to get the appropriate answer to some of your remaining questions from a few topics during your final preparation in order to feel prepared and confident to tackle all the questions during the exam.
Recheck the Syllabus and Exam Pattern
Check the AIBE 2022 exam pattern and syllabus to make sure no topics or subjects are missing. Additionally, candidates need to quit being anxious before tests and start feeling more confident.
Ensure revision of all the crucial topics
Candidates should start their last-minute exam preparation with the AIBE topics that will count for the most marks. Constitutional law, the Criminal Procedure Code, the Code of Civil Procedure, the Indian Penal Code, the Evidence Act, family law and contract law, specific relief, property laws, and the Negotiable Instrument Act are all crucial subjects for the AIBE exam.

Also Read: Self Study Guide for Law Entrance Exams in India
AIBE 2022: Exam Day Guidelines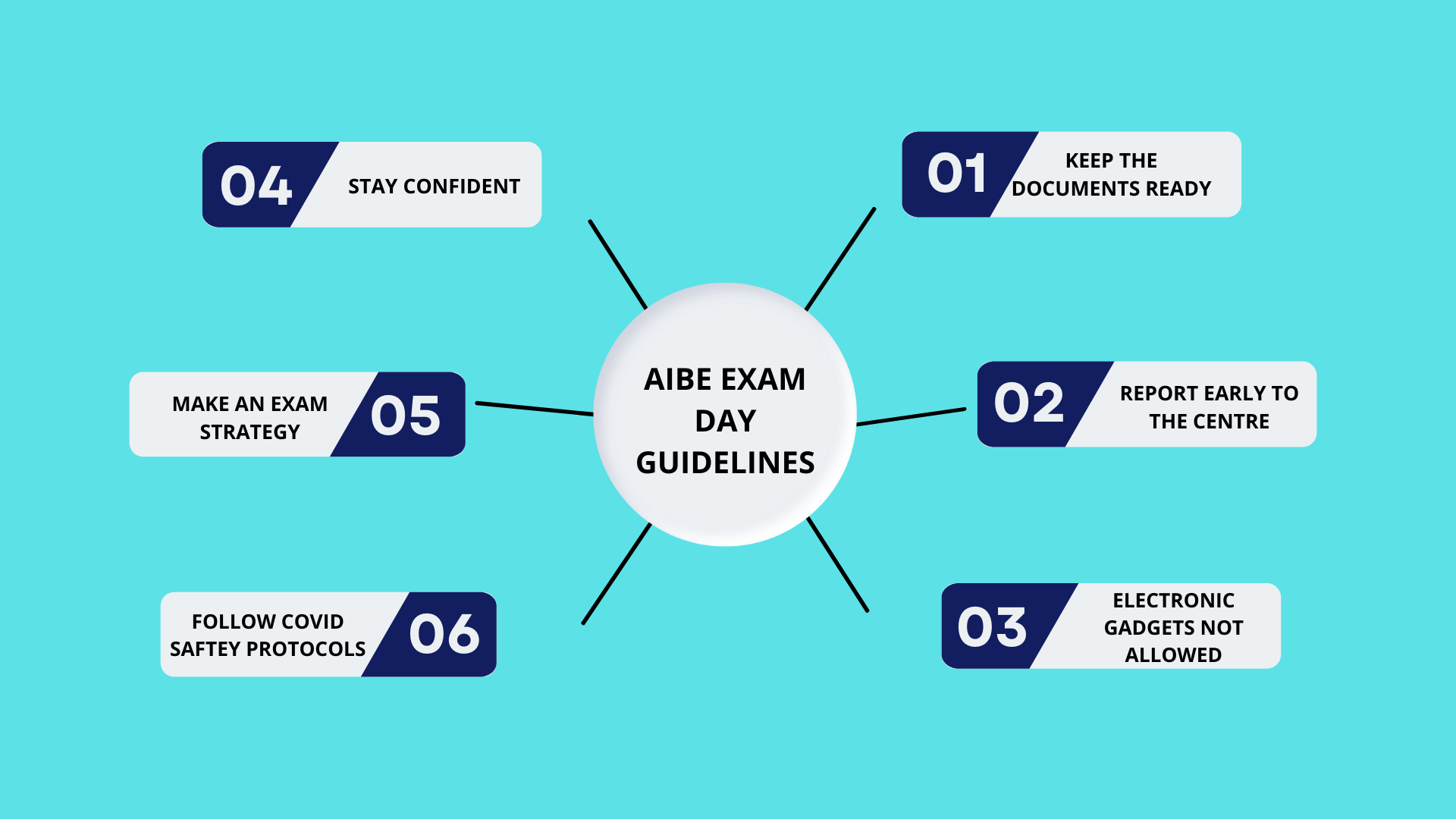 Candidates must go through the AIBE Exam day guidelines below to ensure that the exam is conducted smoothly.
Keep the Documents Ready
Applicants must keep the AIBE Admit Card and an identity proof ready prior to the exam day in order to avoid any last-minute rush. Carrying both the aforementioned documents is very essential as they are required for the verification of the candidate and without them, applicants would not be allowed to sit for the exam.
Report Early to the Exam Centre
The reporting time will be mentioned on the admit card of AIBE 2022. Applicants have to make sure they reach the exam centre at least 1 hour before the exam time. Reaching the exam centre on time helps avoid unnecessary chaos and keeps the mind calm.
Do Not Carry Electronic Gadgets
Smartphones, notes, study material or any kind of electronic gadgets are strictly prohibited by the exam authorities. If an individual is found in possession of them, he/she would be asked to leave the examination centre.
Stay Confident
An individual needs to have faith in his/her preparation and revision. It helps in staying calm and building confidence. Stress and anxiety often overpower an individual's mind on the D-Day, however, staying calm is the only solution that can guarantee a good AIBE Result.
Make an Exam Strategy
Candidates have to curate an exam strategy which they can implement to get the best result. It is important for aspirants to be aware of their strengths and weaknesses. A good start keeps the confidence intact which does not hamper the exam performance.
Follow COVID-19 Saftey Protocols
Wear a mask and carry a bottle of sanitiser. Also, follow social distancing at the AIBE exam centres.
Miscellaneous Exam Day Guidelines
Candidates should check the name and location of the assigned AIBE exam centre in advance and estimate the travel time and distance to avoid any last-minute rush. This needs to be completed a day or two or more before the exam day.
On the day of the exam, test-takers are required to have the following items with them:
Two ballpoint pens for the OMR sheet's answer marking (colour should either be black or blue)
AIBE hall ticket (at least two copies)
A photo ID issued by the government (original as well as one copy). Driving licences, PAN cards, voter identification cards, Aadhaar cards, passports, and State Bar Council Advocate Enrollment ID are among these.
The test-takers' personal items may or may not be stored in the testing centres. It is therefore recommended that they not bring any priceless items with them.
To the centre, applicants are permitted to bring a transparent water bottle only.
Candidates must always be aware of the need of effective time management. In order to finish the exam in the allotted time, they must practice good time management.
Follow the invigilator's instructions and attentively read the instructions in the question booklet.
To prevent missing out on questions with a high likelihood of success, start with the straightforward ones first. In addition, try not to lose your cool if you can't figure something out. Instead, pose the following query while maintaining your composure. Once you've answered all the questions, come back and repeat the test.
Time flies by swiftly while you are taking an exam. But if you want to slow things down and make sure you can answer all 100 questions, you must keep your mind clear of distractions and retain focus. Take each question on the exam paper as it is given to you without looking ahead or thinking too much. Remember that the poise you are displaying right now will pay off handsomely. Follow the instructions in the preceding phrase and start by responding to the straightforward questions before moving on to the others. Don't waste time on the difficult questions (especially at the start).
Also Read:Top 10 Private Law Colleges in India: Entrance Exams, Affiliation & Fees
AIBE 2022 Syllabus
The candidates need to appear and clear the AIBE 2022 exam within 2 years of getting enrolled in the State Bar Council. The candidates should prepare for the exam as per the syllabus provided by the council.
The subjects have been mentioned below along with the tentative total number of questions per subject:
AIBE XVII (17) syllabus 2022
Indian Penal Code (IPC) - 8 questions
Criminal Procedure Code (Cr.P.C) - 10 questions
Constitutional Law - 10 questions
Civil Procedure Code (CPC) - 10 questions
Evidence Act - 8 questions
Alternative Dispute Redressal also including Arbitration Act - 4 questions
Family Law - 8 questions
Administrative Law - 3 questions
Public Interest Litigation - 4 questions
Property Laws, Law of Contract, Specific Relief, Negotiable Instrument Act - 8 questions
Labour and Industrial Laws - 4 questions
Cyber Law - 2 questions
Company Law - 2 questions
Rules of Professional Misconduct under BCI Rules and Professional Ethics - 4 questions
Law of Contract, Property Laws, Negotiable Instrument Act and Specific Relief Act - 8 questions
Law of Tort including Consumer Protection Law and Motor Vehicles Act - 5 questions
Land Acquisition Act - 2 questions
Intellectual Property Law - 2 questions
Law Related Taxation - 4 questions
AIBE XVII (17) 2022 Suggested Preparation Books
Some of the AIBE 2022 preparation books recommended for AIBE applicants are listed below.
All India Bar Examination (AIBE) Solved Questions and Previous Year Solved Question Papers along with the Principles by New Era Law Publication
AIBE Solved papers by Lovedeep Bangia
The Constitution of India Bare Act and Other Bare Acts by Universal Publications
Guide To All India Bar Examination (AIBE) - Conducted by BCI or Bar Council of India by Universal Publications 
Patents Act-1970 - Taxmann
Human Rights - H.O Aggarwal
Intellectual Property Laws - Private Publication
Guide to All India Bar Examination - Dr. P.K Pandey
Law Exam Times (Vol.16) - Dr. P.K Pandey
Practice Test Papers for All India Bar Examination - Showick Thorpe
Central Law Agency All India Bar Examination (AIBE) Guide - Dr. S.M Rajan & P.K Jain
Fundamental Rights - Uday Raj Rai
Public International Law - V.K Ahuja
Popular Career Options for Law Aspirants
Applicants willing to be successful lawyers need to be aware of the right career path that can help them in building a successful career. Provided below is a list of popular career options in law along with their respective salaries.
| | |
| --- | --- |
| Career Options | Salary |
| Advocate | ₹ 1,46,000 - ₹ 50,00,000 |
| | ₹ 3,00,000 - ₹ 10,00,000 |
| | ₹ 7,00,000 - ₹ 30,00,000 |
| | ₹ 3,00,000 - ₹ 12,00,000 |
| Legal Reporting/Publishing | ₹ 1,20,805 - ₹ 9,16,592 |
| | ₹ 2,00,000 - ₹ 8,50,000 |
| | ₹2,36,000 - ₹30,00,000 |
| | ₹ 2,00,000 - ₹ 20,00,000 |
| | ₹ 2,00,000 - ₹ 20,00,000 |
| | ₹ 3,46,000 - ₹ 12,00,000 |
| | ₹ 3,00,000 - ₹ 10,00,000 |
| | ₹ 6,12,000 - ₹ 40,00,578 |
| | ₹ 2,40,000 - ₹ 11,00,000 |
| | ₹ 5,32,860 - ₹ 10,32,000 |
| | ₹6,30,000 - ₹12,50,000 |
| | ₹ 5,60,000 - ₹ 16,00,000 |
What after AIBE 2022?
To know what comes after the completion of the AIBE 2022 exam, navigate through the links provided below.
The Bar Council of India (BCI) has not yet released the AIBE XVII examination's exam date or syllabus information. Despite merely being a middling level exam, the AIBE has proven to be challenging to pass. The main reason why many candidates fall short of passing the exam is that their preparation methods fall short of expectations, not because they are unqualified. For instance, some candidates might be using subpar and out-of-date reference materials, they might not be solving enough practice questions, and in very rare instances, they might be committing the unforgivable sin of failing to check the most recent syllabus. 
AIBE was an open-book test until 2020. However, BCI modified this pattern in 2021, therefore the AIBE is no longer an open-book exam. It is therefore imperative for applicants to alter their approach to exam preparation going forward. This article examines a methodical approach to passing the AIBE test in one sitting and getting ready for the AIBE 2022 without breaking a sweat.
Aspiring lawyers who want to study Law and need assistance on admissions, can call the toll-free number 1800-572-9877 or fill out the Common Application Form. Students can post their questions in the Q&A section, for expert guidance.
Stay tuned to CollegeDekhho for more information on AIBE!