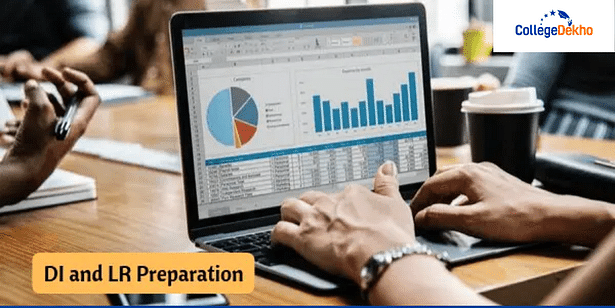 How to Prepare for CAT DILR 2023: Every MBA aspirant must adhere to a productive learning plan in order to ace the CAT exam with a high score both sectionally and overall. One of the trickiest parts of the CAT 2023 is the section on Data Interpretation and Logical Reasoning. The CAT exam's DILR evaluates a candidate's aptitude for problem-solving. Gaining an edge in this section requires consistent and rigorous work. Therefore, one should start their CAT preparation by addressing this section first.
There is a 40-minute sectional time restriction, during which candidates have to answer 24 questions. DILR constitutes a major part of CAT and this is the section where many students face trouble. The CAT 2023 exam has been conducted on November 26, 2023, in 155 test cities across India. CAT Registration 2023 ended on September 21, 2023. This article will provide you with various tips and tricks that will help you prepare for the Data Interpretation and Logical Reasoning section of CAT 2023.
Also Read:
How Should You Begin to Prepare for the CAT DILR Section?
You must start practicing the CAT study materials or any coaching modules to begin preparing for the CAT exam's Data Interpretation and Logical Reasoning portions. You should begin by solving the most fundamental problems, such as ranking, quantitative reasoning, seating arrangements, Venn diagrams, and so on. You can strengthen your conceptual foundation for the CAT exam 2023 by studying such topics.
CAT 2023 Preparation Strategy at Various Levels
Beginners: If a student has never solved a puzzle, a sudoku problem, or logical reasoning questions, they must start by answering the fundamental sets of questions from study materials or online resources.

Intermediate: Individuals who are normally enthusiastic about problem-solving can skip the basic sets and address more challenging problems from rankings, arrangements, and matrices.

Expert: Students who have already taken the CAT and are comfortable with the fundamental ideas of the LRDI can start preparing by answering the previous year questions from the SIMCAT, AIMCATs, and CAT mock exams 2023, among other sources.
How to Prepare for DI & LR Section for CAT 2023?
To perform well in the DILR section of CAT 2023, the candidates need to follow the steps given below.
Practice Previous Year Question Papers: CAT Previous Year Papers serve as an excellent preparation tool. You can learn the necessary skills by completing the test questions. It serves as a fantastic resource for a question bank with quality questions in addition to assisting you in becoming comfortable with the different types of questions and levels of difficulty.
Take Mock Tests: Candidates will comprehend their abilities and the areas they need to improve the most. Students can manage their time much better by working on CAT sample papers and giving themselves two hours. The candidates can then assess how long it takes them to complete each segment and come up with strategies to speed things up. Candidates who want to increase their accuracy should practice CAT sectional mock examinations as well as CAT sample papers 2023. 
Practice Time Management: Students must plan their approach in accordance with the exam format because CAT 2023 will have a sectional time limit of 40 minutes for each segment. Avoid getting stuck on the questions that you can't finish within the time allotted for each question. Solve all the easy questions first before moving on to the more difficult ones.
Practice Brainstorming Exercises: There is always hidden information in questions involving logic and data interpretation. Use your free time to solve Sudoku puzzles and other puzzles rather than limiting yourself to the questions in the study materials. Additionally, by playing mobile games like 2048, you can improve your skills. These exercises aid in brainstorming and provide easier ways to study for the LR portion. All candidates must know how to use approximations correctly and when to use them. This helps in saving time on some questions the answers of which can be derived by approximations and not calculations.
Evaluate your Performance: After solving several problems from the previous year papers or mock tests, it's important to assess your strengths and weaknesses. Create a category for the different kinds of problems and note which questions you can answer easily and which you cannot. By categorization, you can determine which subjects need increased attention and practice.
Enhance your Performance: After evaluating your performance, strive to improve your speed and concentrate on mental calculations to finish DI questions in less time. For rapid calculations, students must have mastered the square up to a maximum of 30, the cube up to a maximum of 20, square roots up to a maximum of 10, and conversion from fraction to percentage for rapid calculations. It is imperative for all candidates to enhance their calculation skills. Doing quick mathematics mentally saves a lot of time and helps with all the questions of DI and LR. Accuracy is of the utmost importance when doing the DI and LR questions of CAT. Candidates must be careful about their calculations and check that there is no error in their deductions.
With two months left for CAT 2023, the preparation of all aspirants must be regular and rigorous. Students who are appearing for CAT 2023 must give at least two hours each day for the practice and preparation of Data Interpretation and Logical Reasoning. They should aim to complete the entire CAT syllabus 2023 of DI and LR in the span of one month and then use the remaining time solely for practicing mock papers and doing revisions.
Also Read: CAT Preparation Tips for Non-Engineering Students
DI & LR for CAT 2023 Test-Taking Techniques
After finishing the fundamental sets of questions, the subsequent stage is to create an effective test strategy. The following are a few appropriate test strategies:
Analyze the test: Don't start afresh with the first set of practice questions or mock exams while you are still solving them. Give yourself 4-5 minutes to read through all of the DI LR questions, then choose the few sets that you can finish in a flash. Select one or two sets that are simple to solve, then go on to ones that are challenging.
Select the right set: LR DI sets range in difficulty from easy to difficult in every paper. Choose the simpler sets, and try to attempt them first. Make sure you don't skip the simple sets and get stuck on the challenging ones. You will be able to gauge the difficulty level by practicing each type of set regularly. Consider choosing sets of questions where there are few people or few variables, and save the questions with a lot of information for last.
Move on to the next question: It's crucial to leave questions that you can't figure out the solution to when completing CAT LRDI questions. Without wasting any time, go on to the next question if you are unable to solve the previous one within the allotted time.
How to Solve DI LR Questions of CAT 2023?
It is necessary to find out the right approach to solving DI LR questions of CAT 2023 before starting to answer them. You must keep an eye on the clock available on the right of your screen to know the time left. Besides this, there are some other things that should be considered while answering the DI LR problems.
Analyze the type of questions: Besides this, you must first go through the type of questions asked in the exam. You should check what is given in the question and what you have to calculate.

Try to solve the problem in mind: You should first try to solve the problem in mind without solving it on paper. It will save time. Besides this, it will also help you to build your mental strength.

Shortcuts and Assumptions: Most of the LI DR questions of CAT can be solved by assumptions. You can assume any quantity to the closest multiple of 10 to solve it quickly.

Time Management: Time management is the most crucial factor while attempting LI DR questions of CAT. You should divide your time equally between all questions. You may try to attempt the easier ones first so that you can save some time for the hard ones.

Create a mental legend: Complete the DILR section's questions on the arrangement, puzzles, Venn diagrams, and other problems. These subjects include a lot of information, making it challenging to remember it all while answering the question completely. Therefore, before becoming confused, students are urged to write down the meanings of all the acronyms and symbols. 

Decode constraints: DILR questions on the CAT often deceive the students by saying more than what is completely evident. Finding the hidden meaning or information is crucial when completing the CAT DILR section. There may be some information that you are lacking if you are unable to answer the question.
Types of LR and DI Questions Asked in CAT 2023
The preparation for Data Interpretation requires a lot of practice. The syllabus of DI is much more defined than the syllabus of the other sections of CAT, hence a different strategy is required for its preparation. CAT Data Interpretation syllabus covers almost all the types of questions of data analysis and data comparison that could be formed on bar diagrams, data tables, graphs, and pie charts among other modules for the representation of data. With regular practice and improvement in the skills of Data Comparison and Data Analysis, the DI questions of CAT can be answered easily and in a much shorter time.
Logical Reasoning questions in CAT are generally based on a guide to arrive at good and proper decisions by following a systematic thought process. The LR questions are based on natural human instincts that are designed to lead the candidate and help him/ her arrive at the right answer option by following the prescribed flow chart of Logical Reasoning. The objective is not only to get the correct answers of Logical Reasoning but to get the correct answer in optimum time and with acceptable accuracy. Candidates need to be quick in mathematical calculations while maintaining accuracy in order to perform well in the LR section.
Primarily, all the sets of DI questions can be further classified into the following categories.
1. Calculation Based: These are the sets that have questions that deal with the increase or decrease in percentage or in the nominal increase/decrease. These questions require good control of the candidate over basic calculation and approximation.
2. Counting Based: These are mostly large data sets in which the candidates are supposed to count the instances that meet the needs of the questions. The questions under these sets require focus and patience so that the test taker can ensure that he/she does not commit a single mistake.
3. Logic-Based: In the CAT exam, sometimes charts are used to give data in ranges or with conditions where it is not possible to find the exact data. In such cases, the candidate is usually asked to find a number that can be arrived at by fulfilling the need to maximize or minimize the number. The candidate needs to use strong logic to deduce an answer to these questions.
4. Structure-Based: These comprise some special sets. They are time-consuming questions and the chances of them being asked in CAT 2023 are less. They include questions like sales-disposal data of a specific product in the market, goals of various teams in a tournament, etc.
How to Deal with the Increasing Difficulty Level of CAT DILR?
As we all know the Data Interpretation and Logical Reasoning section of CAT is the most crucial section. Questions in the Data Interpretation and Logical Reasoning section of CAT 2023 are more challenging in comparison to the other two sections of the exam. You need to concentrate on each and every point mentioned in the question to answer the problem.
The best way to deal with the increasing difficulty level of DILR is to practice regularly. You should try to solve the maximum number of questions from logical reasoning. You can also refer to the previous years' question paper of CAT to get an idea about the difficulty level of the section.
Know CAT 2023 DILR Weightage
The section on DI and LR is said to be the trickiest of all sections. Special techniques are required during the preparation of DI and LR in order to get maximum accuracy and understanding. The details of DI and LR in CAT are given in the table below.
Component

Details

Section

Data Interpretation and Logical Reasoning

Total Questions

24 (Divided into 5 sets)

Types of DILR CAT Questions

MCQs (Multiple-Choice Questions)

Non-MCQs / TITA (Type-In The Answer)

Total DI Questions

10 - 14

Total LR Questions

14 - 10

Total Marks

72 Marks

Time Allotted for Section

40 minutes (Reduced from 60 minutes)

Total MCQs

18 - 20

Total Non-MCQs

6 - 4

Questions without negative marking

6 - 4 (MCQs)

Marking Scheme

+3 for each correct answer

-1 for every wrong answer

No marks will be deducted for any wrong response in the Non-MCQ section

Also Read: CAT Preparation Tips for Working Professionals
Last Minute Preparation Tips for CAT 2023 Exam
Provided below are a few of the most important CAT 2023 exam links. Candidates can go through them to strengthen their exam preparation.
Best Books for DILR Preparation for CAT 2023
Some of the best books for CAT 2023 that the aspirants can consult while preparing for the Data Interpretation and Logical Reasoning section are given here. The titles of the books are given along with their authors.
| Book Title | Author of the Book |
| --- | --- |
| How to Prepare for Data Interpretation and Logical Reasoning for CAT | Arun Sharma |
| Data Interpretation and Data Sufficiency | Ananta Ashisha |
| Trishna's Verbal Ability And Logical Reasoning For The CAT And Other MBA Examinations | TIME Publisher |
| Guide To Verbal Ability And Logical Reasoning For The CAT | Nishit K Sinha |
Best CAT 2023 Coaching Institutes
Candidates willing to take the help of a CAT coaching institute can look at the location-wise
top CAT 2023 coaching institutes in India
 below:
With these techniques and all the information provided in this article, candidates aiming to get a good percentile in CAT 2023 will be able to reach their target by performing well in the DILR section of the exam.
Related Links:
If you have any queries related to MBA admission, you can call our toll-free helpline number 1800-572-9877, or fill out the Common Application Form (CAF). You can also raise your queries on the CollegeDekho QnA Zone. Stay tuned with us for more information on the CAT exam!