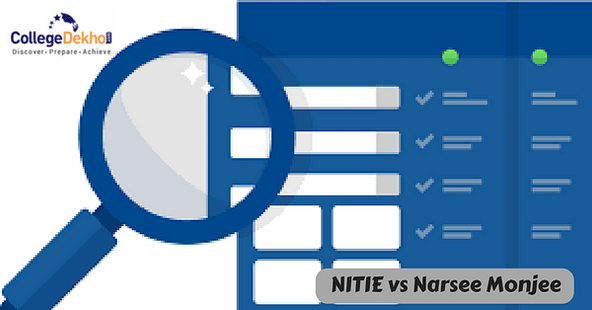 If you have just finished graduation or are one of those who has gained enough work experience and is looking to advance in his/her career, you have landed at the right place. What is often termed as a promising opportunity, an MBA or an equivalent degree from a reputed institution can bring you closer to your dreams.
While CollegeDekho can help you with the entire list of top MBA colleges in India, we have taken steps to cater to the confusion that you may be in with respect to the choice of colleges. Comparison of colleges before locking your choice can give you a fair idea of what you can expect after the completion of your management degree. Through a series of college comparisons for MBA aspirants, we hope we can help you better.
Let's check and compare differences and similarities, placements, accreditations etc. for two popular Mumbai-based colleges. These are National Institute of Industrial Engineering (NITIE) and Narsee Monjee Institute of Management Studies (NMIMS). The colleges are among the most recommended colleges for management studies.
When comparing two colleges aspirants must keep few points in mind. It is important to first of all check for accreditation and affiliation of colleges. As far as colleges like NITIE and Narsee Monjee are concerned, aspirants can be at peace because both the institutions are well accredited. Both the colleges offer a variety of management courses, attractive placement opportunities, decent number of seats, feasible fee structure, ranks well in MHRD and other international rankings of MBA colleges, etc.
NITIE offers six different courses in management whereas NMIMS is best known for its top seven courses that include MBA (Master of Business Administration) and MBA in HR in particular. The number of seats offered by NMIMS is comparatively more than NITIE. Both institutions offer good placement with handsome salary packages with top companies like Google, Airtel, Amazon, IBM, Bajaj FinServ, L'Oréal, Sony Music and Barclays coming for recruitment. Check detailed NMIMS Placement and NITIE Placement here.
College Comparison: NITIE vs NMIMS
Given below is a table of comparison between NITIE and Narsee Monjee, that will help in making a wise MBA college choice.
Name of the Institute

National Institute of Industrial Engineering
(NITIE)

Narsee Monjee Institute of Management Studies (NMIMS)

Year of Establishment

1963
1981

Approved by

Government of India

UGC

Affiliation

MHRD
University of Mumbai

National Institutional Ranking Framework (NIRF) 2017

12
34

Entrance Exam

NMAT by GMAC

Courses Offered

Post Graduate Diploma in Industrial Engineering (PGDIE)
Post Graduate Diploma in Industrial Management (PGDIM)
Post Graduate Diploma in Industrial Safety and Environmental Management (PGDISEM)
Post Graduate Diploma in Manufacturing Management (PGDMM)
Post Graduate Diploma in Project Management (PGDPM) Fellow Programme
VLFM

Total Number of Seats

PGDIE: 126
PGDIM: 274
PGDISEM: 39
PGDMM: 40
PGDPM: 40

MBA: 500
MBA Human Resource Management: 60
MBA Pharmaceutical Management: 60
PGDM - Bengaluru Campus: 180
PGDM - Hyderabad Campus: 120
PGDM - Navi Mumbai: 60
PGDM - Indore Campus: 60

*30% seats in the MBA/PGDM programmes of NMIMS will be offered to girls.

Fees Range

Rs. 6,26,500/- approx

MBA/ MBA HR: Rs. 8,75,000/- approx
MBA Pharmaceutical Management: Rs. 5,25,000/- approx
PGDM Bangalore/ Hyderabad/ Navi Mumbai/ Indore: Rs.7,25,000/- approx

Average Package

Rs. 15.83 LPA

MBA Core: Rs. 17.58 LPA
MBA HR: Rs. 13.57 LPA

Highest Package

Rs. 39.5 LPA

MBA Core: Rs. 34.11 LPA
MBA HR: Rs. 20.76 LPA

Number of Companies visiting Campus for Recruitment

115

Popular Companies Visiting Campus for Placement

Lava
Amazon
Airtel
Google
IBM
Hindustan Unilever Limited
P&G
Tata
Infosys
Tata Sky
Yes Bank
Kodak
Hero
ITC

Bajaj FinServ
Barclays
ITC
L'Oréal
Lava International Sunlife
Vodafone
Sony Music
MBA HR:
Honeywell
HPCL
H&R Johnson
IBM
ICICI Bank
Interiors Info
IOCL
Korn
Ferry
Larsen & Toubro
Also Read: Which MBA College in India Offers the Best Placement?
Admission and Selection Process at NITIE and NMIMS:
Candidates who want to take admission in either of the above-mentioned colleges must be well aware of the MBA or PGDM eligibility criteria along with which the entrance exam they shall prepare for in order to get a seat at the desired college. The scores of the respective entrance exams will help institutes shortlist candidates for admission. Get detailed information on the selection process of NITIE and selection process at Narsee Monjee here.
Also Read: Top 20 Online MBA Degrees, Location and Financial Times Ranking
Similar Colleges:
Popular College Comparisons: