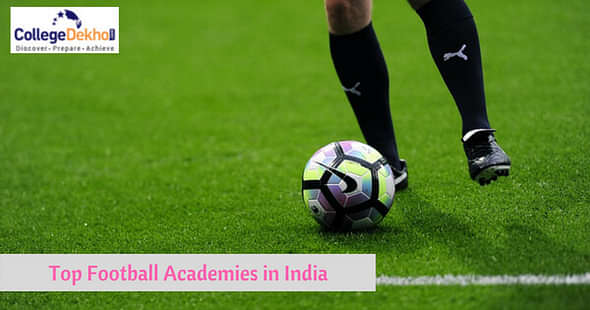 In a country like India where cricket is the dominant sport, the beautiful game of football is slowly emerging as a favourite sport in the hearts of sports enthusiasts. It has been witnessed that young soccer fans in India are glued to their TV screens day and night to watch games of different Football Clubs like Chelsea, Manchester United, Arsenal etc. that they follow in full faith. Moreover, with India winning the recent Intercontinental Cup and FIFA 2018 starting soon, the craze is increasing.
A game that gives youngsters a kick, football is admired by a large number of people. Schools and higher educational institutes encourage students to take up sports as an extracurricular activity and pursue their passion. Initiatives and steps to popularize the game are being taken, the prominent one being the setting up of top football academies in India where interested candidates can enroll and get professional training in the game.
Although the best football academies in India are coming up at a steady pace, the top officials are leaving no stone unturned. Recently, FIFA also signed an MoU with the Indian Football Federation through which the former will help India strengthen football ethics and the game in general. After the much-followed domestic cricket league, IPL reaching millions, another one on the similar lines - the Indian Super League (ISL) focussing on football is organized in the country as well. Famous personalities like John Abraham, Ranbir Kapoor, Sourav Ganguly and Sachin Tendulkar have teamed up with corporate houses to purchase teams in ISL.
If you are among the soccer enthusiasts and wish to pursue it as a full-time career or just wish to master the game because of your passion, you can check the list of top football academies in India that can train you in the best possible ways. You will be able to find details such as timings, courses offered at the top football institutes in India right here.
Top Football Academies in India
1. Indian Tigers Football Academy (ITFA)
Indian Tigers Football Academy was established in the year 2008 by Chelsea players - Sherley Singh, David Lee and Gareth Hall. The academy has highly experienced international and Indian coaches. The popular Indian coaches at ITFA are Lachman Singh and Bernard Pereira.
ITFA has collaborated with Team Tours Direct International, a UK-based leading operator of sports festivals and sporting tournaments. With this collaboration, IFTA has ventured into the field of international sports events and talent scouting.
Establishment Year: 2008
Popular International Coaches: Michael Gilkes, Colin Pates, David Lee, Keith Dublin and Gareth Hall
Timings: 4:30 PM to 6:30 PM
Courses Offered: Junior Tiger Course, Tiger Course and Parent & Child Tiger Course
Address: Indian Tigers Football Alliance, Next to Hotel Samraj, Chakala Road, Andheri (E), Mumbai
Contact Person for Admission: Ms. Devi Swamikan – 9324269236
2. Bhaichung Bhutia Football Schools (BBFS):
Bhaichung Bhutia Football Academy was established by India's most popular and longest football serving captain, Bhaichung Bhutia. BBFS has one centre each in Mumbai and Jammu & Kashmir (J&K), two in Chandigarh and seven centres in Delhi/ NCR region.
Year of Establishment: 2010
Headquarters: Delhi/ NCR – Apeejay School, Noida and Sheikh Sarai; Ansal University, Gurugram
Age Group: 5 to 18 Years
Timings: 5:00 PM to 6:00 PM on weekdays and 7:30 AM to 9:00 AM on weekends
How to Apply: Interested candidates can register through the official website of BBFS
Also Read:Top Badminton Academies in India
3. DSK Shivajians Academy
DSK Shivajians Academy is one of the most famous football academies in India. The academy even offers accommodation to students and has state-of-the-art football facilities.
Year of Establishment: 1987
Age Group: 13 to 18 Years
Address: Survey No 55/54, Tarwadi, Near Loni Toll Plaza, Pune
How to Apply: Interested candidates will have to submit the application form through the official website of DSK Shivajians Academy
4. Paris Saint-German Academy India
The Paris Saint-German Academy is considered as the symbol of Paris Saint-Germain's contribution to education and youth development. It has been playing a vital role in training a large number of aspirants over the years.
Year of Establishment: 2005
Head Coach: Pierre-Marie, France
Age Group: 6 to 17 Years
Location: Shiv Nadar School, Gurgaon, Shikshantar School, Gurgaon and GEMS Modern Academy, Gurgaon
Timings: 5:00 PM to 7:30 PM (weekdays) and 8:00 AM to 9:15 AM (weekends)
How to Apply: Interested candidates can visit the official website to submit the registration form
5. BOCA Juniors Football School India
BOCA Juniors Football School India (BJFSI) was launched in the year 2013. At present, the academy is operated by professionals as per the guidelines of BOCA Juniors Argentina. It has also been awarded as the best soccer club in the world in the last decade.
Year of Establishment: 2013 (in India)
Age Group: 6 to 16 Years
Head Coach: Claudio Roberto Garcia Riberio
Location: Bangalore and Mumbai
Contact Number for Admission: 080-49202025 (Bangalore) and 8879667702 (Mumbai)
Also Read: Top Cricket Academies in India
India has a dedicated football national team that is controlled and administered by the All India Football Federation. The Head Coach of the Indian Football team is Stephan Constantine and has players like Gurpreet Singh Sandhu, Narayan Das, Salam Ranjan Singh, Dhanpal Ganesh, Anirudh Thapa etc. The current captain of the Indian Football team is Sunil Chhetri who plays as a forward player.
We hope that the above information will help you in your endeavours to excel in the game of Football.
CollegeDekho wishes you a bright future. All the best!