Web designer, UX designer and UI Designer are three distinct career options that are often used interchangeably. They deal with the use of multimedia and technology and this similarity often tends to confuse the students to the extent that they end up mixing the job profiles. 
A web designer is an individual that aims at enhancing the aesthetics, layout and usability of a website whereas a UX designer has to work on the information architecture, usability testing, interaction design and content strategy based on the feedback from the users. The prominent difference between the two is that a web designer does not have to adopt a human-centred approach of a UX designer.
UI designers, on the other hand, follow a purely digital practice where they have to ensure that the design and functionality of the user interface are coherent, consistent and aesthetically pleasing. Though, UX designers are UI designers work hand in hand but both are different job roles. The former identifies the problem of a user and maps out a solution for it. Whereas the latter brings the map to life by making it visually appealing, inclusive and accessible.
The difference between a Web Designer and UI designer is that a web designer possesses an in-depth understanding of different programming languages. He basically works on HTML, Scripting languages such as PHP, and other web designing methods like photoshop, etc. In brief, a web designer focuses on assembling everything to make a website high-functioning. With their work,they make the website easily accessible via phone or computer. A UI professional focuses on this point of interaction and adds some value to improve the performance and make it more user-friendly.  
Take a look at the article to get a detailed account of the pros and cons, expected salary, courses, top design colleges and design skills required to ace the profile of a Web designer, UX designer and UI Designer. Also, compare and contrast the differences between the three.
Web Designer vs UX Designer vs UI Designer: Overview
Anyone interested in the design industry but confused about the careers of a Web Designer, UX designer and UI designer will get a good understanding of these three professions from this piece of writing. Our discussion on the comparison between these three design professionals will help them to figure out their career paths. Whichever route one chooses, he or she should understand that the job of designing is not only about making something look presentable, it also involves understanding people, communicating with them, and bringing the best possible solutions for their requirements. Explained below are the job roles and duties of a Web Designer, UX Designer and UI Designer. 
A UX designer is involved in understanding the habits, behaviours, motivations, needs and emotions of a user either through a conversation, study or through a survey. They identify issues faced by a user while working on an interface and devise a plan to solve them. 
A UI designer makes sure that the user interface or the point of interaction between the user and a device is visually appealing, interactive and easy to use. He/she refers to the plan designed by a UX designer and brings it to life by adding typography, colour schemes, buttons, icons, spacing and responsive design. 
A Web designer focuses on enriching the graphics, layout and links provided on the webpage or an application.
In nutshell, UX designing is an interactive approach governed by digital industries but is a non-digital practice. UI designing is a strictly digital practice. Web designing does not have to deal with the practice of user interaction. However, the duty of a web designer is to build a website or application that is visually attractive and influences the users.
Web Designer vs UX Designer vs UI Designer: Course Comparison
The courses that can be pursued to become a successful Web Designer, UX Designer or UI Designer are as follows.
Course for Web Designer

Course for UX Designer

Course for UI Designer

BSc in Multimedia and Web Design

B.Des in User Experience Design

BSc in UI and Graphics Design

Certificate Course in Graphics & Web Design

M.Des in User Interaction & Experience Design

BCA in UI

Certificate in Computer Application

M.Des in User Experience Design

BCA (Design Animation/Graphics/UI-UX)

Bachelor of Science in Multimedia & Web Technology

Certificate in UI/ UX Design

Post Graduate Diploma in UI Design and Development

Diploma in Web Designing & Software Development

BCA in UX

Certificate in User Interface and Experience Design
Web Designer vs UX Designer vs UI Designer: Top Colleges
The colleges that one can consider for building a strong career as a Web Designer, UX Designer or UI Designer are mentioned below.
You can also go through the Entire List of Web Design, UX Design Colleges and UI Design Colleges here.
Web Designer vs UX Designer vs UI Designer: Skills Required
Skills required to be a Web Designer, UX Designer and a UI Designer are listed in the table below. Candidates are required to take a look at them in order to decide which role suits them the best.
Web Designer

UX Designer

UI Designer

Knowledge of markup languages
Attention to detail
Creativity
SEO knowledge
Understanding of Photoshop and InDesign

Communication
User empathy
Research skills
Wireframing and prototyping
Patience

Knowledge of programming languages
Teamwork
Out of the box thinking ability
Understanding of branding, typography and colour theory
Multi-tasking
Also Read: Features to be Considered Before Choosing a Design School
Web Designer vs UX Designer vs UI Designer: Expected Salary
The expected salary has an immense potential of influencing the career choice of an aspirant. Given below is the approximate salary earned by a web designer, UX designer and a UI designer. 
Salary of a Web Designer
The salary of a Web Designer depends on the ability, knowledge and skills of an individual. It varies from time to time and organisation to organisation. Given below is an overview of the salary earned by a Web Designer.
The average salary earned by a web designer in India is ₹2,78,387.

The salary extracted in the initial days is ₹1,18,000.

Money made after gaining a bit of work experience and skills is ₹2,78,000.

The salary bracket may extend upto ₹6,19,000.
Salary of a UX Designer
A UX designer makes money as per his/her aptitude, work experience and performance. Check the salary of a UX Designer below
The average salary that a UX designer earns in India is ₹6,11,757.

While starting his career, an individual can make upto ₹2,58,000.

After settling in for a while, a UX designer can earn around ₹6,12,000.

With plenty of experience, skills and knowledge, an individual can make upto ₹20,00,000.
Salary of a UI Designer
A UI Designer extracts different salaries at starting, mid and senior level. Find the information about the money earned by a UI Designer below. 
A UI designer makes ₹4,90,701 as an average salary in India.
In the starting level, a person generally earns ₹2,42,000 as a UI designer.
After a while, the salary increases and reaches around ₹4,91,000.
At the seniormost level, a UI designer can earn up till ₹10,00,000.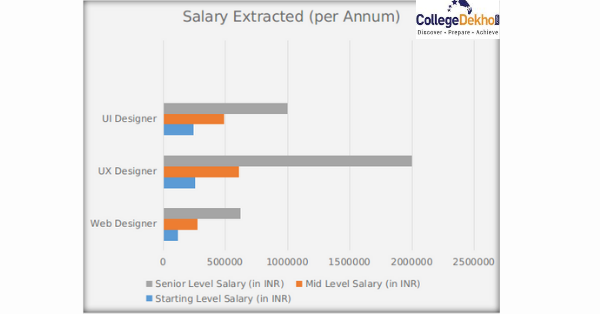 Web Designer vs UX Designer vs UI Designer: Pros & Cons
Each job comes at a different price! Enlisted below are the separate pros and cons of being a web designer, UX designer or a UI designer. 
Job Profile

Pros

Cons

Web Designer

Multiple opportunities in the industry
Learning never stops
Instant feedback offers a scope of improvement

Cut-throat competition in the industry
Technological trends keep changing
Unrealistic deadlines

UX Designer

Attractive salary packages and incentives
Expands network
Improves communication and analytical skills

No fixed timing
Uncertain results from the end of users
Demands a lot of time and patience

UI Designer

New challenges never let the job get monotonous
Implementation of ideas provides instant satisfaction
Experimentation is encouraged

Multitasking can exhaust the mind.
Sitting for long hours
Excessive screen glare can be bad for eyesight
Also Read: B.Des Admissions in India 2022: Application, Eligibility, Exams, Top Colleges
Web Designer, UX Designer and UI Designer are the most popular design profiles with immense scope. Hope this article helped you in making the right decision, if not, feel free to write down your queries and post them in the QnA portal. For admission-related concerns, either dial 1800-572-9877 (toll-free) or fill-up the Common Application Form. The experts at CollegeDekho will guide you through the entire admissions process.