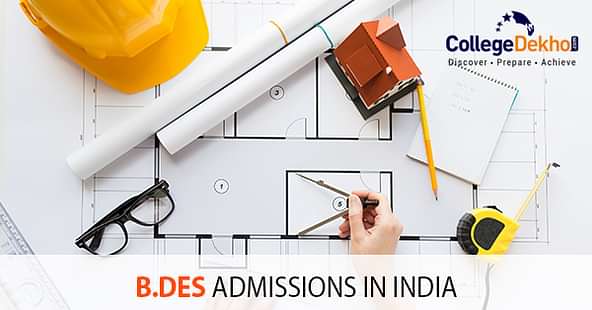 Bachelor of Design (B.Des) is an undergraduate design programme that is opted by most of the students who aspire to pursue a career in design after completing their schooling. It is a full-time course that is covered over a duration of four years. This article contains all the information about B.Des admissions in India 2022.
Candidates looking for details regarding admission to the B.Des course can find all the important particulars and facts of the programme. There are many colleges in India that offer B.Des and some even identify themselves as Design institutes entirely.
B.Des Entrance Exams in India 2022
Admission to B.Des 2022 in India is done usually through design entrance exams. The colleges offering B.Des either conduct their individual entrance test or accept some national competitive examinations for selecting students.
Students have to appear for these exams if they wish to get enrolled in the B.Des programme. They must check if they qualify the conditions set as the eligibility criteria of the particular exam. Some of the most popular entrance exams of B.Des in India are given in the table below. The dates of these exams are also provided alongside.
Name of B.Des Entrance Exam

Application Process

Date of Exam

Declaration of Result

October 05, 2021 to December 09, 2021

January 02, 2022 (Prelims)

June/ July 2022 (Mains- Tentative)

Prelims - June 2022 (Tentative)

Mains - July 27, 2022 (Tentative)

December 03, 2021 to January 17, 2022

February 06, 2022

May 2022 (Tentative)

October 28, 2021 to February 28, 2022

April 03, 2022

April 20, 2022

December 23, 2022- Ongoing

February 1 to February 15, 2022

7 Days After the Exam

September 09, 2021 - November 16, 2021

January 23, 2022

March 10, 2022

Footwear Design and Development Institute All India Selection Test (FDDI AIST)

February 1 to April 28, 2022

June 19, 2022

June 30, 2022

February 01 to April 28, 2022

June 19, 2022

June 30, 2022

December 2021 - Ongoing

February 12, 2022

February 25, 2022 (February Cycle)

December 21, 2021- March 21, 2022

Interview- June 27 to July 04, 2022

July 14, 2022

School of Fashion Technology Common Entrance Test (SOFT CET)

March to April, 2022 (Tentative)

June 2022 (Tentative)

June 2022 (Tentative)
Also Read: B.F.A. vs B.Des: Which is Better?
B.Des Application Process 2022
The application process for the B.Des course depends on the university or college that the student has shortlisted for taking admission. They have to apply through the official website of the university or college and ensure that the application process is completed within the given deadline. For admission to some B.Des colleges, the student will have to apply for the entrance exam that is accepted by them for conducting admissions.
Usually, the B.Des application process is carried out in the online mode but some institutions provide the facility of offline application forms as well. The general steps for B.Des application process 2022 have been listed below. Candidates can take help from these points to submit their applications for the course.
Step 1: The student will have to visit the official website of the college or the particular examination authority (if he/ she is appearing for an entrance exam).
Step 2: They will find the option of applying online on the home page of the website itself.
Step 3: The first step for filling the application form is registering oneself. Candidates are required to enter certain details like their name, contact number, email ID, etc. in order to register themselves.
Step 4: Once the registration is complete, the candidates can proceed to fill the application form.
Step 5: They have to enter all of their personal and academic details that are asked for in the form.
Step 6: Special care needs to be taken while filling in the details. The admission authority holds the right to cancel the application form of the candidate if any discrepancy is found.
Step 7: Applicants will be required to upload scanned copies of some documents, their photographs, and their signature.
Step 8: Upon submitting the application, candidates will have to pay the application fee for B.Des. The fee differs from college to college.
Step 9: If the candidate is filling the form online, he/ she can pay through any online mode payment gateway like bet banking, credit or debit card.
Step 10: In case the student submits the form offline, he/ she will have to download the form and fill in the details. The payment can be made through a Demand Draft drawn in favour of the concerned authorities.
Step 11: It is advised to keep a printout of the receipt and application form as it can be useful in future.
B.Des Eligibility Criteria 2022
The general B.Des eligibility criteria for admission to design colleges in India have been explained below. However, some institutes may include certain other conditions in their eligibility. The candidates must check the qualifications required by colleges individually before they proceed with applying for admission. Colleges are quite strict when it comes to the B.Des eligibility criteria and they do not consider those students for admission who fail at meeting the criteria.
The student must have completed his/ her education up to the higher secondary level.

Candidates have to clear class 12th from a school that is affiliated to a recognised state or central board of education like the ISC, the CBSE, etc.

Overall, the aggregate percentage scored by the student at the 10 + 2 level should be at least 50 per cent.

It is mandatory for the applicants to secure passing marks in all the subjects of class 12th.

Students from all streams and backgrounds are eligible to apply for B.Des admissions. The course is not stream-specific at the 10 + 2 level.

Some colleges also accept students who have a diploma in the required subjects.
B.Des Selection Process 2022
The selection process for B.Des in India is done either on the basis of merit or through entrance exams. After the results of the exam are out, candidates will have to apply to the respective institutions that consider that exam.
Once the applications of the institute are closed, the ranks and marks of all applicants in the entrance exam are assessed and a merit list is prepared giving preference to students with higher ranks. The shortlisted applicants are called for the counselling process at the institute. Some colleges might have further rounds of Group Discussion (GD) or Personal Interview (PI) or both. Certain colleges also review the design portfolio of the candidates. The final admission of students is done after their overall performance has been assessed.
The colleges which give direct admission to students refer to their marks in the qualifying examination. A merit list is prepared in which the applicants are shortlisted on the basis of their aggregate marks in class 12th board exams (or its equivalent). Students who have scored a higher percentage are given preference over the other candidates. As soon as the shortlisting is over, candidates are called for the B.Des counselling process of the respective colleges. They might have to sit for the rounds of Group Discussion and Personal Interview that are conducted by the institute.
Also Read: How to Pursue Design after Studying Science in 12th: Top Colleges, Exams, Jobs
Top B.Des Colleges in India
There are some leading colleges for B.Des in India that students can consider for admission. Some of these colleges are of a high repute and every year, students struggle through a cut-throat competition to get a seat in the college. Apart from the National Institutes of Design (NIDs) and the National Institutes of Fashion Technology (NIFTs), there are several other design colleges in which thousands of students apply every year.
Some of the leading government and private Bachelor of Design (B.Des) colleges in India are given in the table below. The B.Des fee structure and intake of these colleges are also provided.
Government B.Des Colleges in India
Here is a list of some of the best government B.Des colleges in India. Candidates can find the B.Des fee structure of the colleges as well.
| Name of the College | B.Des Fee Structure |
| --- | --- |
| | Rs. 1,17,500 |
| | Rs. 7,77,702 |
| Industrial Design Centre, Indian Institute of Technology (IDC IIT), Mumbai | Rs. 9,27,000 |
| School of Fashion Technology, Pune | Rs. 2,00,000 |
| | Rs. 2,96,000 |
| | Rs. 8,36,500 |
| | Rs. 7,77,702 |
| | Rs. 1,17,500 |
| | Rs. 7,77,702 |
| | Rs. 1,17,500 |
Private B.Des Colleges in India
The table below gives information about some leading private colleges and universities in India that offer B.Des. The fee structure of these colleges for B.Des has also been also given.
| Name of the College | B.Des Fee Structure (Annual) |
| --- | --- |
| | Rs. 3,00,000 |
| | Rs. 4,50,000 |
| | Rs. 3,00,000 |
| | Rs. 5,65,000 |
| | Rs. 50,000 |
| | Rs. 2,40,000 |
| Swarrnim Startup And Innovation University (SSIU), Gandhinagar | Rs. 2,50,000 |
| | Rs. 1,60,000 |
| | Rs. 1,30,000 |
| | Rs. 3,95,000 |
| | Rs. 1,38,000 - Rs. 2,58,000 |
To take B.Des admission in any of the aforementioned colleges, feel free to either dial 1800-572-9877 (toll-free) or fill the Common Application Form. An admission expert will reach out to you and provide you with free assistance. You can also drop your queries on the QnA zone of CollegeDekho.
Stay tuned to CollegeDekho for more updates!