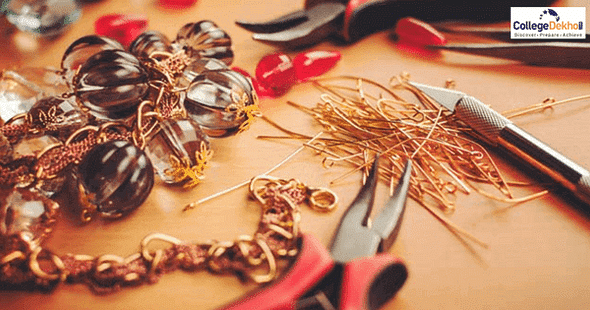 Designing is a broad field with various specialisations and career options. Designing courses are not limited to fashion designing. There are others such as graphic designing and jewellery designing courses that are quite popular within the industry. The interest in graphic designer and jewellery designer has captured a lot of interest lately. In this article, we are going to talk about the different aspects of graphic designing and jewellery designing courses.
With the growth in India's design industry, there are various career opportunities for students in design. Graphic designing is one of the highest paying domains in the designing field. Similarly, jewellery designing courses offer some bright career opportunities and can be the ideal career for students who love to draw and are interested in metal crafts. Although graphic design courses are widely known for their demand in the market, jewellery design courses are not less known due to fewer colleges offering these courses. In the last few years, various popular design institutes have started offering jewellery design courses. Find out the details about these two courses below.
Graphic Designing and Jewellery Designing: Brief Comparison 
Graphic design is the use of visual content such as typography, colour palettes, illustrations, and images to convey a message. It aids the brand's visual communication with its target audience. Graphic design is important for more than just brand aesthetics. Nonetheless, it makes a significant contribution to developing a sense of understanding between a brand and its audience by communicating what the brand stands for. Have you ever wondered who creates everything from the cover of your favourite book to the wrapper of your favourite chocolate to the visual aesthetic of the website you're reading right now? The majority of those around us is the work of a graphic designer. Many institutions also provide free graphic design courses to students who are passionate about design. Graphic design courses may be for you if you are a tech geek with an understanding and appreciation for art.
Whereas, Jewellery Design is a profession in which professionals both design and create jewellery. The entire process of creating jewellery is quite complex and necessitates technical knowledge. Before any piece of jewellery is made, the design is conceptualised through a detailed drawing created by a jewellery designer. A jewellery designer is someone who has been trained to have architectural as well as functional knowledge of various materials, compositions, fabrication techniques, wearability, and market trends.
Graphic Designing and Jewellery Designing Courses and Scope
Check out the differences and similarities that Graphic Designing and Jewellery Designing courses share underneath.
Particulars

Graphic Designing

Jewellery Designing

About the Field

In graphic designing programmes, you will learn to convey ideas and messages using images, animation and graphics

To achieve success in this field, you will also have to be well-versed in electronic media and marketing skills

In this field, you will be taught to conceptualise jewellery designs and the manufacturing different jewellery products

Courses in this will be designed to train the students for cutting gems, engraving and polishing noble metals

Type of Courses

B.Des in Graphic Design

Graphic Design for Advertising

Diploma in Gemology

B.Des in Jewellery

B.Sc in Jewellery Designing

PGD in Jewellery Designing

Certificate Course in Jewellery Designing

Fees of the Course

Depending on the type, of course, you choose to pursue, the fees of a graphic designing course may vary from Rs. 15,000 to Rs. 4,00,000 per semester

The fees for the programmes mentioned above will vary from Rs. 35,000 to Rs. 3,20,000 per semester depending on the duration of the course and the college

Short-term may cost between Rs. 15,000 to Rs. 65,000

Eligibility for Courses

Diploma Courses: You can apply for these courses after class 10. However, some diploma courses require you to complete 10+2

UG Courses: In order to pursue a degree in graphic designing, you will have to pass 10+2 with minimum of 60% marks

PG Courses: A relevant bachelor's degree with at least 50% to 60% aggregate score

Diploma Courses: You will have to complete graduation in order to pursue a diploma in jewellery designing

UG Courses: Eligibility criteria for undergraduate courses in this field is 10+2 with at least 50% marks

PG Courses: A bachelor's degree in a relevant discipline with at least 50% to 60% aggregate score

Job Roles

CAD Jewellery Designer

Manual Jewellery Designer

Jewellery Retoucher

Jewellery Setter

Jewellery Business Owner

Salary Scope

The entry entry-level salary package of around Rs. 1,43,000 per annum. An exceptional professional may earn up to Rs. 12,00,000 per annum

Salaries may vary from employee to employee. Packages for experienced individuals may vary from Rs. 2,99,000 to Rs. 6,19,000 per annum

The average base salary is around Rs. 2,99,106

The entry entry-level jobs in this field will offer you a salary package is around Rs. 1,82,000 per annum

Salaries in some organisations depend on the experience and projects given to the employee. Packages for experienced individuals may vary from Rs. 4,09,000 to Rs. 8,38,000 per annum

The average base salary is around Rs. 4,08,738
Also Read: List of Certificate Courses in Graphic Design in India
How to Choose Between Graphic Designing vs Jewellery Designing in India?
The decision between a career in graphic design and one in jewellery design in India relies on the interests, abilities, and professional objectives of the individual. When deciding between these two professional options, take into account the following factors:
Interests: In India, both Graphic Design and Jewellery Design involve creativity, although they concentrate on distinct fields. Jewellery Design may be a better career choice for you if you are passionate about designing and making jewellery. On the other hand, Graphic Designing can be a great choice if you adore the most recent design trends.
Career Opportunities: In India, there are employment prospects in both jewellery design and graphic design. To ascertain which area offers the most career possibilities, it is crucial to investigate the employment market and current business trends.
Training and Education: Training and knowledge are necessary for jewellery design as well as graphic design. Think about the curricula, the programmes, and the level of education offered in each sector in India.
Salary: Depending on the sector, region, and level of experience, salaries and earning potential might change. Find out the pay scales for both professions to decide which is more financially feasible.
Top Colleges for Graphic Designing and Jewellery Designing
Aspirants willing to take up either a Graphic Designing or Jewellery Designing course are required to study from the top-notch institutes. Not only it inculcates apt designing skills but also helps the students to grow intellectually. Provided below is the list of top colleges offering Graphic Designing and Jewellery Designing courses. Click on the link to directly apply for admission to any of the desired colleges.
Also Read: List of Certificate Courses in Design
Both programmes offer great career prospects in design, however, it is important to complete the course from either of the reputed designing institutes in India. If you aspire to pursue either of the courses from the colleges mentioned above, you can dial 1800-572-9877 (toll-free) or by fill the Common Application Form. In case of any questions, write to us in the QnA zone.
Stay tuned to CollegeDekho for more updates!