AIMS Test for Management Admissions (ATMA) 2022 is a national-level MBA entrance exam being held by the Association of Indian Management Schools (AIMS) on July 24, 2022. The ATMA 2022 Score of a candidate will determine their admission to the ATMA 2022 Participating Institutes, which are among the top MBA colleges in India.
As the ATMA 2022 exam date is around the corner, it is natural to have last-minute nervousness. However, this is also a time when you should be solidifying your preparation for ATMA 2022 and have confidence in your preparation. At the same time, it is also important to take care of your mental and physical health during these days to perform well in the exam. In this article, we have compiled some of the last-minute preparation tips for ATMA 2022 to help you give your best in the exam.
ATMA 2022 Exam Pattern
Having a good knowledge of the ATMA 2022 exam pattern is essential before appearing for the exam. Check the table below for details.
Number of Sections

6

Name of Sections

Quantitative Skills Part 1

Quantitative Skills Part 2

Analytical Reasoning Skills Part 1

Analytical Reasoning Skills Part 2

Verbal Skills Part 1

Verbal Skills Part 2

Total Number of Questions

180

Exam Duration

180 minutes

Number of Questions Per Section

30 questions per section

Time Limit Per Section

30 minutes per section

No. of Options Per Question

4 options per question

Marking Scheme

+ 1 mark for each correct answer

-0.25 marks for each wrong answer
ATMA 2022 Last Minute Preparation Tips
Here are some of the best tips that you must follow in the last few days before ATMA 2022.
Revisit Important Topics
It is beneficial to take a look at the important topics of ATMA before the exam. It will help you brush up on important concepts so that you do not miss out on any important questions in the exam. Check the table below for the list of important topics in each section of ATMA 2022.
Section

Important Topics

Quantitative Skills

Ration & Proportion
Percentage
SI & CI
Profit & Loss
Number System
Time Speed and Distance
Data Interpretation
Charts & Graphs

Analytical Reasoning Skills

Blood Relation
Letter Arrangement
Number Series
Syllogism
Coding-Decoding
Visual Reasoning

Verbal Skills

Parts of Grammar
Vocabulary
Antonyms & Synonyms
Para jumbles
Reading Comprehension
Also Read:MBA in India vs MBA Abroad: Which is More Valuable?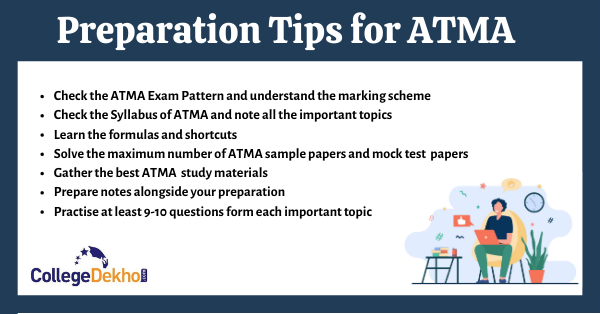 Practise Previous Year Papers of ATMA
By practising the ATMA previous year question papers, the candidates will gain insight into the ATMA 2022 exam pattern & topics that appear frequently from the last years. It is imperative for the candidates to check the questions in the ATMA previous year question papers and compare them with the ATMA syllabus to identify topics from which maximum questions are asked.
Make Mock Tests Your Friend
In the final days of preparation, candidates must make it a habit of solving one mock test every day to assess how much progress they have made and how much revision needs to be done. Candidates will also gain an understanding of their weak areas. Mock tests contribute greatly to provide detailed knowledge to the students regarding the level of questions and the pattern of the ATMA exam. Solving ample number of mock tests before the ATMA exam will also help the candidates gain accuracy over each subject. Candidates can also enhance their knowledge, problem-solving skills, speed, and time management skills. 
Brush up your basics
Students require a detailed understanding of basics to be able to solve the most difficult questions. Hence, candidates must allocate some amount of time to brush up the basic concepts.
Ensure Proper Revision
Candidates must complete revision of all facts, figures,topics and methodologies before appearing for the exam to recall things easily. They must allot the last two days of examination to the revision of important topics.
Learn Time Management
As candidates are required to answer 180 questions in a total time limit of 180 minutes, they must try to learn the shortcut methods to gain accuracy and increase their speed in order to solve all the questions within stipulated time.
Analyse Previous Year's Result
Candidates must check the exam trend and the number of good attempts through previous years' ATMA Exam Results to gain insight into the competition level. In this way, candidates can set their target scores and modify their preparation strategies.
Prepare Your Documents
Keeping all your documents ready before the exam is very important. Make sure that you have downloaded and taken a printout of your ATMA admit card. Also, make sure you have your original ID proof and photocopy to take to the exam centre along with the admit card. Given below is the list of ID proofs which are considered valid.
Driving License
Voter ID
Aadhar Card
Passport
College ID Card
Take a Nutritious Diet
Students are often so engrossed in studies that they completely ignore their body and diet requirements. Food is the fuel that keeps us going and it is very important to fuel up before the exam. Make sure that you are taking a nutritious diet as that will not only have a positive impact on your physical health but is also a great morale booster.
Also Read:Tips to Prepare for MBA Entrance Exams: Exam Pattern, Syllabus, Best Books
Take Time Off From Studies
Keeping some time for leisure activities is essential. Whether it is indulging in a hobby or hanging out with friends or watching a movie, make sure you spare some time to do any activity that you enjoy. It will help keep your spirits up and help your mind relax.
Keep a Calm Head and Stay Confident
Anxiety and nervousness are common in the last days of exam preparation. But panicking can only make a bad situation worse. Keeping a steady head is as essential as any other point in this list. It is important to keep your confidence up and be prepared for success.
ATMA 2022 Preparation: Opt for a Section-wise Preparation Strategy
To ensure effective preparation for the ATMA 2022 exam, candidates must opt for a section-wise preparation strategy:
Section 1: Tips to prepare for Analytical Reasoning
Improve the ability to collect and analyse information, critical analysis skills, analytical reasoning skills, problem-solving ability and decision-making ability. 

Solve syllogisms, riddles, puzzles, coding, and decoding, etc. to gain expertise in analytical reasoning. 

Since the questions are lengthy and moderately difficult, read and re-read each question before and then determine which option is the most accurate answer to the question, instead of ticking answers at one go. 
Section 2: Tips to Prepare for Quantitative Skills
Revise the theories and formulas from the math books studied in the 10th and 12th classes. Learn tricks and shortcut methods to solve long equations.

In the algebra and geometry section, prioritise topics like statements, truth tables, implication converse and inverse, relations, etc.

Clear basic concepts, practise past question papers, learning different formulas and applying them simultaneously to solve problems.
Section 3: Tips to Prepare for Verbal Skills
Read texts, articles, newspapers, magazines, and journals from different sources.

Read a high volume of content within a limited time without getting tired.

Develop quicker logical thinking for Para Summary, Sentence Completion, Para Jumbles, Odd One Out, Reading Comprehension, Phrases and Idioms, Word Meanings, etc. 

Improve vocabulary skills, understand functional use of grammar in business communication and identify basic terminology and concepts in computer and business contexts.
Daily Study Plan for Last Minute Preparation of ATMA 2022
Candidates aspiring for the ATMA 2022 exam are required to allot equal time to every section along with revision daily during the last stage of their preparation. 
| | | |
| --- | --- | --- |
| Topic | Number of Questions | Time Spent |
| English Grammar | 25 questions | 20-25 minutes |
| Reading Comprehension | 2 sets | 20 minutes |
| Analytical Puzzles | 3 sets | 30 minutes |
| Reasoning Miscellaneous | 20-25 questions | 20-25 minutes |
| Non-Verbal Reasoning | 15 questions | 15 minutes |
| Data Interpretation | 3 sets | 30 minutes |
| Quant Word Problems | 20 questions | 20-25 minutes |
| Reading Newspaper  |       -  | 1 hour |
| Total  |       - | 4:30 hours |
General Tips for Last Minute ATMA Preparation 2022
To perform significantly well in the ATMA 2022 exam, candidates must opt for extremely focused strategies in the last month of ATMA preparation that have been mentioned below:
Make a list of the topics that you think are your weak areas. Improve your weaker areas and keep a track of your progress. 

Always make short notes for quick revisions, starting from the topics you need to work on to important sections. Revise the short notes for at least 1-2 hours daily.

Sharpen your stronger areas as well.

Take a look at all the formulas and theories you have read while preparing for the Quantitative and Analysis Reasoning section. 

Do not start a new topic in the last month.

Solve sample questions or mock test series to enhance your questioning ability and evaluate your performance.

Try and improve the time taken to solve each question.

Learn shortcut tricks to solve questions within the stipulated time.

Note down new words you read in the newspaper to ace the verbal skills section.

Buy the best study material or books for the ATMA 2022 preparation.
Best Books for Last Minute ATMA 2022 Preparation
Supreme quality books and study material are essential for scoring significantly high in the ATMA 2022 Examination. The list of books that candidates must choose for the last minute preparation/revision for the ATMA 2022 exam has been provided below: 
Fast Track Arithmetic Objective – Rajesh Verma

Quantitative Aptitude for Competitive Examinations – RS Aggarwal

Word Power Made Easy – Norman Lewis

Objective General English – SP Bakshi

The Person Guide to Quantitative Aptitude for MBA Entrance Examinations – Dinesh Khattar

The Person Guide to Verbal Ability and Logical Reasoning for the CMAT with CD – Nishit K Sinha

A Modern Approach to Logical Reasoning – R S Aggrawal

A New Approach to Reasoning Verbal and Non-Verbal Analytical – B.S Sijwalii
Things to Avoid during Last Minute ATMA 2022 Preparation
Do not learn or cram everything during the final phase of your preparation because it will only lead to the important concepts getting mixed up and causing confusion. 

Do not overlook your health. Have a good night's sleep to maintain a calm and sober mind on exam day.

Do not get nervous or panic-stricken if you are stuck with a particular question. Strategize and answer less lengthy and high-scoring questions first and then move on to the lengthier ones.

Do not waste your time. Make a proper study schedule and adhere to it. Solve mock tests on a regular basis. 

Do not forget to bring all the required documents such as photo ID proof (original and photocopy), ATMA 2022 admit card, two latest passport size color photographs, and a copy of the ATMA application form to the ATMA examination centre.
These were some of the best tips for the last days of ATMA 2022 preparation. Here are some other great articles that you can check out.
Stay tuned to CollegeDekho for the latest news and updates.