CLAT is the most popular law entrance exam which is conducted once every year. The exam will be conducted on June 19, 2022, in offline mode across the CLAT 2022 exam centres and candidates have to follow the CLAT Exam Day Guidelines to ensure that the exam gets wrapped up smoothly.
Candidates aspiring to crack the exam can ace their CLAT 2022 preparation through the previous year question papers, mock tests, and sample papers of CLAT. They can also check the paper analysis and answer key of CLAT 2022 to get an idea of the exam. This will also help them in identifying the weak areas and working on them. Applicants must make sure to cover all the important topics of CLAT discussed here as they can help in acing the law exam.
Important Topics for CLAT UG
The CLAT UG exam is divided into five sections and they are English Language, Current Affairs & GK, Legal Reasoning, Logical Reasoning and Quantitative Techniques. Each section requires a different set of approach and mindset. Provided below are the important topics of CLAT that need to be studied before appearing for the exam.
CLAT Important Topics for the English Language
The English Language Section of CLAT tests the Grammatical Knowledge and English Proficiency of an aspirant. It analyses the ability of the candidate to evaluate a passage that is of class 12th level. Provided below are the important topics that must be covered in this section.
Comprehension Passages 

Subject-Verb Agreement 

Noun 

Pronoun

Adjective and Determinants 

Adverb

Active Passive Voice

Vocabulary

Synonyms

Antonyms

Spelling errors

Sentence completion and correction
CLAT Important Topics for Current Affairs & GK
The questions of the Current Affairs and GK are intended to check the depth of understanding of events of significance and issues. Generally, the emphasis is on current events and recent developments. Check out the topics that must be covered while preparing for the CLAT Important Topics for the Current Affairs & GK.
Banking & Finance

Outline of Indian Economy 

Indian Tax Structure 

National Income of India

Legal fundamentals and terms 

Supreme Court Judgments

Legal Maxims and Important Landmarks 

Major Industries in India
CLAT Important Topics for Logical Reasoning
The Logical Reasoning Section of the CLAT exam tests the potential of an aspirant to identify arguments and patterns. The important topics that require the maximum attention are mentioned below.
Logical Puzzles 

Cause & Effect Reasoning 

Analogies, 

Arguments and Conclusions 

Sequences

Statements Assumptions

Statement Arguments  

Statement Conclusions Derivation of Conclusions
CLAT Important Topics for Legal Reasoning
The Legal Reasoning of CLAT is designed to check if the aspirant can identify the principle and the facts from the passage. Given below are the important topics and areas that must be considered while preparing for this section.
Legal Facts

Legal terminologies and meanings

Situations or outlines of legal matters

Public policy 

Moral philosophical enquiries

General awareness of contemporary legal and moral issues
CLAT Important Topics for Quantitative Techniques
Before attempting the Quantitative Techniques section, candidates should analyse the graphical information presented in the question paper. The important topics for CLAT that require the most attention while preparing for the Quantitative Techniques section are provided below.
Basic algebra

Statistics

Profit and loss

Mensuration 

Time & work

Numbers

HCF and LCM 

Fractions

Logarithms

Percentage

Time & distance

Ratio & proportion
Important Topics for CLAT PG
CLAT PG mainly puts emphasis on the comprehension abilities of a candidate. The exam will generally pick up key areas of the undergraduate level. The important topics that must be revised before appearing for the CLAT PG exam are mentioned below.
Constitutional Law

Company Law

Industrial Law

Law of Contract

Administrative Law

Torts

Environmental Law

Criminal Law

Family Law

Jurisprudence

Public International Law

Property Law

Tax Law

Labour Law
Also Read:Difference Between CLAT, AILET and LSAT
Subject-Wise Weightage in CLAT
The exam pattern of CLAT has been changed from 2020 onwards and students will be asked 150 questions in UG and 120 questions in the PG exam. To understand how many marks each subject possess, go through the information provided below.
CLAT UG Subject-Wise Weightage
The UG exam of CLAT is divided into 5 parts and each of them carries a different percentage of sectional weightage. The table displayed below captures the essence of UG Question Paper Format of CLAT.
| | | |
| --- | --- | --- |
| Section | Total Questions | Weightage in Percentage |
| Current Affairs & General Knowledge | 35-39 questions | 25% |
| Legal Reasoning | 35-39 questions | 25% |
| English Language | 28-32 questions | 20%  |
| Logical Reasoning | 28-32 questions | 20%  |
| Quantitative Techniques | 13-17 questions | 10% |
Below is the subject wise weightage of CLAT UG exam.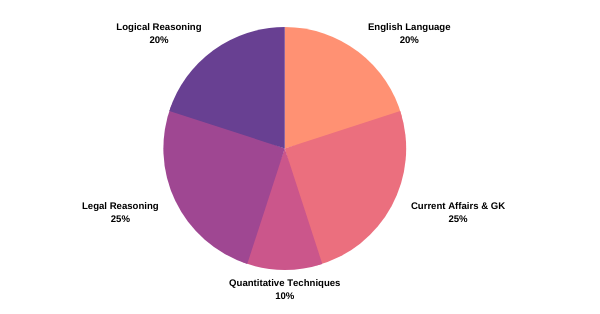 CLAT PG Subject-Wise Weightage
Check out the subject-wise weightage of CLAT PG, provided in the table below.
Subject

Total Questions

Total Marks

Constitutional Law

120 Questions

120 Marks

Company Law

Other Laws
Quick Preparation Guide for CLAT
To strengthen the preparation for CLAT, a candidate can refer to the CLAT Preparation Guide provided below.
Also Read:Top 20 Law Universities in India Accepting CLAT, LSAT, SLAT Scores
General Tips for CLAT Preparation
To optimize their chances of scoring well in the CLAT 2022 examination, candidates must have a good understanding of the CLAT 2022 exam pattern as well as various other things such as past year cutoff trends, exam marking scheme, and so on, which will assist the candidates in strengthening the fundamental and basic concepts.
Candidates must follow the below methods to ace in the CLAT 2022 exam.
Students must prepare a timetable according to the important topics and weak areas.
Aspirants must have a proper time-management strategy to achieve higher accuracy.
Candidates must try to practice as much as possible. Only with more and more practice, candidates can achieve better scores.
Students must take up regular mock tests to build up speed and efficiency in solving papers.
Students must refer to the proper and recommended study materials for CLAT 2022.
Candidates must avoid referring to new study materials before the exam.
Also Read: Last Minute Preparation Tips for CLAT 2022
CLAT is a national level law entrance exam that grants admission to aspirants in top NLUs across the country. The exam also provides admission to the best private law universities in India. 
If aspirants are unable to meet the CLAT cut-off and get the desired law college, they can talk to our admission experts and explore some other suitable options. You can either dial 1800-572-9877 (toll-free) or fill the Common Application Form to get in touch with the counsellors. For any questions related to CLAT or law, feel free to drop them in the QnA zone.
Stay tuned to CollegeDekho for more information!
In case of any query feel free to head to our QnAZone.