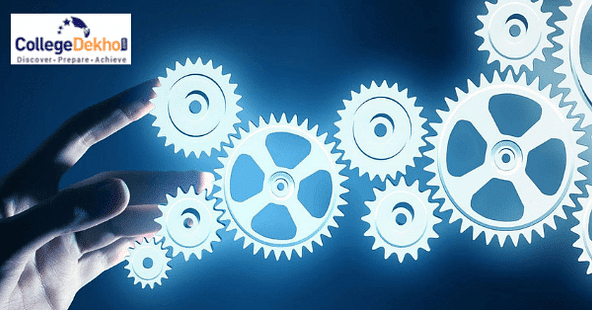 Till date, engineering is considered one of the most popular career choices among students in India. B Tech (Bachelor of Technology) is still the most preferred undergraduate degree course that students take up after clearing class 12 examination in Science stream.
The duration of a B.Tech course is four years and it is offered by various engineering colleges all over India including the prestigious IITs (Indian Institutes of Technology) and NITs (National Institutes of Technology). In order to be eligible for a B.Tech course, students must have PCM group (Physics, Chemistry, Mathematics) in class 12 as compulsory subjects.
But what happens after the completion of a B Tech degree? Well, it's a question that one has to face in the third or fourth year of engineering. In fact, most of the people who take up jobs straight after completing their B.Tech degrees also go for Masters degree or a postgraduate programme in a particular field at some point in their lives to boost their skills and enhance their chances of getting better and more lucrative job offers.
Apart from options like preparing for Civil Services to land a government job or taking up a job through campus placement or starting a business, an engineering graduate can go for the conventional choice, which means going for higher education and taking up a postgraduate programme. However, what happens most of the time is that students get confused about the choices they have to make. In most of the cases, students are unable to decide which course will best match their areas of interest, skills and long-term career goal.
In the following article, we've tried to elaborate on the course options that students may consider taking up after completing their B.Tech degree.
Before we talk about the courses after B.Tech, let us quickly take you through some popular B.Tech entrance exams that engineering aspirants take in order to become eligible for admission in engineering colleges of the country.
Table of Contents
Some popular B Tech Entrance Exams in India
There are different exams conducted at the national-level, state-level and institute-level. Every year, lakhs of aspirants appear for engineering entrance exams for admission to the premier engineering colleges of the country. We've, therefore, compiled a list of the top B.Tech entrance exams in India that engineering aspirants can take up:
List of Courses after B Tech
After completing a B.Tech degree, students can opt for the Master's programme in their core engineering subjects like M Tech or M.E. and then continue to pursue further education by taking up a PhD programme. For those who aspire to enter the world of business and management, taking up an MBA course is the safest option. Similarly, there are many more options and we've listed all of them here:
Both M.Tech/ M.E. (Masters of Technology/ Masters in Engineering) are postgraduate degree programmes offered by various engineering colleges in India. In order to pursue these courses, students will have to opt for a specialisation in M.Tech course in the respective discipline to excel in a particular field. The most common entrance examination for admission in M.Tech course is through Graduate Aptitude Test for Engineering (GATE), which is held annually. It is regarded as a benchmark test for engineering graduates in India. There are other postgraduate engineering entrances like TANCET, etc. However, many private universities conduct their own admission test or entrance exams.
Below are some of the popular streams/specialisation options that B.Tech graduates can take up for pursuing M.Tech:
| Automobile Engineering | Computer Integrated Manufacturing |
| --- | --- |
| Thermal Engineering | Industrial Safety Engineering |
| Chemical Engineering | Energy Engineering |
| Manufacturing Engineering | Information Technology |
| Software Engineering | Computer Aided Design & Manufacturing |
| Industrial Engineering | Mechatronics Engineering |
| Product Design and Development | - |
Top M.E/M.Tech Colleges in India and Average Fee Structure
Mentioned below are some of the best M.E/M.Tech colleges located in various regions of India - 
| Name of the College/University | Average Fee (In INR) |
| --- | --- |
| JECRC University, Jaipur | 70,000/- per annum |
| CMR Institute of Technology, Hyderabad | 60,000/- per annum |
| Brainware University, Kolkata | 1,05,000/- per annum to 1,12,000/- per annum |
| College of Engineering, Roorkee | 83,900/- per annum |
| Sage University, Indore | 50,000/- per annum to 1,35,000/- per annum |
Taking up an MBA is one of the most popular options for many B.Tech graduates. The course helps the technical graduates acquire management knowledge and leadership qualities, which is necessary for success in the corporate world. Many top-notch companies look for engineers with great management skills. So, after B.Tech, doing an MBA means your market value goes up exponentially.
Below are some of the popular management specialisations for the aspirants:
| Entrepreneurship | Human Resources |
| --- | --- |
| Operations Management | Information Technology |
| Finance | International Business |
| Marketing | Strategy |
Top MBA Colleges in India and Average Fee Structure
Check out the list of the top MBA colleges in India along with their average fee structure - 
| Name of the College/University | Average Fee (In INR) |
| --- | --- |
| Jagannath University, Bahadurgarh | 1,45,000/- per annum to 2,25,000/- per annum |
| Assam Down Town University, Guwahati | 1,80,000/- per annum |
| SJES College of Management Studies, Bangalore | 1,12,000/- per annum to 1,45,000/- per annum |
| Sree Dattha Group of Institutions, Hyderabad | 50,000/- per annum |
| Institute of Hotel Management and Culinary Studies, Jaipur | 60,000/- per annum |
For the students who do not wish to go for a full-time, two-year MBA, PGDM course can be the next best option. In this, one can opt for general management studies or may even choose a specialisation. The course helps to build conceptual knowledge, skills, and understanding in students who can go on to work in government or private organisations or even in industries. This course can definitely boost students' career prospects. The duration of the course can be either one year or two years (depending on the institute offering the programme).
Top Postgraduate Diploma in Management (PGDM) Colleges in India and Average Fee
Given below is the list pf some of the top PGDM colleges in the country in addition to their average fee structure - 
| Name of the College/University | Average Fee (In INR) |
| --- | --- |
| Krupanidhi School of Management, Bangalore | 4,00,000/- per annum |
| NIMS University, Jaipur | 60,000/- per annum |
| Sunder Deep Group of Institutions, Ghaziabad | 1,95,000/- per annum |
| Institute of Productivity and Management, Ghaziabad | 30,000/- per annum to 1,25,000/- per annum |
| ASM's Group of Institution, Pune | 3,25,000/- per annum |
Distance Learning/Certificate/Short-term Courses
After B.Tech, students can plan to choose from various short-term courses to enhance their knowledge and improve their skills in a specific field. Through these courses, they can apply for jobs in different industries as well. There are multiple short-term and certificate-level courses available in robotics, ethical hacking, embedded technology, VLSI, machine designing, protocol testing, automobile mechanics, engineering management, digital marketing, programming, etc. B.Tech graduates can also consider distance learning programmes in the field of their choice.
Following is a list of some of the short-term certificate and professional courses that one can pursue after their B.Tech:
B.Tech Specialisations

Short-term Certificate and Professional Courses

B.Tech In Electronics & Communication Engineering

Robotics

Embedded Technology

Nanotechnology

Very-Large-Scale Integration (VLSI)

B.Tech In Computer Science (CS) Engineering or

Information Technology (IT)

C, C++, JAVA, .NET, SQL

Information Security & Ethical Hacking

Web Designing

Red Hat Certified Engineer

Software Testing

Networking Professional

B.Tech In Civil Engineering

Technical Drawing & Designing

Building Design Certification

Interior Designing

Construction Supervisor Certification

B.Tech in Mechanical Engineering

Statistical Quality Control (SQC) Courses:

Kanban Certification

Six Sigma

ISO Lead Auditor Courses

Primavera Training

B.Tech In Electrical Engineering

Electrical Distribution System

Advanced Training in Systems Engineering

Circuit Analysis

Power System Analysis
Opportunities After Doing B Tech Degree Courses
B.Tech opens several career opportunities even if one wants to avoid going for a postgraduate course immediately after graduation. Some of the choices that students can consider after completing their B.Tech degree are mentioned below:
Job Opportunities:
There are various engineering institutes that offer campus placements. B.Tech graduates are offered jobs by many private sector companies for entry-level job roles in technical fields. Also, there is a lot of demand for qualified engineers in the construction sector, real estate, petrochemical industry, automobile manufacturing and design and development of technology, etc. Those who have an engineering degree in Computer Science are always in demand as software or hardware engineers. The engineering jobs can, in fact, be classified into two categories:
Government sector jobs
The jobs that are available in technical fields are in Public Sector Undertakings through the GATE. On the basis of GATE score, many PSUs hire B.Tech graduates for entry-level jobs. Some of the other government jobs available in the field of Engineering are in Indian Railways, Food Corporation of India, airport authorities of India, oil and natural gas corporation, Indian Space Research Organisation (ISRO), etc.
Private sector jobs
Companies like Microsoft, Wipro, Samsung, Intel, Oracle, Dell, etc. also hire fresh B.Tech graduates and offer them good employment opportunities. So, students who are not interested to sit for campus placements, can try their hand at private sector companies and apply for a job in technical roles and gain knowledge as well as experience in the corporate world.
Going for Civil Services Examination:
The Civil Services examination conducted by the Union Public Service Commission (UPSC) is one of the toughest examinations to crack, but it can be a great option for an engineering graduate in order to land a government job. Cracking Civil Service Services examination can prove to be beneficial for a B.Tech graduate who wishes to become an IAS officer or an IPS officer.
Entrepreneurship:
Right after the completion of B.Tech programme, students can also start their own business and become an entrepreneur. This will most likely require some investment or financial backup. You can explore your creative side and use your skills to gain benefits from starting your own business venture. Also, you can try freelancing options that can provide you with an opportunity to learn while earning.
As described in this article, there are plenty of career-oriented courses that candidates can pursue after the completion of their B.Tech degree. However, they must take the final call depending upon the suitability of their ultimate goals.
For more updates regarding courses after B.Tech, stay tuned to CollegeDekho!