Wine is a popular alcoholic beverage enjoyed by people from all around the world. There are many different types and flavours of wine and a multitude of brands available in the market. Many of us are only able to to tell the difference between Red Wine and White Wine but there is a lot more to that.
Brewing wine is a complex process and there are many factors that can influence the quality of a wine. A small change at any step can alter the finished product and while an ordinary wine-drinker might not be able to taste any difference, a Wine Taster or Sommelier can as he/she is professionally trained to do so. Given below is all the information you will need to understand how to become a Wine Taster in India and whether it is the right career for you.
What is Wine Tasting?
Wine Tasting is the art of tasting various kinds of wines and being able to tell the difference between them. A Wine Taster looks for differences in the various factors associated with a wine such as its colour, shade, smell, acidity, sweetness etc. A professional Wine Taster is able to gather information about a particular wine simply from its colour, smell and taste by following the 5 S's of Wine Tasting, which are:
See
Swirl
Sniff
Sip
Savour
Wine Tasters are well-versed in the procedure to be followed for Wine Tasting and have trained their senses to discern subtle differences between different Wine flavours and textures.
Wine Tasting as a Career
Wine Tasting is an interesting career choice that lies far away from the usual streams such as Arts, Science, Management, Engineering, Commerce etc. It is a career that relies more on training the senses than pre-acquired knowledge or scientific acumen and hence is perfect for any person who seeks an alternative career choice.
Wine Tasting, however, cannot be said to be a career for everybody. Professionals who have been able to succeed and make a name for themselves in Wine Tasting are all passionate individuals who have respect and intrigue for this beverage. Many people consider wine tasting to be an art form, which can take years to perfect. Starting off in the field, though, is relatively easier.
Skills Required for Wine Tasting
Unlike many other courses and professions where formal education is of paramount importance, Wine Tasting is a field where passion drives growth and practical experience is the key. Leading Wine Tasters suggest that to succeed in this field, one should have a liking for the beverage.
Given below are the skills required to succeed in the field of Wine Tasting.
One should be passionate about wine and there should be an underlying love for the beverage. It is very difficult to grow and sharpen your skills in this field without having the said quality.

Wine Tasters have to rely on their memory to identify different fragrances and flavours. There are many different varieties of wines which may be inherent to particular regions and a Wine Taster must have a good memory for such information.

Keen sense of taste and smell are essential qualities for a Wine Taster.

A professional in this field should ideally have good written and verbal communication skills. This is because Wine Tasters should be able to explain the wine to an audience who may not have much knowledge of the field.

Since wine is a beverage that is paired with different food items, Wine Tasters should also have good culinary knowledge. 
Career Scope for Wine Tasting
Wine Tasting was an almost unknown career in India as little as a decade ago. However, with the increase in tourism and the growth of the hospitality industry, the career scope for Wine Tasting in India has increased several-fold. There are two major areas of employment for Wine Tasters. These are:
Hospitality Establishments

Wine Breweries
Top Hotels and Restaurants hire Sommeliers to find the perfect pairings of various dishes and types of wines. Sommeliers often also make suggestions to customers of these establishments on the best wines as per the customer's preferences, requirements, food choices etc.
Wine Breweries also hire Wine Tasters to help them develop new flavours of wines as well as to ensure that their existing flavours are as per the benchmark standard of quality and taste. Every batch of wine is tasted by a professional before it is bottled and shipped to the market for consumption.
Career Choices for Wine Tasters
Given below are some of the top career options that Wine Tasters can go for.
Wine Critic

Wine Writer or Journalist

Wine Educator / Lecturer

Bartender etc. 
Courses for Wine Tasting
There are no long-term degree courses for Wine Tasting in India. Wine Tasting education is offered as short-term courses by various institutes in India. France is known as one of the best places for Wine Tasting education in the world. It has some of the world's best institutes for Wine Tasting.
The Wine & Spirit Education Trust is a globally recognized body known for offering education in Wine Tasting. WSET also approved various institutes around the world for offering Wine Tasting courses, which are offered as WSET Level 1, 2 and 3 courses in Wine Tasting. However, it is not necessary that one must go for a WSET-approved Wine Tasting course only.
India has an availability of various Certificate and Diploma courses in Wine Tasting. The duration of these courses can be from as little as 2 weeks to 6 months or 1 year for a Diploma in Wine Studies course.
Some professional wine tasters also start their education by one of the hotel management courses available in India and then either choosing a Wine Tasting specialization or going for a separate course altogether. 
Eligibility for Wine Tasting Courses
Given below is the eligibility for Wine Tasting courses in India.
Wine Tasting institutes in India generally consider students who have completed class 12th-level education as eligible for admission to their courses.

Candidate should also have reached the legal drinking age as specified by the state.
Wine Tasting Institutes in India
Wine Tasting is a course that currently does not have a large footprint in India. Although India has the availability of numerous good Wine Tasting institutes, they are not very common. Given below is the list of some of the best institutes for Wine Tasting in India.
| | |
| --- | --- |
| Institute | Location |
| Indian Wine Academy | Delhi |
| Institute for Wine and Beverage Studies (IWBS) | Delhi |
| Tullheeo Wine Academy | Bangalore, Mumbai, Delhi |
| Wine Academy of India (WAI) | Chennai |
| Manipal Academy of Higher Education (MAHE) | Manipal |
Average Fee for Wine Tasting Courses in India
The wine tasting course fee in India is different in the various institutes. Typically, an institute will charge around Rs. 50k - 70k per month for a wine tasting course. Some wine tasting institutes might also specify fees on a per-day basis.
The fees for online wine tasting courses, however, can be much less as compared to offline classroom courses.
Salary for Wine Tasters in India
Given below are the salary details for Wine Tasters or Sommeliers in India.
On average, the starting salary of a Wine Taster in India can range from Rs. 10k - 20k per month.

Professionals with experience in this field can earn salaries exceeding Rs. 50k per month.

The salary for Wine Tasters who work abroad or have work experience with foreign clientele can be much higher ranging from Rs. 1 - 1.5 lakh per month.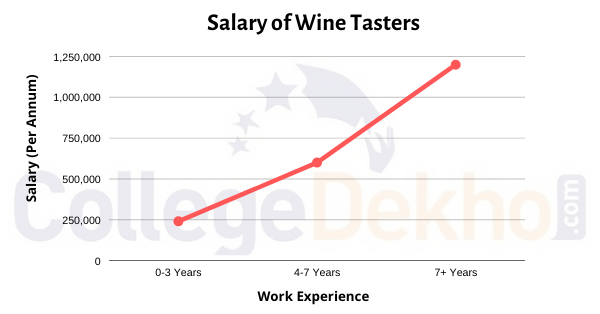 This was all the information you will need to become a Wine Taster in India. Check our other related articles to explore other higher education courses in India.
 For help with admissions, contact us on our toll-free number at 1800-572-9877 or fill our Common Application Form (CAF).