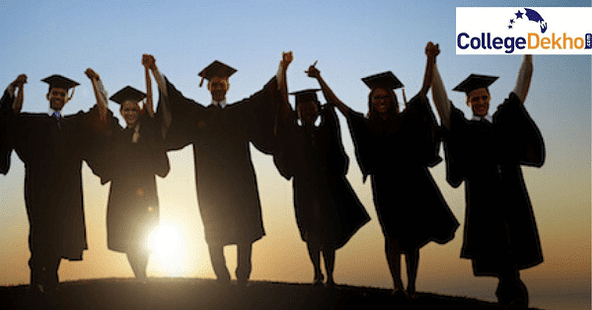 BSc course is one of the most popular and advantageous courses in India, as well as one of the most sought-after courses for Class 12th graduates. After passing the 12th exam, Science students pursue a Bachelor of Science (BSc) degree. There are various specialisations of the BSc (Bachelor of Science), including BSc Chemistry, BSc Physics, BSc Computer Science, and BSc Information Technology. Students must choose the best BSc specialisation for their career goals and aspirations. There are BSc graduation courses available for the PCM and PCB streams, and the appropriate courses after BSc must be chosen based on the eligibility criteria.

In this article, we have covered all about the best career options after BSc.

Best Career Options After BSc
BSc graduates are a few of the highly valued professionals in various fields of the industry. Skillful individuals can easily seek employment in areas like Educational Institutes, Research Firms, Testing Laboratories, Space Research Institutes, Forensic Crime Research, Pharmaceuticals & Biotechnology Industry, Health Care Organizations/Institutes, Geological Survey Departments, Chemical Industry, Environmental Management & Conservation, Wastewater Plants, Forest Services, and Petrochemicals Industry, to name a few. 

Following are some of the best career options after BSc you can pursue: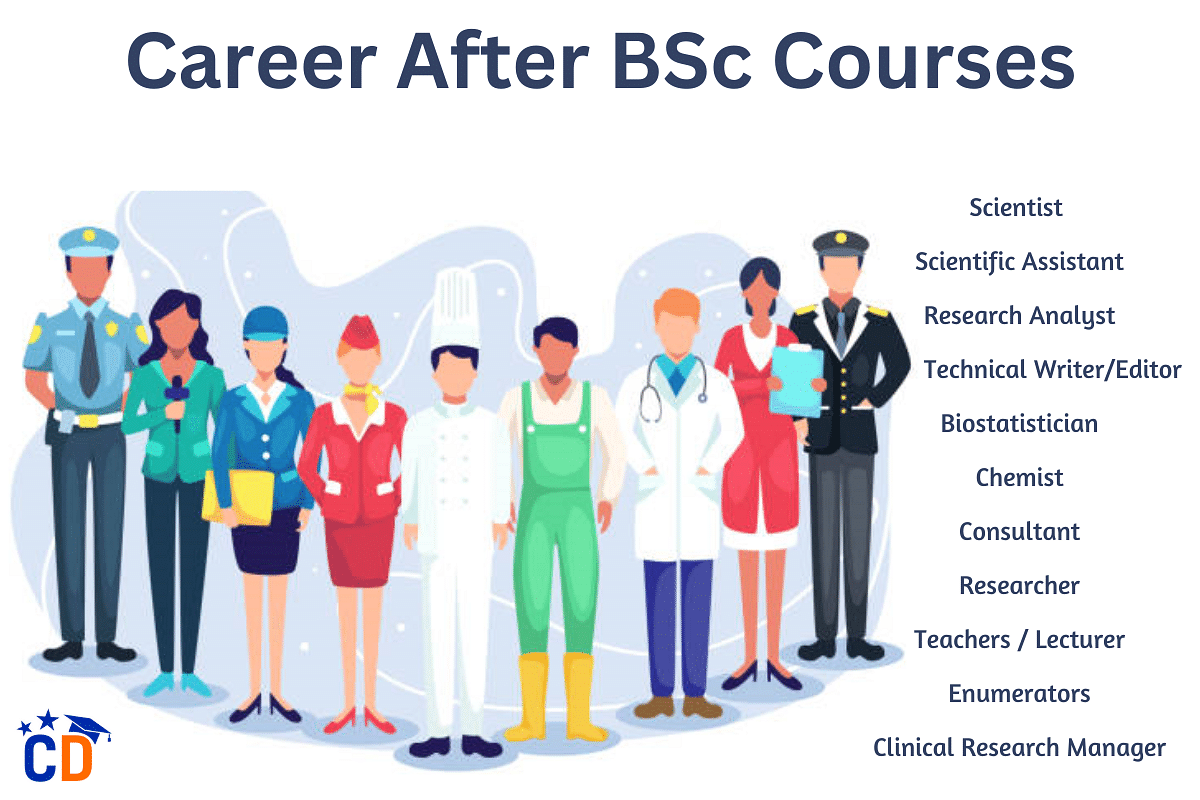 List of Best Government Jobs after BSc
Check the list of popular Govt Jobs For Bsc Graduates 2023and their selection process: -
| | |
| --- | --- |
| Job Role | Selection Process |
| Forest Department- IFS Officer | |
| IARI- Laboratory Assistant | Written Exam/Interview |
| IAF- Medical Assistant/ Ground Duty etc | |
| AIIMS- Nursing Officer | |
| FCI- Trainee | Entrance Test |
| RBI- Grade B Officer | RBI Grade B Entrance Exam |
| LIC- AAO | LIC AAO Exam |
| State Government- Assistant Officer/ JE | |
| Indian Railways - Assistant Officer/ JE | RRB entrance exam |
| Public Sector Bank- Probationary Officer | |
| SBI Bank- Probationary Officer | |
Also Read: MSc Admissions 2023

List of Private Jobs after BSc
Those who wish to work in the private sector after BSc courses can apply for job roles based on their specialisation. In the following table you can check various private jobs and selection processes for different specialisations here:
| | |
| --- | --- |
| Job Roles | Selection Process |
| IT companies- Technical Jobs | Technical Interview |
| Private Hospitals- Assistant/ Nurse | Interview |
| Food Industry- Trainee/ Assistant | Written Test and Interview |
| Chemical Factories- Assitant/ Executive | Written Test and Interview |
| Pathology- Lab Assistant | Interview |
| Pharmaceutical Companies- Lab Assitant | Interview |
Popular Job Profiles According to BSc Specialisations
Check out the popular after BSc job profiles based on the BSc specialisations. Also, find out their respective average salaries below:
Course
Job Profiles
Annual Average Salary (INR)
BSc (Agriculture)

Assistant Manager
Social Forestry Officer
Land Geomatics Surveyor
Plant Breeder/Grafting Expert
Soil Quality Officer
Seed/Nursery Manager

INR 3 Lakh to 5 Lakh
BSc (Biochemistry)

Biochemist    
Healthcare scientist, clinical biochemistry
Forensic scientist
Clinical research associate
Research Scientist
Physician associate

INR 3 Lakh to 6 Lakh
BSc (Bioinformatics)

Biophysicist
Bioinformatics Scientist
Research Scientist

INR 5 Lakh to 6 Lakh
BSc (Aquaculture)/ Fisheries Science

Biological Technician
Aquaculture Consultant
Aquaculture Manager
Wildlife Biologist

INR 2 Lakh to 5 Lakh
BSc (Genetics)

Assistant Geneticist    
Research Assistant
Lab Assistant
Assistant Professor

INR 3 Lakh to 5 Lakh
BSc (Electronics)

Software testing
Technical support associate
Electronic design engineer
Software developer

INR 3 Lakh to 7 Lakh
BSc (Physiotherapy)

Assistant Physiotherapist
Sports physiotherapist
Rehabilitation specialist
Research Assistant

INR 25k to 9 Lakh
BSc (Psychology)

Psychotherapist
Assistant Clinical Psychologist
Counsellor

INR 2 Lakh to 7 Lakh
BSc (Computer Science)

Software Developer    
Computer Programmers
Network Administrators
Computer Systems Analysts
Hardware Developer

INR 2 Lakh to 4 Lakh
BSc (Medical Technology)

Medical Technologist
Laboratory Manager
Lab Technician
Research Assistant

INR 2 Lakh to 6 Lakh
BSc Dietetics

Dietitians    
Food Scientists
Food Service Managers

INR 3 Lakh to 6 Lakh
BSc (Information Technology)

Programmer
Computer Support Specialist
Tester
Database Administrator
System Analyst

INR 2.5 Lakh to 4 Lakh
BSc (Nutrition)
INR 6 Lakh to 8 Lakh
BSc (Forensic Science)

Forensic Psychologists
Forensic Anthropologists
Clinical Forensic Medicine Experts
Forensic Chemists
Forensic Serology Experts

INR 4 Lakh to 8 Lakh
BSc (Biotechnology)

Lab Assistant
Biostatistician

INR 3 Lakh to 6 Lakh
BSc (Forestry)

Forester    
Mycologist
Field Investigator
Ecologist
Fruit Growers

INR 4 Lakh to 6 Lakh
BSc (Food Technology)

Laboratory Technician
Food Processing Operator
Food Handler
Food Inspector
Toxicologists
Bacteriologist
Organic Chemists

INR 6 Lakh to 7 lakh
BSc (Nautical Science)

Deck Officer    
Oceanographer
Nautical Surveyors
Scuba Diver
Radio Officer

INR 5 Lakh to 8 Lakh
BSc (Microbiology)

Biomedical Scientist
Cell Biologists
Mycologists
Biotechnologist

INR 3 Lakh to 6 lakh
BSc (Nursing)
INR 2 Lakh to 5 Lakh
Note: The salary packages mentioned above are for individuals with 1-9 years of work experience. The figures are indicative and vary based on the recruiter, market scenario, candidates' skills etc.

Also Read: Maharashtra BSc Agriculture Admission 2023
Skills Required for Career After BSc
Here is the list of skills required for career after BSc graduation:
| | |
| --- | --- |
| Observation skills | Research skills & Scientific skills |
| Logical skills | Information Technology/Software and Hardware knowledge |
| Analytical skills | Communication skills |
| Mathematical and computational skills | Problem-solving skills |
Popular Recruiters for BSc Graduates
Candidates can choose from numerous job roles after the completion of the BSc degree. The top companies which recruit BSc graduation students from top BSc colleges are as follows:
| | |
| --- | --- |
| Tata Consultancy Services (TCS) | Capgemini |
| International Business Machine (IBM) | HCL Technologies |
| Wipro | Larsen & Toubro Infotech |
| Reliance Industries Limited. | Amazon |
Also Read: Government Job Scope for BSc / MSc Agriculture Graduates

Top 10 Courses After BSc 2023
If you are considering a BSc degree, there are numerous subjects and specialisations to choose from. A BSc degree allows students to pursue a variety of career paths or work opportunities. These include teaching, technical writing, and research analysis.
Here is the list of
top 10 career options after BSc
:
MSc (Master of Science)
MCA (Master of Computer Application)
MBA (Master of Business Administration)
B Ed (Bachelor of Education)
Appear for Government Exams
Technical Short Term Courses like PGDM
Data Sciences
LLM
Machine Learning
Management
Which Course is the Best After BSc?
Candidates often wonder what to do after BSc? In India, many students are not well aware of the immense opportunities available after BSc course. Following the completion of the BSc degree, Which course is best after a BSc? is the most frequently asked question among candidates. The top courses after BSc are high in various sectors like Education, Research and Development, Medical, Agriculture, Forensics, IT, Food Industry etc. Other alternative courses, such as B Tech, BCA, and BBA, have also become more popular in recent years.
However, a BSc degree is more than just another degree and has several advantages over other courses. It is an excellent career path for a science enthusiast student. Students who are unaware of the significance of the BSc course can read the entire article to learn about career options after BSc courses.

List of Best After BSc Courses 
Applicants are frequently confused about what to do after completing their BSc and which course is best suited to their career growth. We have discussed the best career options for those with a BSc here.
MSc (Master of Science)
MCA (Master of Computer Application)
MBA (Master of Business Administration)
BEd (Bachelor of Education)
Appear for Government Exams
Technical Short Term Courses like PGDM
Data Sciences Courses 
Machine Learning Courses 

List of Courses After BSc
After BSc which course is best? is the most commonly asked question by candidates. There are various courses after BSc graduation that candidates can consider based on their desired stream and the specialisation. Following is the list of some popular courses to choose after BSc:

Also Read:  BSc Course List

Higher Education vs Job - Which is Best Option after BSc
After the completion of the BSc degree programme, a student thinks about whether to go for higher studies or apply for jobs in various sectors (government/ private). While many students easily make up their minds between the two options during the final year of their studies, there are some who are unable to decide whether higher education or after BSc jobs would be the right option for them. For such students, we have made a comparison between higher education and jobs after BSc graduation based on various parameters.
Pros and Cons of Higher Education after BSc
Let us understand the pros and cons of opting for higher education after BSc course:
Pros of Higher Education after BSc
Advanced Knowledge: The knowledge that we gain at an undergraduate BSc course may not be sufficient to excel in a career. Higher education gives you an option to gain specialised knowledge. At the same time, it enhances career options. Some organizations or companies look for postgraduates.
Better Opportunity: A candidate who holds a master's after BSc has more job and career opportunities as compared to a bachelor's degree candidate. They can opt for teaching, research work and apply for higher posts in various sectors.
Better Pay Scale: A candidate with a master's degree has a better pay scale because of advanced knowledge and skills gained at the higher education level.
Clarity on Career: Many times, a BSc degree may not be sufficient to help a student decide which career option is best suited for them. Higher education gives more clarity in taking a decision on a career path.
Cons of Higher Education after BSc
Investment in Studies: The candidate will have to fund higher education. The fees for higher education are high in private colleges and the student will have to bear the cost of higher education after BSc
Competition for Admission: In order to get admission to reputed colleges or the government, the candidate will have to make some extra efforts like clearing entrance exams and interviews. Seats are limited and only deserving candidates are offered admission.
Investment of Time: Most of the Master's degrees offered in India is of a duration of 2 years. The candidate will have to invest 2 - 3 years in further education after BSc before working as a professional.
Pros of Taking Up a Job after BSc
Following are the pros and cons of jobs after BSc
Exposure to Workplace: Job after BSc helps students add job experience in their CV. Inhand work experience and skills give opportunities to have an upgrade in the career. Better salary and promotions can be expected from a candidate who is dedicated to the workplace.
Self-Independent: A job after BSc courses makes a person self-independent and they can bear daily expenses on their own. They can also save money to invest in higher education later in life.
Government Jobs: There are various after bsc government jobs for BSc candidates. Based on their specialisation they can apply for government jobs without investing time in higher education.
Limited Scope: Getting the first job after BSc courses would be difficult as job opportunities for BSc freshers in India are limited. The student must be highly skilled or will have to make extra efforts to get a job soon after BSc
Starting Pay Scale is Less: Starting salary Pay scale of BSc candidates is less. The candidate may have to struggle for 2 to 3 years in the job for a better pay scale and opportunity.
Self Satisfaction: Getting a Job is the decision of a lifetime. Many a time, a candidate who is not satisfied at the workplace because of less salary or work pressure quits their job within a few months and struggles later on. Thus, the job role must be chosen judiciously based on interest and not out of peer pressure.
Benefits of BSc
Bachelor of Science which is the BSc full form provides a government-funded educational opportunities or scholarships available to exceptional students who enrol in BSc courses. The advantages of these courses include advantageous deals like paying the student's entire tuition expense while they are enrolled in the course. The best part about pursuing a BSc degree is the numerous job opportunities in research and development.

One of the primary reasons why the government has provided more lucrative academic opportunities to BSc graduates is to strengthen India's research and development industry. BSc graduation degrees provide numerous job opportunities. However, BSc students are not limited to science-related careers and can pursue other fields such as administration, engineering, law, and so on for both higher education and career opportunities.

Also Read:List of Government Jobs after BSc Agriculture: Job Roles, Salary, Recruitment Process

Scope After BSc
After completing their BSc graduation programme, students have a wide range of opportunities. They can choose to pursue an MSc or PhD or apply for jobs in the public or private sectors. Students who are interested in advanced coursework and research can enrol in JAM or GATE, after which they will receive funding for their additional education. Graduates of BSc programmes can also apply for a variety of government jobs, including those with ONGC, BHEL or banking, SSC CGL, etc.

Lastly, although it may be difficult to decide whether to go for higher studies or job after BSc, the student must his/ her own decision based on analysis and core area of interest. The experience gained while pursuing BSc must be utilised to take a fair decision. The students must ask questions to themselves like what actually interests them and which carer path is most apt for them. They can note their skills, strengths and calibres to either go for a job or study further. Other factors that can be considered while taking decisions are financial status, time constraints and location.
In case, there is still a doubt, the student can take help from a counsellor.
College Dekho academic counsellors help students choose the right course and college for higher education at zero cost. Research out to them by filling out the CollegeDekho Common Application Form.

Related Links
Following is the list of related articles that may be useful for the reader: -
This was all about popular Jobs after BSc courses. For more educational news, stay tuned to Collegedekho!