The Common Law Admission Test (CLAT) is among the most popular law entrance exams in India and every year, around 70,000 students apply for CLAT UG itself. Admission to all the programmes of law for both UG and PG level is done through CLAT, including the integrated law courses. Apart from the National Law Universities (NLUs), many other leading law colleges of India accept CLAT scores for conducting their admission process.
The CLAT 2023 exam will now be conducted on December 18, 2022 and with the announcement of the exam date, it is important that the candidates keep themselves calm and focus on how to crack the entrance exam amid COVID-19.
With little time left for the exam, the candidates must ensure that they cover the whole syllabus and prepare well. As the exam approaches, candidates should start going through the last-minute preparation tips for CLAT 2023 in order to ensure a better score. The correct preparation strategy adopted in the last few days before the exam can be quite helpful in enhancing performance. Find out the major CLAT 2023 last-minute preparation tips in this article.
CLAT 2023 Important Topics
It is often recommended that last-minute preparation begin at least a month before the exam. Because you have already studied each topic thoroughly, one month should suffice for revision. 
The major topics of CLAT 2023 and their subtopics are as follows - 
Legal Reasoning
Indian Constitution
Fundamental Rights
Duties, Judiciary, Parliament
Directive Principles of State Policy
Local governments
Important amendments and provisions
Important judgments
Current legal affairs
Logical reasoning
Analogies, series
Seating arrangement
Syllogisms
Blood relations
Logical sequences and matching
Calendars and clocks
General knowledge and current affairs
Contemporary significant events from India and the world
Arts and culture
International affairs
Historical events of continuing significance.
Quantitative techniques
Ratios and proportions
Mensuration, statistical estimation, algebra
English
Word meaning and phrases
Passages and vocabulary
CLAT 2023 Last Minute Preparation Tips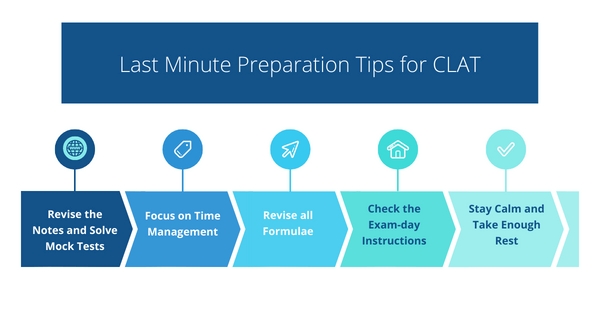 Go through the last-minute CLAT 2023 preparation tips listed below and get an understanding of all that you can do in these few days before the exam. Following these important points while preparing for CLAT 2023 a week prior to the exam date can help you in enhancing your performance and getting a better score.
Last Minute Revision:
Make sure you spend some time revising the topics and syllabus at the last moment. Everything should be fresh in your memory and for that, you will have to briefly go through the syllabus of CLAT 2023 at least once right before the exam. Pay more attention to the topics which you had studied earlier and the ones which you could not revise enough.
It is beneficial to make notes or mark essential concepts during your initial preparation. This can be useful during revision. In addition, one crucial revising tip is to start with the easiest subject.
Try to review or give a quick review of subjects covered in each subject. Each person's grabbing power and comprehension capacity may differ. Reading once will not help you retain concepts for a long period, thus you must read again. This allows you to be excellent while also remembering concepts.
During your last-minute CLAT preparation, you can also assess your initial preparation levels and test your knowledge. You can start with the easier subjects first so that you have ample time for the difficult ones. Attempt to revise as much as needed until you are totally satisfied.
Go Through Your Notes:
One of the most efficient ways of revising the CLAT syllabus before the exam is by going through the notes that you have made throughout your CLAT preparation. Since you have all the matters in a comprehensive format as per your understanding, you will be able to go through all of it easily while also saving a lot of time.
Solve Mock Tests:
Solving CLAT 2023 mock tests is essentially the most important step to be taken during your preparation at this point. You should try to solve as many mock tests as possible so that you are not only familiar with the CLAT 2023 exam pattern but are also comfortable and well-versed with it. This will also prepare you for the questions that can be asked in the exam.
During revision, use previous year's papers and take mock examinations to assess your level of preparedness. Make an effort to complete as many papers as possible in order to determine the difficulty level of the exam and the kind of questions that may be asked.
Practice:
When appearing for any entrance exam, there is always scope for practising more. The more you practice, the better you get at solving the questions and scoring better. This will also help you in identifying the areas to which you need to pay more attention. Apart from increasing your accuracy, practising questions and sample papers also aids in time management while giving the exam.
Do not Start Anything New:
It is best to revise all the study material that you have already covered and not start with any new book or topic. No matter how tempted you are, do not begin a new subject or book for CLAT preparation a few days before the exam. This will render you confused and not clear about the topic.
Focus on Time Management:
Proper time management comprises a major part of CLAT preparation for any candidate. You must know how to manage your time throughout the exam and distribute it among all sections accordingly. You should keep aside more time for the sections which tend to be relatively difficult for you. Solving all questions in the stipulated time is of utmost importance. You should also have some spare time left in the end to go through the exam.
Revise all Formulae:
Make sure that you go through all the formulae for the Quantitative Techniques section of CLAT 2023. Be well-versed with all the important formulae and mathematical tricks so that you are able to solve all the quantitative questions easily.
Try to Improve your Accuracy:
During the last few days before the CLAT exam, you must focus on improving your accuracy and assuring that you land at the correct answer with whatever approach you use. As CLAT includes negative markings for wrong answers in its marking scheme, getting the correct answer to as many questions as possible makes all the difference in the exam score. You must not hurry with the questions and solve them properly.
Go Through the Exam Day Instructions:
The Consortium has released a set of instructions that are to be followed on the CLAT 2023 exam day. Some of those instructions are also mentioned on the admit card of CLAT 2023. All applicants must go through these instructions and make sure they do not forget to follow them.
Improve your Reading Habit:
Many questions of CLAT 2023 will be based on passages. Hence, it is important for you to be good at reading and comprehending passages. For this, you must incorporate reading as a daily habit at least before the exam. Improve your concentration level while reading so that you can make the most out of the passage by reading it just one or two times.
Also Read:CLAT 2023 Dos and Don'ts
Fix your Sleep Cycle:
A week before the CLAT 2023 exam, you must start taking care of yourself in regard to your diet, sleep schedule, etc. Fixing your sleep schedule is important so that you are not tired on the exam day or at the exam time and your brain is functioning properly. Eat healthy food and take proper rest so that you do not feel anxious or confused.
Devise a Good Strategy:
You should devise an approach after considering the following factors:
Time remaining for the CLAT 2023 entrance exam essential subjects
Subjects that need to be covered before the entrance exam
Organise all Required Documents:
You will have to take some important documents along with themselves to the CLAT exam centre. You should gather all the required items including your admit card, identity proof, etc., and keep them aside before the exam day of CLAT.
Abide by all COVID-19 Specific Instructions:
On the day of CLAT 2023, you will be required to fulfil some formalities in context to preventing the coronavirus spread. You must have a small hand sanitizer bottle and a transparent water bottle when you reach the CLAT exam centre. You must be wearing masks and gloves and not carrying any other objects other than two ballpoint pens. You must keep all these things ready way before the exam so that you are prevented from any hassle on the exam day.
Also Read: What to Expect From CLAT 2023
With these last-minute CLAT 2023 preparation tips, you will definitely give a boost to your exam performance and CLAT 2023 result. Once the CLAT 2023 answer key is declared, you can use the CLAT 2023 Rank Predictor of CollegeDekho and get an idea of your CLAT 2023 rank. This will further prepare you for the upcoming rounds of the CLAT 2023 counselling process and seat allotment.
Section-Wise Last Minute Preparation for CLAT 2023
The most crucial suggestion for passing CLAT 2023 with a good score is to enhance your reading ability. According to the new format, the entire question paper is made up of comprehension-based passages followed by questions. 
The following is mentioned with the section-by-section last-minute CLAT Preparation - 
CLAT Legal Aptitude Preparation
The Legal Aptitude test assesses your legal knowledge. This part contains 35-39 questions. It also tests your problem-solving and research abilities. 
Read on for last-minute CLAT 2023 preparation tips:
Examine the CLAT Syllabus for all of the relevant topics. This can help you become more familiar with the question paper.
Questions about legal propositions may arise. This section may contain unexpected questions.
Problems using Legal Reasoning may arise.
Some statements may not be 'true' in the traditional sense. Use assumptions in that situation. Then respond accordingly.
Refer to some of the Finest CLAT study material and books, such as 'Constitution of India' and 'Indian Penal Code,' to fully grasp the concepts.
Go through all of the material one or two nights before the exam. On exam day, do not revise anything.
CLAT English Preparation
There's no need to be worried about the English Section. If you practise regularly, you will be able to crack it without difficulty. This part has approximately 28-32 questions. Please read the following. CLAT English Preparation Tips for further information:
Reading is the most effective technique to master the fundamentals of the English language.
Always ensure that you understand the core concept when doing a passage. Before deciding on a response, carefully read each word and comprehend its meaning.
Consult the recommended books to improve your score. This aids in grammatical improvement and vocabulary proficiency in English.
At least two passages should be practised per day so that one is clear on the last day of preparation.
Once passed the grammar portions, do not exert too much pressure. Consider only the previous revisions.
Do not begin anything new near the end of the exam period. This would cause confusion and concern.
CLAT General Knowledge Preparation
There isn't much difficulty to be found in the GK portion of the exam. There are about thirty-five questions here. Please review the information provided below suggestions to improve your score on the CLAT General Knowledge Section - 
If you put in the time studying, you should be able to ease through this part.
Stay abreast of the most recent developments by reading newspapers and watching news programmes.
Keep up with the news by subscribing to magazines, journals, e-news applications that cover current events. You can avoid a last-minute panic attack by reading it every day.
Get in the habit of reading the paper every morning. Maintain a close eye on the news bulletins.
If you want to keep up with the latest global events on a daily basis, read Daily Current Affairs.
Don't venture too far from what you've already reviewed. Do not initiate anything new.
Get ready in a way that you can try to answer questions exactly as they are posed.
CLAT Quantitative Techniques Preparation
The Maths or the Quantitative Techniques Section is not that complicated as it sounds. The questions are of 10th or 10+2 difficulty. This section should not cause you any concern. To improve your CLAT Maths Preparation, read the following CLAT Maths Preparation Tips:
The questions will appear simple for you on exam day if you have practised well.
Maths is one of the more straightforward topics of the exam. Maths would be at the Elementary level.
It has 13-17 questions. You can easily pass this section if you pay close attention to all issues.
Make an effort to comprehend the concepts of the topics. Do not attempt to cram.
This component is worth 100% of your total grade. Maintain an optimistic attitude.
Do not attempt to introduce new topics or formulas during the final days of preparation.
Reread the old material. Examine the formulas and try practising them.
This component of the paper should not take more than 20 minutes to complete.
Take as many CLAT Mock Tests as possible during your last-minute preparation.
Logical Reasoning Section
Around 28-32 problems are asked in Logical Reasoning. There would be questions in Coding-Decoding, Verbal Reasoning, Puzzles, and so forth. This part is a little unpredictable. You must be prepared to answer a variety of inquiries.
Students must go over all of their previous modifications at the final minute.
Examine numerous claims, arguments, and solutions. Follow the experts' suggested CLAT Logical Reasoning Preparation Tips to comprehend topics better.
Check out the shortcuts as well. However, please do not depend on them.
At least 90 - 95% of the questions should be attempted correctly.
The reasoning section is truly enjoyable. If you study it with enthusiasm, you will be able to answer any type of question readily.
Solve increasingly difficult riddles. Try logic-based games as well. You will comprehend the depth of their logic and reasoning.
It is much easier to prepare when you are aware of your weak points.
General Preparation Tips to ACE CLAT 2023
You can review some of the last-minute preparation recommendations for CLAT 2023, which are listed below.
To memorise the crucial concepts, you should review all of the brief notes prepared during CLAT 2023 preparation.
You should go through as many CLAT previous year question papers as you can and be prepared to answer comprehension-based questions carefully.
It would be best if you practised answering questions on the exam day while leaving enough time for rechecking.
Solve as many CLAT Question Papers as you can in the one month before the exam to get a sense of the exam's challenge level.
Do not try to learn or revise any new or unclear topics in the final few days before the exam. It can be perplexing and cause you to lose concentration.
Try not to become stressed or anxious. Be upbeat about the exam. It can boost your self-esteem.
Reread the subjects or notes you made during preparation. This can aid in recalling the concepts.
Take section-by-section simulated examinations to assess your level of preparedness.
Read the CLAT Exam Day Instructions to learn about the rules supplied by the exam administrators.
Also Read: How to Attempt Questions in CLAT UG 2023
Top Private Law Colleges in India
The below list provides the names of some of the top private law colleges in India offering world-class learning.
| | |
| --- | --- |
| College Name | Location |
| | Hyderabad, Telangana |
| | Mumbai, Maharashtra |
| | Moradabad, Uttar Pradesh |
| | Indore, Madhya Pradesh |
| | Jaipur, Rajasthan |
| | Chandigarh, Punjab |
| | Jalandhar, Punjab |
| | Sonepat, Haryana |
| | Pune, Maharashtra |
| | Ahmedabad, Gujarat |
Fill out our Common Application Form (CAF) or call on the toll-free helpline number 1800-572-9877 if you wish to speak to our counsellors regarding CLAT 2023 admissions. Stay tuned to CollegeDekho to get more updates on law admission in India.
To get more exam related information and tips, stay tuned to CollegeDekho. In case of any query, feel free to head to our QnAZone.