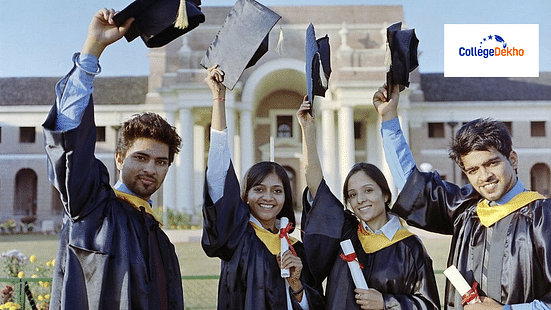 NIT vs IIIT: Are you planning to appear for the JEE Main 2024 exam this year? If yes, then you must be aiming for the top engineering colleges, like NITs and IIITs. To get admission to these prestigious institutes, you will have to appear for the JoSAA counselling 2024, which will take place after the JEE Main and JEE Advanced exams. But many students often wonder - NIT vs IIIT - which is better? The key difference between NITs and IIITs is that NITs (National Institute of Technology) are a group of 31 autonomous public institutions offering undergraduate and postgraduate courses in the fields of Engineering, Management, Architecture, and Science, while IIIITs (Indian Institute of Information Technology)are an alliance of 26 centrally-funded technical institutes primarily offering courses on Information Technology and allied areas at the UG, PG, and PhD levels. Besides,NITs and IIITs also differ in terms of fee structure, infrastructure, admission cutoffs, placements and so on. This article will give students an insight into the various parameters that will make it easier for them to decide NIT vs IIIT - which is the best option after JEE Main 2024.
NIT vs IIIT Comparison 
While comparing NIT vs IIIT, it is evident that education at NITs is more academic and theoretical while that in IIITs is more specific and industry-oriented. The table below presents an NIT vs IIIT comparison based on multiple factors to help students make an informed decision as to which institute would be better for them based.
| Parameters | NITs | IIITs |
| --- | --- | --- |
| Full Form | National Institute of Technology | Indian Institute of Information Technology |
| Institute type | Public Technical Universities                        | 5 funded and managed by the Ministry of Human Resource Development; the remaining 21 based on the public-private partnership model |
| Programmes offered | UG and PG programmes in Engineering, Architecture, Science, and Management | UG, PG, PhD programmes in Information Technology and allied fields of Engineering |
| Total number of colleges | 31 | 26  |
| Total seats | 24000 seats for UG programmes; 13600 seats for PG programmes  | 6000 seats for UG programmes |
| Reservations & quota | 50% seats reserved under the home state quota; the remaining 50% seats open to candidates from other states | No seat reservations applicable; all admissions are based on merit |
| Admission process | JEE Main/GATE/CAT/NIMCET scores | JEE Main scores |
| College fees | BTech course fee ranges from INR 8-10 lakhs for General students | BTech course fee ranges from INR 3-5 lakhs |
| Top colleges | NIT Trichy, NIT Calicut, NIT Rourkela, NIT Surathkal, NIT Warangal | IIIT Allahabad, IIIT Bangalore, IIITDM Jabalpur, ABV-IIITM Gwalior, IIIT Hyderabad |
| Average package | INR 10-16 LPA  | INR 11-30 LPA |
| Highest package | INR 45-50 LPA | INR 46-60 LPA |
| Placement ratio  | 87% placement rate with an average package of INR 7.2 LPA  | 74% placement rate with an average package of INR 10 LPA |
Is NIT and IIIT the same?
No, NITs and IIITs are not the same, although both are premiere institutes counted among the Top Engineering Colleges of India. A collection of 31 esteemed establishments, the National Institutes of Technology (NIT) was founded in India to offer additional engineering education. It has been demonstrated that NITs promote both regional and cultural diversity. On the other hand, 26 multidisciplinary technology-based engineering research institutions in India, with an emphasis on information technology, make up the Indian Institutes of Information Technology (IIITs). Five of them are developed, sponsored, and run by the Ministry of Education (MOE). 

Also Read:CSE Vs ECE: Which is Best in Today's Era?
NIT vs IIIT: Eligibility Criteria 
One of the most common questions students have in mind is - 'Who is eligible for NIT and IIIT?' For students qualifying for admission to the
list of top NIT colleges in India
or for the IIITs based on JEE Main scores, a minimum aggregate of 75% in Class 12 is mandatory. For candidates belonging to the SC/ST categories, the minimum aggregate mark required is 65%.
NIT vs IIIT: Top 5 Institutes as per NIRF Ranking 2023
Candidates can check NIT vs IIIT - which is better based on the NIRF ranking 2023. We have listed the top 5 institutes and their current rankings that will help the students make an informed decision before shortlisting the colleges. 
| Sl. No. | Name of the NITs | NIRF Rank 2023 | Name of the IIITs | NIRF Rank 2023 |
| --- | --- | --- | --- | --- |
| 1 | NIT Trichy | 9 | IIIT Hyderabad | 55 |
| 2 | NIT Surathkal | 12 | IIIT Bangalore | 74 |
| 3 | NIT Rourkela | 16 | IIIT Gwalior | 88 |
| 4 | NIT Warangal | 21 | IIIT Allahabad | 89 |
| 5 | NIT Calicut | 23 | PDSM IIITDM Jabalpur | 97 |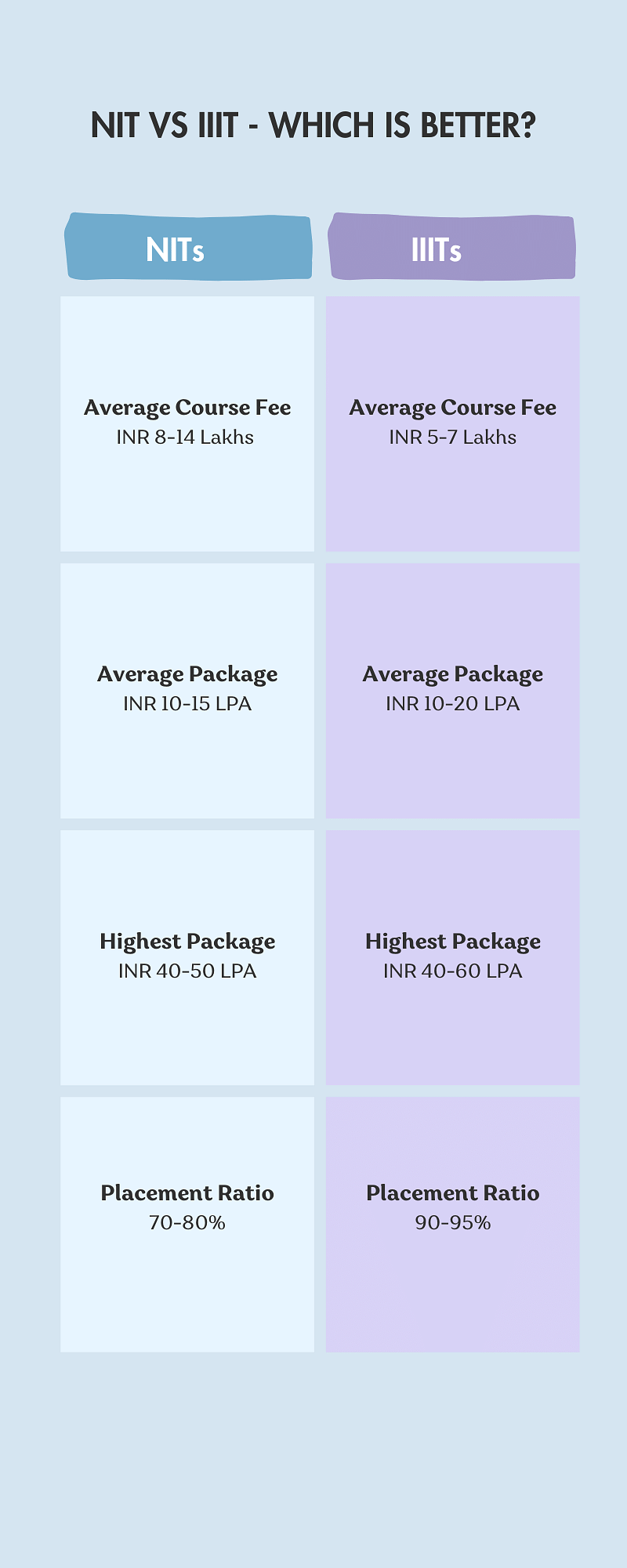 NIT vs IIITs: Courses Offered 
Both NITs and IIITs offer a wide range of undergraduate and postgraduate courses. However, IIITs primarily focus on Information Technology and Computer Science courses, while NITs offer a broader range of engineering specializations, like Civil, Mechanical, Electrical etc. So, for candidates who are interested in Information Technology or Computer Science Engineering, IIITs are a better fit than NITs. Check out the list of top courses offered by both institutes below - 
| Courses offered at NITs | Courses offered at IIITs |
| --- | --- |
| B.Sc | B.Tech |
| B.Arch | M.Tech  |
| B.Tech | B.Tech + M.Tech |
| B.Tech + M.Tech | MBA |
| M.Tech  | B.Tech + MBA |
| BS + MS | PhD |
| M.Sc | - |
| MBA | - |
Also Read: List of B.Tech Specializations Offered by NITs
NITs vs IIITs: Fee Structure
The fee structure of a program is a deciding factor for many students who wish to seek admission after clearing JEE Mains. The fee structure of NITs varies according to the branch. There are a total of 31 NITs in India and their fees range from INR 1.5 Lakh to INR 3 Lakh per year. On the other hand, there are 26 IIITs across India with fees ranging from INR 50,000 to INR 5 Lakhs per year. The fee amount depends mainly on the program/course opted for. Let's take a look at a few courses offered by NIT and IIITs and their course fees.
| Course | Course Fee at NIT (Approx.) | Course Fee at IIIT (Approx.) |
| --- | --- | --- |
| Btech CSE | INR 6.5 lakhs | INR 8.5 lakhs |
| Btech Mechanical | INR 5.8 lakhs | INR 6.2 lakhs |
| Btech Biotechnology | INR 6 lakhs | INR 13.2 lakhs |
Note: The amount mentioned above are approximate figures and may vary from one institute to another. 
NITs vs IIITs Placements
The placement percentage and average placement package of a company are very crucial when it comes to taking admissions. NITs have a high placement rate of 89% and the average salary is 7.5LPA. Whereas IIITs have a placement rate of 75% and the average package for graduates is around 10LPA. Some of the major recruiters offering the highest placements include IT firms, like Amazon, Facebook, Google, and Microsoft. 
NIT vs IIIT: Cutoff
NIT Cutoff 
All NITs have distinct JEE Main cut-offs, and the same may vary for different programs or courses. Top NITs have different JEE Main cut-offs for restricted and unreserved categories. The JEE Main cut-off for NITs is determined based on some variables, including the exam's level of difficulty, the total number of available seats, and many more. The table below shows the category-wise NIT cutoff as per the previous year's data. 
| Category | Cutoff marks |
| --- | --- |
| General/Unreserved Category (UR) | 90 |
| Economically Weaker Section (EWS) | 70 |
| Other Backward Class (OBC-NCL) | 70 |
| Scheduled Caste (SC) | 50 |
| Scheduled Tribe (ST) | 40 |
IIIT Cutoff
The cutoff marks for IIITs vary according to the chosen program. The minimum score needed for admission to different IIIT programs is known as the IIIT cut-off. A multitude of elements, such as seat availability, overall student enrollment, exam difficulty level, and others, determine the IIIT cut-off for the best engineering colleges. Check the expected JEE Main cutoff marks for qualifying for admissions in IIITs. 
Course Name

Gender

EWS

General

SC

ST

OBC

Electronics and Communication Engineering

Male

1180

8309

2267

1051

3655

Female

2818

13103

3823

1350

6906

Information Technology

Male

752

4382

1276

672

2068

Female

1669

8499

2558

1225

5081

Information Technology-Business Informatics

Male

757

4744

1463

718

2244

Female

1817

9359

2486

1691

5198
NIT vs IIIT: Campus facilities
The facilities available at the campus make a multitude of differences when making the choice. The different facilities available for the students are an important factor as the students will spend a chunk of their time on campus after taking admission.
| Parameter | NITs | IIITs |
| --- | --- | --- |
| Laboratories | The institute provides full-fledged laboratories for engineering undergraduate, postgraduate, and doctoral programs. Students can do study in a variety of fields thanks to the cutting-edge resources given. | In contrast to schools and departments, IIIT is organized around research centers and labs. Each research center focuses on a large problem area and brings together professionals from many backgrounds to perform research and development on specific parts of that problem area, continually pushing science forward. |
| Classrooms | Top NITs' new infrastructure is outstanding, and some of it is on par with top foreign universities. Only air-conditioned classrooms with projectors are provided at NITs. | IIITs designed a new modular space with several seating options, many different laboratory configurations, and other team spaces, maximizing energy efficiency and ventilation. Classrooms are spacious and naturally well-lit. There are two 120-seat classrooms and one 240-seat classroom accessible for workshops, conferences, and hackathons, both with live streaming capabilities. |
| Library | NITs includes a sophisticated Central Library with over 2.5 lakh materials, including technical books, reports, standards, CD-ROMS, Audio Visual Educational Cassettes, and journal back volumes. In addition to a holding of 17690 back volumes of journals, the library subscribes to 83 print periodicals, 8210+ e-Journals, and 1995+ e-books. The Book Bank plan also has 16,750 volumes in the library. | The IIITs Library is at the heart of the Institute's Academic and Research Programs. After obtaining a library membership, all students, faculty members, and Institute employees are able to use the Library's facilities. The Library has a large collection of books, reference books, theses and dissertations, and back issues of magazines. The Library subscribes to a variety of national and international print journals and popular periodicals, as well as e-Journals. |
| Wi-Fi | Laptop users can connect to the internet using Wi-Fi. | High speed broadband wifi will be provided to the students. |
| Hostel | The Hostels may house a large number of boys and girls in their different buildings at the same time. As a result of restricted accommodation facilities, special educational needs students, aviation students, overseas students, and new entrants from upcountry areas are given preference. To alleviate accommodation concerns, NIT permits off-campus hostels that are reasonably priced and secure, with required utilities such as reliable water, power, security, and study rooms/areas. | On campus, IIIts has distinct dorms for guys and two for ladies. The wardens and in charge of the ladies' dormitory, as well as some faculty and staff members and their families, live on campus. The campus is well-protected by 24-hour security at the dorms, the main gate, and all academic and administrative buildings. Because there is just one entry and exit point, safety and security are never jeopardized. Evenings on campus are lovely, with well-lit walkways and common areas surrounded by large trees and lush foliage. |
| Gym, Cafes, Restaurant | There are multiple gyms present one in the hostel and many on campus with multiple cafes/restaurants for more vegetarian and other diertary | There is, indeed. In fact, I believe IIITs have gyms. These are available at the individual hostels, as well as on campus. You will also have the opportunity of participating in other sports such as TT, pool, tennis, basketball, squash, and so on. Mess services are accessible at the student centre.  |
NIT vs IIIT: Career Prospects
While both institutes offer great career prospects with very good placements and remuneration, the job roles offered may vary depending on the sectors and specializations. Here is a look at the various job opportunities available for NIT and IIIT degree holders.
Job Opportunities after NIT
After completing a degree from NIT, engineering graduates are offered various roles across different sectors and domains. The highest demand can be seen in the domains of Software Development, Coding, and Business Analytics.  Various FMCG  and automobile companies also visit the NITs to hire engineering graduates, mostly for the role of Engineering Consultants. 
Job Opportunities after IIIT
For IIIT graduates, there's a plethora of job opportunities in the domain of Information Technology and Computer Science. Top companies, like Adobe, Amazon, Samsung, Uber and Walmart recruit qualified candidates during the IIIT placements. These graduates are offered roles in the fields of Artificial Intelligence, Cybersecurity., Data Science, and Software Engineering, among others. 
Is IIIT better than NIT?
Both NITs and IIITs are ranked among the premier engineering institutes in India. Some IIITs are better than NITs in terms of infrastructure, campus facilities, and placements but the NITs being entirely funded by the MHRD have higher recognition across the country.

Be it IIIT or NIT, admission to both these institutes is done based on the JEE Main scores and ranks obtained by candidates. Without a valid JEE Main rank, candidates will not be eligible for counselling and admission. Candidates should carefully weigh out their options before seeking admission since their career prospects will depend on this major decision.
For all the latest related Education News updates, stay tuned to CollegeDekho!