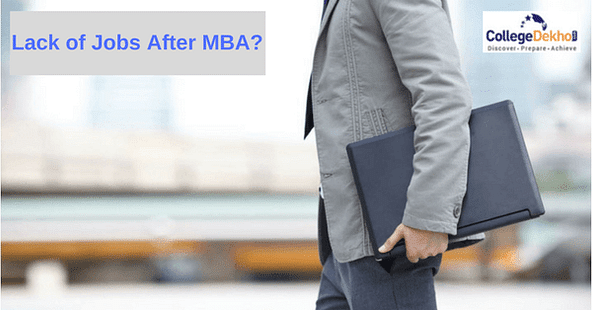 Talking about MBA campus placements and whether or not MBA/PGDM candidates are being able to bag job opportunities across sectors - nationally as well as internationally, let's take a brief look at some astonishing facts that have come out lately.
As per All India Council for Technical Education, popularly referred to as the AICTE, a majority of MBA graduates in India are struggling for jobs. There has been a significant decline in the number of management jobs that are available in the market today.
Only 47% MBA graduates in the country were placed through the campus placements. This was about 4% less as compared to previous year's data.
On the other hand, a decline of 12% was witnessed in the case of PGDM holders getting jobs in comparison to last year.
*Please note that the above data does not take into account the Indian Institutes of Management (IIMs) and other non-AICTE affiliated institutes.
The race to get admission in the top MBA colleges in the country doesn't stop. Irrespective of what statistics reveal, the way an MBA degree is emphasized on in terms of importance and value is very interesting till date. Students and aspirants are conditioned in such a way from the very beginning that they are in constant awe of the salaries offered to the graduates, their high-end lifestyle apart from the additional perks offered to a management professional. Without giving much thought to its relevance and whether it's a right profession for them or not - they often follow the path either right after graduation or at an executive MBA level after gaining some work experience. On the other hand, it cannot be denied that it is equally important to enjoy and love what you do.
So while you are preparing for MBA entrance exams 2017 or plan to do in the coming years, we suggest you make the choice carefully and make sure it isn't an outcome of a whim but is a decision made after careful consideration.
Coming back to what is a concern for many, let's go deep and understand what could be some of the possible factors which have been leading to MBA losing its value since the past decade.
Reasons for Decline in Number of Management (MBA) Jobs:
1. Large Number of MBA Institutes and Increased Competition
According to AICTE, MBA/PGDM programmes are very easily accessible and available these days. With more than 5,000 (approx) MBA institutes in the country, a large number of students are being able to grab admissions at these institutes. With more than 2 lakh students graduating after an MBA or PGDM programme, the competition has become even tougher. Expected job opportunities and salary packages are far from what they are getting in reality.
Earlier, management programmes were only limited to IIMs and other top b-schools. But now, with many new private colleges coming up and those that even offer distance learning or online MBA programmes, the pool of MBA institutes is larger. And hence, more accessible.
2. Outdated Curriculum Still in Practice
One of the main factor responsible for withering away of MBA degree is the non-revision of MBA and PGDM curriculum regularly so as to stay aligned with the industry requirements. Lack of a competent faculty who can teach while adapting to newer techniques and patterns, lack of required facilities, insufficient training about the real-life situations in management situations and problem-solving abilities also add to candidates not being job-ready on completion of the degree. Rather than investing in a revised curriculum and more training opportunities, MBA colleges, especially the newer ones focus more on how to make their college look fancy and attractive. Steps to make necessary changes as per the ever-changing requirements of the respective industry is the need of the hour!
3. Fluctuation of Economy
It is not only the MBA colleges that shall be blamed in particular for the jobs scarcity. A disturbed economy witnessing periods of inflation, recession etc. also add to the decline in the number of MBA jobs that are available in the market. These fluctuations are mostly irregular and unpredictable and it is difficult for one to be prepared for it. Changes in GDP also affect the unemployment rate to a great extent.
4. Poor Infrastructure and Cliche Trends
Just like engineering, MBA degree has also become a cliche in India. As engineering institutes struggle to provide latest state-of-the-art facilities and infrastructure to students, MBA colleges are also in the same spot. Management institutes are unable to provide students with real-life experiences in the management and the challenges that come with it. Mostly, the emphasis is laid on theoretical knowledge rather than practical knowledge which is of utmost importance in management and other professional fields.
5. Automation of the Industry:
Although more prevalent in the case of engineering jobs, automation of industries also has a role to play in cutting down the management related jobs in the country. In earlier times, what companies really depended on were physical surveys and bulk data, which was further analyzed by MBA professionals. But now, with technological advancements, machines and concepts of data analysis are put to use. And in future, with robotics and artificial intelligence taking over - there is a slight possibility that the demand for MBA professionals further decreases - what do you think?
For better job opportunities, MBA colleges shall provide an environment conducive to learning and growth. All these opportunities give them a platform to meet the diverse students of the community, thereby broadening their perspectives and making them more employment ready.
You can give your inputs and thoughts on the same in the comments section below.
With inputs from Hindustan Times