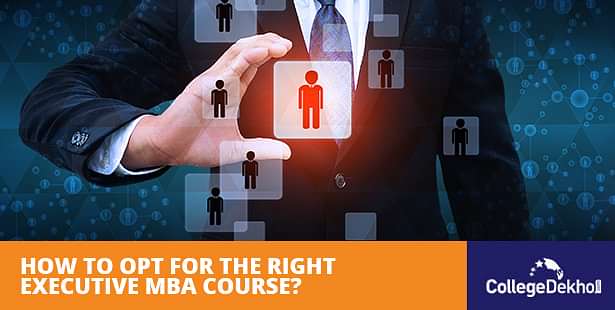 Executive MBA course – also known as EMBA – is among the ideal MBA courses for working professionals who wish to enter the world of business administration. It is the most sought-after master of business administration course among working individuals who want to pursue higher education along with their jobs. Simultaneously, there are other one-year full-time Executive MBA programmes for professionals with specific years of experience (varies from college to college and programme to programme) which you can pursue.
If you are planning to apply for an Executive MBA course, it is of utmost importance that you understand what the programme will comprise, what is the eligibility criteria, how much is the fee, career scope, etc. The EMBA course structure is different as compared to the usual MBA and PGDM courses. Let's find out more details about Executive MBA through this article.
Why an Executive MBA?
There are many advantages to pursuing an executive MBA program. Some of them are provided below.
It will provide you with the skills and knowledge required in the developing world of technology and business.
It will help you refocus on your career and objectives. You can change your field if you are not happy with the current job.
It will help you develop your professional network and opportunities.
Those who are planning to start their own business will surely be able to learn the principles and working of the business through an executive MBA program.
Executive MBA has no age limit. Anyone can enrol for this program at any age.
Besides this, the executive MBA program Offered by Top B-schools has its own advantages. Candidates may visit the college to know about their executive MBA program.
Executive MBA - Points to Remember:
Following are the aspects that you should consider carefully before signing up for an executive MBA.
1. Two Tasks at Once:
Executive MBA courses are quite flexible but you will have to carefully fit in your classes along with your job. The key is to not lose confidence and maintain a steady balance between work and classes. Be it evening classes or weekend MBA classes, make sure that you are able to devote enough time to studies without affecting your work life.
2. Pile of Work:
Pursuing Executive MBA along with a regular job will mean that you have to work your regular hours at the office as well as submit your course-related assignments, projects, etc. on time. It is essential that you keep yourselves motivated and submit your work within the required deadlines to excel in the course.
3. Test of Time:
Time management skill is what can get you through your Executive MBA course successfully. It is very important that you maintain a strict schedule and follow in order to balance studies and personal life.
4. Limited Social Life:
With an extreme workload that EMBA brings, it is more likely that your social life will be affected. This will mean less time for friends and family. This is one of the compromises that you will have to live through during your Executive MBA course duration. You may even have to stay away from your family if you are pursuing an executive MBA from a city other than your residential city.
What to do before Joining Executive MBA course:
1. Learn and Discuss:
Talk to the graduates who have pursued an Executive MBA from top MBA colleges or from those who have done MBA correspondence and know about the course thoroughly. You will get to learn about the programme more thoroughly as graduates can help you understand what the programme requires and how to perform well.
2. Keep it Clear:
It is better to inform your manager or reporting officer if you will be starting a programme. This will help them understand your position and they will be more cooperative with you. Also, you must discuss this with your family and friends so that they understand your absence and support you in pursuing your aim.
3. Study the MBA Course Details and Select the Curriculum Wisely:
It is important to understand the structure of the programme before you apply. Make sure that you choose the schedule that best fits with your job be it evening or weekend classes. This is one of the most important steps as it will help you manage your time properly.
Eligibility To Pursue Executive MBA Program
Check the eligibility criteria for pursuing an executive MBA program below.
Candidates must have completed a bachelor's degree in a relevant discipline with at least 55% marks.
Candidates must hold a minimum work experience of 2-3 years.
Executive MBA Admission Process
The admission process of the MBA program and Executive MBA are generally the same. Candidates will be selected on the basis of their scores in the bachelor degree examination. Besides this, the college will also consider scores of CAT, XAT, GMAT or any other entrance exam while selecting candidates. Selected candidates will be called for group discussion and personal interview round. Those candidates who hold 2-3 years of work experience will be preferred over a fresher. Once selected, candidates can submit the fee to confirm their admission.
Executive MBA Fee
The average course fee for Executive MBA is INR 5 lakh per annum. The course fee will vary depending on the type of college and specialization. Some of the colleges might charge extra for some certification offered by them. Candidates may check the course fee of executive MBA from the official website of the college.
Career/ Scope After Executive MBA
The executive MBA program is perfect for the candidates who have some work experience. They can apply to any sector after completing the Executive MBA. Some major sectors that hire MBA professionals are Banks, Industrial Houses, Multinational Companies, Tourism Industry, Brand & Marketing, Financial Organizations and Educational Institutes. Candidates may apply to any job profile listed below after pursuing an Executive MBA:
Finance Manager
Managing Director
Top Executive MBA Colleges & Fees in India:
There are many b-schools in India which offer executive MBA courses to candidates who have work experience of more than 2 years (at least). Interested applicants generally have to appear for an MBA entrance exam such as the GMAT or CAT or any other institute specific MBA entrance exam. You can check the list of executive MBA courses offered by top b-schools and their fees Some of the top-ranked Executive MBA colleges are provided in the table below.
| | | |
| --- | --- | --- |
| Colleges | Location | Course Fee  |
| | Udaipur | INR 18,50 lakh |
| | Bhubaneswar | INR 16 lakh |
| | Mumbai | INR 3.25 lakh |
| | Pune | INR 17.6 lakh |
| | Neemrana | INR 1.84 lakh |
| | Jaipur | INR 1.55 lakh |
| | Calcutta | INR 27 lakh |
| | Visakhapatnam | INR 1.8 lakh |
| | Delhi | INR 50,000 |
| | Delhi | INR 1.5 lakh |
| | Gurgaon | INR 3 lakh |
Executive MBA is the right choice if you want to carve a path for yourself in the world of business management. The flexible programme helps you pursue both studies and job together and also otherwise. If undertaken with dedication and commitment, this programme will open up well-paying opportunities after MBA for you.
On the other hand, if you still want to evaluate or give regular MBA a shot, this handy schedule of MBA entrance exams will help you mark important dates in your calendar.
 You can also call our toll-free helpline number 1800-572-9877 or fill the Common Application Form (CAF).
Meanwhile, you can check some articles listed below for MBA admission.