In India, earning a B.Ed in Commerce over two years can help you gain the knowledge and skills necessary to work as a teacher. Graduates in commerce who desire to instruct business at various levels in schools might pursue a B.Ed in Commerce. After completing the course, the students are qualified to teach commerce in any senior or secondary school in positions such as primary school teacher, high school teacher, head teacher, secondary school teacher, etc. However, B.Ed in Commerce is only offered by a few number of universities in India, and this degree is acceptable for becoming a Post Graduate Teacher (PGT). The complete list of available commerce subjects for B.Ed students are available here.
B.Ed Commerce Course Highlights
The highlights section will provide you with an overview of all the crucial aspects of the B.Ed Commerce course like eligibility criteria, duration, course fees, top recruiters, etc. Candidates must check out the table below to review some of the major highlights of the course.
| | |
| --- | --- |
| Degree | Bachelor Degree |
| Full Form | Bachelor of Education in Commerce |
| Duration | 2 Years |
| Course Type | Full-time |
| Exam Type | Semester-Based |
| Age | No Age Limit |
| Eligibility Criteria | Graduate from a recognized institute |
| Admission Process | Merit-based or Entrance exam based |
| Minimum Required Percentage | 50% - 55% |
| Average Course Fees | INR 6K - 1 LPA |
| Other Popular B.Ed  Specializations | |
| Average Annual Salary | INR 3 - 6 LPA |
| Job Profiles | Content Writer, Counselor, Educational Researcher, Teacher, Administrator, Assistant Dean |
| Employment Areas | Home Tuitions, Private Tuitions, Publishing Houses, Research and Development Agencies, Schools & Colleges, Coaching Centers, Education Consultants, Education, Departments,  |
List of Commerce Subjects in B.Ed
The curriculum for the B.Ed in Commerce offers effective teaching strategies and a variety of features that teach us new teaching techniques. The B.Ed in Commerce curriculum covers topics like the basics of education, classroom pedagogy, and learning in addition to subjects like economics, accounting, business, statistics, and more.
Various B.Ed Commerce subject lists are provided below:
Education, Culture and Human Values
Educational Evaluation and Assessment
Guidance and Counseling
Holistic Education
Educational Psychology
B.Com Commerce Core Subjects
Commerce: The principles of education, learning, and courses like economics, business, statistics, and so forth are covered in the commerce course. In addition to training specific to the stream, the B.Ed. subjects in commerce cover general orientation for student teachers as well as teaching techniques. A person who has completed a B.Ed. in business becomes proficient in the effective teaching of subjects using established principles of learning and instruction. The training also aids in educating, guiding, and counseling kids on their issues both personally and academically.
Economics: The social science of economics focuses on the creation, exchange, and consumption of goods and services. Economics is the study of how economies function and the activities and interactions of economic agents. Econometrics, economic policy, legal studies, money and banking, international trade, global finance, and economic history are just a few of the topics addressed in the B.Com economics curriculum.
Accounting: The focus of the diverse area of accounting is on an entity's or person's economic operations. Accounting is the process used to record, classify, assemble, interpret, and convey financial information about a company, institution, or person. Students who major in accounting can learn computer skills and mathematical methods required in professional accounting practice, as well as advanced theoretical and practical knowledge of accounting and finance.
Business Management: Business management is the area of study that imparts information and training on how to plan, carry out, supervise, and analyze a business company. One learns about the foundation of a business or organization in this topic of study, as well as the numerous functional levels including production, finance, administrative, human resources, sales & marketing, and others. After earning a business management degree, there are several managerial roles available at both junior and senior levels, providing a wide range of career opportunities. A candidate is hired at the managerial level after completing a postgraduate course in business management and as an executive across functional areas after completing an undergraduate study.
Statistics: The study of statistics includes the science of gathering, organizing, analyzing, interpreting, and presenting numerical and categorical data. Actuarial science, applied information economics, biostatistics, business statistics, data analysis, demography, econometrics, energy statistics, engineering statistics, psychological statistics, social statistics, etc. are some of the specialized fields covered in the B.Com. (Statistics) degree programme. Topics covered in graduate-level coursework include analysis, probability theory, statistical methods, database management systems, etc. The degree programme is crucial in subjects related to economics. The degree programme is significant from a financial perspective. Anyone searching for a career in accounting, data interpretation, etc. and who has a strong interest in statistics and economics is welcome to enroll in this course.
Also Read: B.Ed Admission 2022: Dates, Application Form, Process, Eligibility, Fees, Top Colleges
Importance of B.Ed Commerce
Prior to selecting a subject, students frequently have questions concerning B.Ed Commerce aspects. Students encounter questions like, "What is a B.Ed Commerce Course?" and "Why select B.Ed Commerce?" before settling on a job. We have listed the following important points to help candidates understand the answers to these questions and gain a thorough knowledge about the significance of a B.Ed Commerce degree.
The full name of this degree is Bachelor of Education in Commerce, or B.Ed Commerce. Students who complete this two-year undergraduate professional degree programme will be ready to enter the teaching profession. Teaching positions in higher primary and high schools require a Bachelor of Education in Commerce. The course develops a student's awareness of the practical value of knowledge based on the fundamentals of education and learning.
After completing the degree, the students can apply to teach commerce in any senior or secondary school. After graduating in commerce, typical jobs for graduates include instructor, administrator, commercial advisor, professor, translator, creative writer, researcher, and associate dean. A brief description of some of the popular job profiles for a B.Ed Commerce graduate are as mentioned below:
Secondary School Teacher: Secondary School Teachers are equipped to guide learners in a variety of academic subjects. Within a secondary school, they work with kids in a classroom setting. Keep thorough records of each student's performance, homework, attendance, and grades.
Business Studies Teacher: They instruct students in the theory and application of business processes and principles, with a focus on business analysis, moral values, creating budgets and strategies, and coordinating people and resources.
Accountancy Teacher: In addition to imparting knowledge on accounting, a teacher's main duty in the subject of accountancy is to teach social ethics and business.
Commerce Teacher: Instructors for commerce interact with students to review and assess material covered in class, walk them through procedures, and help them with specific problems in the subject of commerce.
Education Consultant: Education consultants provide similar services to school counselors, however they are typically freelance counselors or consulting firms, whereas school counselors are employed by schools.
Corporate Writer: A corporate writer is someone who writes on companies' products, services as well as on its internal communications. 
The popularity of B.Ed in commerce today is resulting in an abundance of job prospects. Every school in the nation has a constant need for teachers. The B.Ed programme provides a good scope, as new schools open up every year. In the private and public sectors, graduates are in high demand for employment. The job opportunities for B.Ed Commerce students are among the most alluring features of the programme. The B.Ed Commerce degree not only gives students theoretical information, but it also helps them develop the practical abilities needed to succeed in this line of work. Therefore, the promotion of the future's brightest minds brings educators great joy, fostering commitment to their profession. A few of the top employment areas available to B.Ed in commerce graduates are:
Education Consultancies
Coaching Centers
Publishing Houses
Research and Development Agencies
Schools & Colleges
B.Ed Commerce Eligibility Criteria 2022
Students who meet the eligibility conditions are only offered admission to the B.Ed Commerce programme. The candidates must have passed their graduation at the accredited university with a minimum cumulative score of 50 to 55 percent in the applicable stream. The course has no upper age limit. Both entrance exams and merit-based admission options are available for admission to the B.Ed Commerce stream. Candidates are advised to visit the official website of the particular college/university that they are applying for to check the precise eligibility criteria for admission to the B.Ed Commerce program. 
How to Apply for B.Ed Commerce Admission 2022?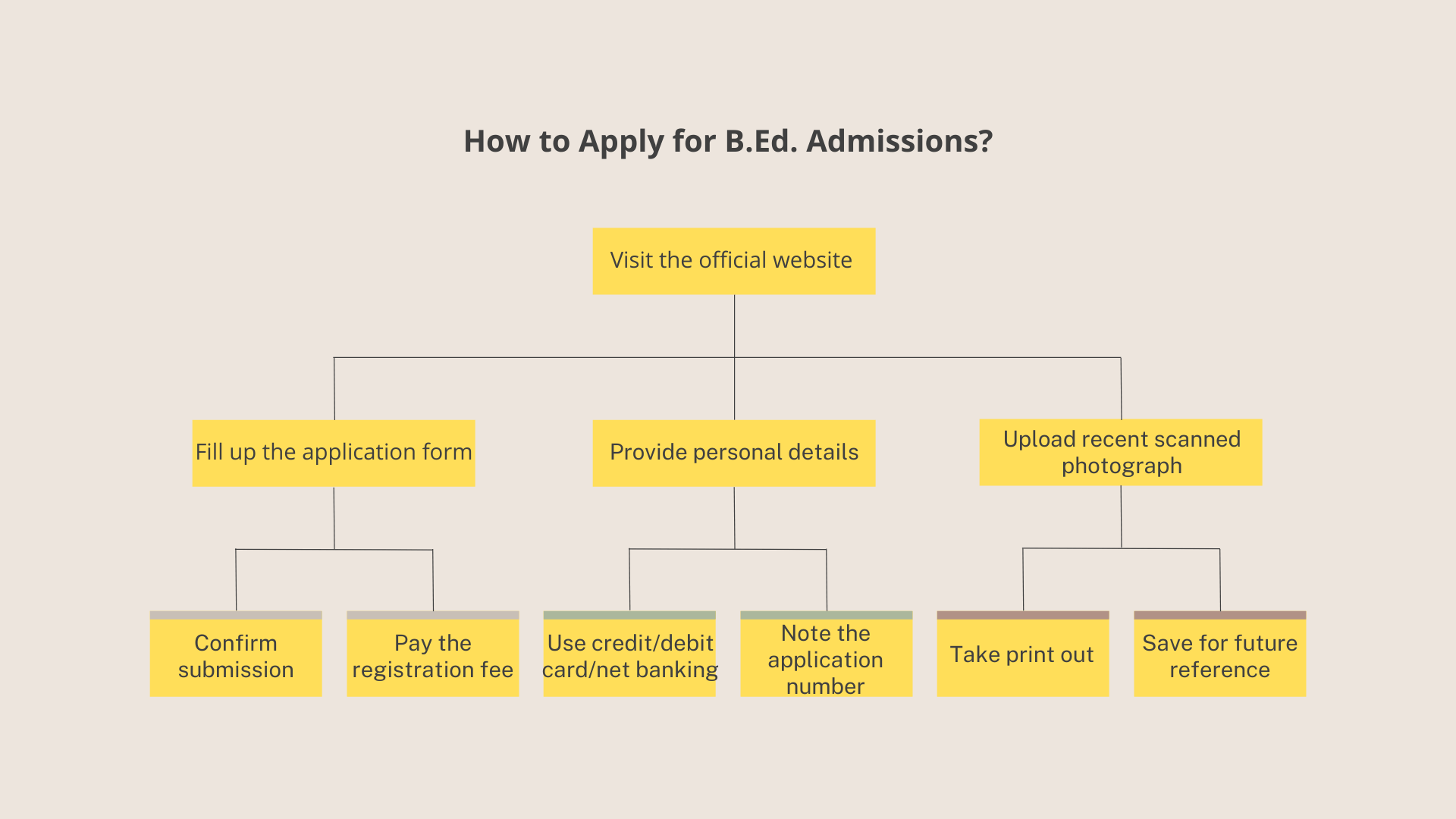 The application process to apply for the B.Ed Commerce programme is mostly via online mode, however, there are a few education institutions that provide the offline application process service. Candidates must note that the application procedure for the B.Ed Commerce program is different for different institutions, therefore, candidates must visit the particular institute's official website for which they are applying in order to check the accurate application process steps to be followed. Below, we have provided the general steps to be followed during the application process for the B.Ed Commerce programme.
The steps that must be taken by the applicant in order to apply for B.Ed Commerce programme in 2022 are listed below:
First, candidates must visit the preferred college or university's official website
After that, candidates must register themselves on the official website of the institute by providing details like name, phone number, and email address.
After the registration, candidates must login again to access the online application form
Candidates must fill out the application form with their personal information like their full name, father's name, house address, email ID, mobile number, attaching photocopies of their class 10 and class 12 respective mark sheets along with other important documents as required by the institute.
After completing the online application form, candidates must attach a current scanned passport size photograph along with their scanned signature.
After that, click on the "Submit" button.
If any changes need to be made, you may also modify the information. Then, finally click "Confirm Submission" to send the application.
Following that, candidates must pay the B.Ed application/registration cost, which can be done so using a credit/debit card or net banking.
Candidates will receive an application number and the option to print the application form after the payment has been properly processed.
Candidates must maintain a copy of the application fee payment receipt and the completely filled application form for their records.
Also Read: List of B.Ed Entrance Exams 2022 - Dates, Application Form, Eligibility, Syllabus
B.Ed Application Fee 2022
Candidates must pay a prescribed application fee in order to confirm their application for the B.Ed Commerce admission to their preferred institute. The application fee tends to vary from institute to institute; private colleges charge higher fees than government colleges. Candidates are advised to check the correct application fee on the official website of their preferred college/university. The application fee for the B.Ed Commerce programme tends to be lower for reserved categories like SC/ST/PwD as compared to the general category. In the table below, we have provided a general application fee charged from candidates for admission to the B.Ed Commerce programme at various institutes in India.
B.Ed Application Fee 2022
| | | |
| --- | --- | --- |
| Category | Mode | Application Fee |
| For All Categories | Online/ Offline | Varies from INR 500 to INR 2000 |
Documents Required for B.Ed Commerce Admissions 2022:
The documents which are required to be submitted at the college/university in order to take admission to the B.Ed Commerce programme are listed below:
Class 10th Certificate (Compulsory)

Class 12th Certificate (Compulsory)

Semester Wise or Yearly Wise Marksheet if the candidate has completed the undergraduate program.

Certificate of Provisional degree, if the candidate has graduated.

And for the Candidates in the final year or final semester must submit their previous year marks sheet or previous semester mark sheet.

Address Proof- Aadhaar Card, Voter ID, Driving Licence, Passport.

Transfer Certificate

Migration Certificate

Character Certificate

Medical Certificate

10 Recent photograph.

Application acknowledgement receipt.

Passport and Visa copy if the candidate comes from outside India.
B.Ed Commerce Admission Process 2022
The majority of education institutions provide admission based on how well applicants perform in entrance exams. Students must make sure they meet the requirements for B.Ed in Commerce programmes in India before taking an entrance exam. Because the B.Ed Commerce programme is part of the B.Ed, it has a similar admissions procedure. 
On the basis of the student's performance in the class 12 exam, certain institutions allow direct admission to the course. However, for admission to other reputable colleges, students must pass an admission test administered by the university or college. After passing the entrance exam, the student must attend counseling, get their documentation verified, pay the admission fee, and finish the admissions process for the course.The admission to the B.Ed Commerce programme is also done through several university-level and state-level entrance exams.
B.Ed Commerce Entrance Exams 2022
Admission to the B.Ed Commerce programme is based on the scores obtained in a particular B.Ed entrance exam. To be admitted, applicants who decide to take the entrance exam must score over the cut-off. When the application process is complete, the students will be informed of the date and time of the entrance exam. The purpose of the entrance exam is to evaluate the student's fundamental knowledge and teaching skills in accordance with the entrance exam curriculum. A few of the popular entrance exams for the B.Ed Commerce programmes are listed below:
RIE CEE: The NCERT will hold a Common Entrance Examination to admit applicants to teaching programmes hosted at Prarambh and Regional Institutes of Education (RIEs) in Ajmer, Bhubaneswar, Bhopal, Mysore, and Shillong (CEE). It takes 120 minutes to complete the test. The application fee for OBC and general candidates is INR 900. For SC/ST/PWD applicants, the fee is INR 450.
IPU CET: Admission to the several UG and PG programmes offered by Guru Gobind Singh Indraprastha University is evaluated on the basis of academic standing. The admission examination for the BEd programme will last three hours. The cost of the application form is INR 1200.
CUET: The 14 central universities' varied UG, PG, and PhD programmes are all served by the CUET, the Central Universities Common Admission Test, which is a national BEd entrance examination. CUET for BEd admission takes 120 minutes. The cost of the application fee is INR 800 for OBC and general applicants. For SC/ST/PWD applicants, a 350 INR application fee is required.
Maharashtra B.Ed CET: The Maharashtra CET cell will be hosting the state entrance test for BEd and MEd programmes in 2022, known as B.Ed CET. The exams are conducted online in Marathi and English for one hour and consist of 100 MCQs in total.
UP B.Ed JEE: The Mahatma Jyotiba Phule Rohilkhand University will host the UP BEd JEE 2022, a state-level entrance exam. The three-hour entrance exam is administered offline once a year.
List of Popular B.Ed Commerce Entrance Exams 2022
Some of the well-known B.Ed Commerce entrance exams in India are mentioned below:
| | | |
| --- | --- | --- |
| S.No. | Name of Exam | Exam Type |
| 1 | | Online exam |
| 2 | | Written Exam |
| 3 | | Written Exam |
| 4 | | Written Exam |
| 5 | | Online Exam |
| 6 | | Online Exam |
| 7 | | Online & Written Both are available |
| 8 | | Written Exam |
| 9 | | Written Exam |
| 10 | | Online Exam |
B.Ed Career Scope 2022
Candidates would have a wide variety of options after completing the B.Ed. Some of the well-known B.Ed. carrier scope is listed below:-
School Teacher

Private/home Tutor

Online Tutor

Education Counsellor

Content Writer

Education Researcher

Government Job
Top B.Ed Commerce Colleges in India
When it comes to the number of top-quality B.Ed. colleges, one will find it easy to enrol in one of the many colleges established in India. If you are interested in checking out some of the colleges then you can select one from the list below. For comparison of colleges, you will also be able to check the fees charged for a B.Ed. course.
| | | | |
| --- | --- | --- | --- |
| S.No. | Name of College | Location | B.Ed. Annual Fees (Approximate) |
| 1 | | Kanpur | Rs 51,000/- |
| 2 | | Kozhikode | Rs 29,000/- |
| 3 | | Perambalur | ... |
| 4 | | Chennai | Rs 45,000/- |
| 5 | | Tirunelveli | Rs 37,150/- |
| 6 | | Ambala | Rs 12,000/- |
| 7 | | Coimbatore | ... |
| 8 | | Coimbatore | Rs 40,000/- |
| 9 | | Coimbatore | ... |
| 10 | | Chennai | Rs 50,000/- |
| 11 | | Cochin | Rs29,000/- |
| 12 | | Kanpur | Rs 38,000/- |
| 13 | | Port Blair | ... |
| 14 | | Salem | Rs 41,500/- |
Candidates can only pursue a BEd in Commerce programme after earning their undergraduate degree in the relevant discipline. Graduates in business who desire to instruct students in business at various levels in schools pursue a BEd in commerce. A graduate programme called a BEd teaches students how to get the knowledge and skills necessary to become teachers. Candidates who complete the BEd in commerce may go on to the MEd in commerce. Candidates may also take the CTET or TET exams to certify them as teachers. Candidates can pursue an MA in Education after completing their BEd programme OR candidates who complete a B.Ed in Commerce can begin working as teachers. Teachers, administrators, assistant deans, content writers, counselors, education researchers, instructors, librarians, military trainers, principals, syllabus designers, and others are among the employment opportunities available to recent graduates.There are various other top B.Ed. Colleges in India that you can consider for B.Ed. admissions.
Related Articles
Please fill out the Common Application Form on our website for admission assistance. Our consultants will assist you in the admission process.
Stay tuned with Collgedekho for more such information.