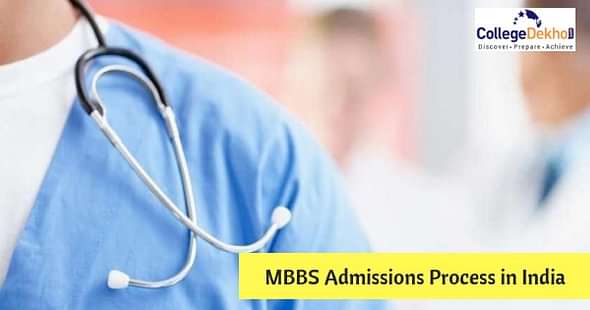 MBBS admission 2023: MBBS, also known as Bachelor of Medicine and Bachelor of Surgery, has been one of the prestigious medical courses across the globe for generations. It is also one of the most challenging courses to pursue after the 12th. Admission to MBBS courses in India is granted based on the NEET scores obtained by the candidates. NEET exam 2023 was held on May 7 and the result was declared on June 13, 2023.

MBBS course aims to give an academic understanding of concepts such as human anatomy, chemistry, medicine, drug formulation and effect, pharmaceutical experience and method of surgery through practical and theoretical experiences. Every year lakhs of aspiring medical students compete in the entrance exams for MBBS admissions in India. However, due to the limited MBBS seats in India, students face tough competition in getting admission.

Bachelor of Medicine and Bachelor of Surgery or MBBS course duration is of 5 years and 6 months including a rotating internship of one year. Aspirants must note that during an MBBS course, the internship is mandatory, and therefore, one has to pursue the same after 4½ years of pursuing an MBBS course. The MBBS course has nine semesters in total, and the Medical Council of India (MCI) is the only accreditation body for MBBS courses in the country.

In this article, we have come up with all the details pertaining to the MBBS course, application process, admissions and MBBS course fees structure, MBBS entrance exam and syllabus etc.

Must read:
MBBS Admission 2023 Highlights
Mentioned below are the major highlights of an MBBS course:
Parameters

Details

Course Name

Bachelor of Medicine & Bachelor of Surgery

Abbreviation

MBBS

Course Level

Undergraduate

Course Type

Degree

MBBS Course Duration

4.5 years of academic training + 1 year of compulsory internship

Eligibility

Passed 10+2 examination with at least 50% aggregate in Science (PCB) from a recognized Board

Minimum age criteria

17 years

Number of MBBS Colleges

542 medical colleges

2 JIPMER

15 AIIMS

Total Number of Seats

91,415 (Approx.)

MBBS Fees

approximately INR 50,000 - 50,00,000

Mode of Admission

National Eligibility cum Entrance Test (NEET)
Relevant Reads:
MBBS Course Fees 2023
Before enrolling on an MBBS college, it is crucial for students to have a clear understanding of the MBBS fee structure. MBBS Fees in private institutions and deemed colleges are comparatively higher and can lie anywhere in the range of INR 2,00,000 to 40,00,000 per annum. However, if a student wishes to pursue an MBBS Course from a government institution, the MBBS course fee will be much lower than any other private institute, ranging anywhere between INR 90,000 to INR 2,00,000 per annum. A detailed insight into the MBBS course fees 2023 as per the popular Colleges in India is mentioned further in this article below. 
MBBS Admission 2023: Medical Entrance Exam (NEET UG) Schedule
NEET UG is the only exam that is held for MBBS 2023 admission. Students have to clear the test to become eligible for the MBBS course. The schedule for MBBS admission 2023 is -
| | |
| --- | --- |
| Events | MBBS Admission 2023 Dates |
| NEET 2023 Application Form Filling Dates | March 6 to April 15, 2023 |
| NEET Application Correction 2023 | March 8 to April 15, 2023 |
| NEET 2023 Admit Card Publishing Date | May, 2023 (Tentative) |
| NEET 2023 Exam Date | May 7, 2023 |
| NEET Answer Key 2023 Release Date | June 4, 2023 |
| NEET UG 2023 Result Date | June 13, 2023 |
| NEET Counselling 2023 | July 2023 (Tentative) |
MBBS Course Specialisations
An MBBS or Bachelor of Medicine and a Bachelor of Surgery degree lets graduates become eligible and prepared for the medical job market in the world's current scenario. Across India, there is a substantial demand in the medical industry for medical practitioners. Earning an MBBS degree allows candidates to explore new opportunities and achieve their objectives in the healthcare industry. The medical institutions aim to provide students with the best knowledge and training in the following MBBS areas of specialization after the completion of the MBBS course duration:
Obstetrics

Anaesthesiology

General Surgery

General Medicine

Gynaecology

Forensic Medicine and Toxicology

Paediatrics

Ear, Nose and Throat

Dermatology & Sexually Transmitted Diseases

Psychiatry

Ophthalmology

Radiotherapy

Biochemistry

Introduction to Humanities and Community Medicine

Human Physiology

Orthopaedics

General Medicine

Human Anatomy
MBBS Admission Process 
Earlier, the three major entrance exams conducted for admission to MBBS colleges in India were – NEET UG 2023, AIIMS MBBS, and JIPMER MBBS. However, after 2019, AIIMS (All India Institute of Medical Sciences) and JIPMER (Jawaharlal Institute of Post Graduate Medical Education and Research) entrance exams for MBBS admissions have been scraped off, and NEET is now the only gateway to your dream of achieving a seat in MBBS/BDS. Therefore, it is mandatory for all aspirants to clear the NEET to secure MBBS admission to the top institutes.  
NEET - MBBS Entrance Exam in India
NEET (National Eligibility cum Entrance Test) is a popular national-level MBBS entrance exam conducted by the National Testing Agency (NTA). All the government & private medical colleges, universities, and deemed universities consider NEET UG scores for MBBS admissions. It is conducted on a pen and paper-based (offline exam). 
If you apply for the NEET UG entrance exam, it means that you are competing for MBBS admission in government and private medical colleges/universities/deemed universities/private universities. With a valid NEET-UG score, you can get admission to any of the above medical colleges. Through NEET-UG, you can compete for All India Quota (AIQ) or State Quota seats. Therefore, the chances of securing MBBS admission are high through NEET-UG. However, the admissions are purely based on the order of merit. One must clear the NEET Cut Off 2023 to be eligible for the admission process.
With a valid NEET score, you can get admission to AIIMS Delhi and other prominent AIIMS institutes, as well as JIPMER Puducherry or JIPMER Karaikal campuses. While participating in NEET counselling through AIQ, it is always better to aim for AIIMS as well as top government and private medical colleges. While exercising the web options, you can choose AIIMS, JIPMER, or any other government or private medical college across the country. You can get admission on the basis of your NEET AIQ rank.  

Also Read:
NEET MBBS Admission 2023 Exam Pattern
To help you better understand the pattern of the NEET entrance exam for MBBS admissions, we have prepared the table below with all the necessary details related to the NEET exam pattern:
Parameters

Details

Name of Examination

National Eligibility Cum Entrance Test (NEET)

Conducting Body

National Testing Agency (NTA)

Purpose

Admission to medical courses all over the country, namely MBBS/BDS/BVSc and AH/AYUSH

Frequency

Once a year

NEET Application Mode

Online

NEET Exam Mode

Offline (pen and paper-based)

MBBS Duration of Exam

3 hours

Total Number of Questions

200 (180 to be answered)

Total Marks

720

Marking Scheme

+4 for each correct answer

-1 for each wrong answer

Subjects Included in the Exam

Physics

Chemistry

Biology

Official Website

neet.nta.nic.in
MBBS MBBS Admission 2023: Application Process through NEET
The NTA releases NEET UG Application Form online every year on its official website. Aspirants who meet the required eligibility criteria need to access and fill out the online application form with personal and academic details, along with the necessary documents, Passport sized photographs and signature/thumb impression, and submit the same before the last date of submission. Applicants are also required to pay NEET application MBBS course fees to complete the registration process. This will put you on a fast-track to complete MBBS course duration.
MBBS Eligibility Criteria for NEET
The MBBS eligibility criteria for NEET is as follows: 
The lower age limit for MBBS admission through NEET in India is 17 years 

The basic educational qualification for MBBS admission through NEET is the completion of Class 12 with a minimum aggregate of 50% (45% for candidates belonging to ST/SC/OBC categories)

The students must have studied Biology, Physics, and Chemistry as main subjects in Class 12
Also read: Minimum marks required in NEET for MBBS
NEET MBBS Selection Process
The Medical Counselling Committee (MCC) is the authority for conducting MBBS admissions through NEET. After clearing NEET UG, MCC will conduct a centralized admission process for MBBS admissions. Students who clear the entrance exam and make it to the merit list will be eligible to take part in the counselling process. Students need to submit a separate application form for MBBS courses to individual institutes. However, it has to be kept in mind that MCC conducts the MBBS admission process through NEET for 15% AIQ (All India Quota) seats. For 85% of MBBS seats, state governments conduct the MBBS admission process. 
Next, candidates must submit their choice of MBBS colleges/institutes. MBBS admissions through NEET will be based on NEET UG merit and preferences submitted by candidates during the counselling process. There is no limit on the choices to be selected by the candidates. After selecting choices, candidates can change the order of choices, add new choices, or delete existing choices. Finally, one has to lock the choices to be eligible for seat allotment.
The seat allotment result will be declared based on NEET UG merit and choices locked by the candidates. Candidates can download the seat allotment letter through the official website. After downloading the seat allotment letter, candidates must report to the respective college with all the mandatory documents. The admission will be confirmed only after reporting, payment of MBBS fees, and submission of mandatory documents such as:
Seat Allotment Letter

NEET UG Score Card

Class 10 & Class 12 Pass Certificate or Mark Sheet

NEET Admit Card

Identity Proof

Eight Passport Size Photographs

Caste or Category Certificate (if applicable)

PwD Certificate (if applicable)
Documents Required for BSc Nursing Admission 2023
A verified phone number to communicate registration details with the candidates
A valid email address to receive all important notifications regarding the registration process
Class 10th marksheet and pass certificate
Class 12th marksheet and pass certificate
A debit/credit card, net banking, or UPI payment gateway details
Candidate's personal details such as contact information, Father's and Mother's details, etc
A valid Government identity card such as Aadhar Card, Voter's Card or Passport
Candidate's recent coloured passport-sized photograph
A scanned copy of the candidate's signature
A scanned copy of the candidate's left and right thumb impressions
Caste Category certificate (if applicable)
PwD certificate (if applicable)
State-Level MBBS Admission 2023 Process through NEET
The state-level MBBS admission process through NEET of popular states can be checked by clicking on the links below:
MBBS Admission 2023: Semester-wise Syllabus
MCI (Medical Council of India) has launched the new syllabus for the MBBS course that came into effect from the academic session 2019-20. The subjects and topics that have been specified by MCI for UG medical courses have been divided into Pre-Clinical, Para-Clinical and Clinical Phases. Candidates have to learn these concepts in-depth during the entire course of MBBS duration. Some of the subjects that students will be asked to study throughout the entire MBBS course duration are depicted in the table below:
Semester

Subjects

Topics Covered

Pre-clinical

1st & 2nd Semester

Anatomy

Embryology, Genetics and Neuroanatomy
Gross anatomy
Microanatomy

Biochemistry

Food Assimilation and Nutrition
Enzymes
Biomolecules
Cancer and Cancer Makers
Metabolic Pathways
Biological Cell
Hormones
Molecular Biology

Physiology

Environmental Physiology, Nutrition, Yoga
Gastrointestinal System
Cardiovascular System
Neurophysiology
Blood
General Physiology
Nerve-Muscle
Respiratory System
Kidney

Paraclinical

3rd to 5th Semester

Community Medicine

Erythema multiforme
Vesiculo-bullous diseases
Dermatological Emergencies
Urticaria
HIV infection
Psoriasis
Infective Dermatoses
Drug Eruptions
Infestations
Allergic disorders
Ineffective Dermatoses
Gonococcal and Nongonococcal Infections
Melanin Synthesis
Epidermopoiesis
Pathogenesis

Pharmacology

Cardiovascular system
General Pharmacology
Hormones
Autacoids
Miscellaneous
Gastrointestinal System
Respiratory System
Autonomic Nervous System
Peripheral Nervous System
Central Nervous System Chemotherapy

Clinical Postings in Wards

Pathology

Systemic Pathology
General Pathology
Practical

OPD 

-

Forensic Medicine

Microbiology

Bacteriology
Laboratory Diagnosis of Viral Infection,
Common Laboratory Methods for Diagnosis of Fungal Infections
Collection of Transport of Samples
Common Tests for Bacterial Identification
Microorganisms associated with Gastrointestinal Infections
Gastrointestinal infections caused by Parasites
Bacterial and Viral Genetics
Virology
Mycology, Parasitology
Vaccines
Sterilization and Disinfection
Immunodiagnosis
Host-Parasite Relationship
Bacterial Staining and Cultivation

Clinical

6th to 9th Semester

Clinical Postings

-

Paediatric Surgery and Allied Subjects such as Ophthalmology, Orthopaedics

Growth and Development
Immunization
Fluid-Electrolyte
Paediatrics Emergencies
Cardiovascular System
Central Nervous System
Behavioral Problems
Nutrition
Haematology
Gastro-Intestinal Tract
Infectious Diseases
Neonatology
Genetics
Respiratory System, Vital Statistics
Therapeutics
Genito-Urinary System
Paediatrics Surgical Problems

Medicine and Allied Subjects such as Psychiatry and Dermatology

-

Gynaecology & Obstetrics

Obstetrics Neonatology and Recent Advances
Gynaecology
Basic Sciences
Contraception
Also read: Medical Council of India and its Role in Medical Education
MBBS Admission 2023: Preparation Tips 2023
Throughout the MBBS course duration, candidates need to check the below given AIIMS MBBS preparation tips to help prepare well for the test:
Scan through the overall exam pattern and syllabus.

Create a suitable timetable and follow the same on the regular basis.

Create and write short notes on all the important topics and revise diligently.

Take care of your overall health to ensure you complete the entire MBBS duration.

Ensure that you take regular breaks in the middle of your study time and also drink plenty of water.

Solve previous years' exam papers and practice mock tests as frequently as possible.
MBBS Career Options
With a degree in MBBS, you can begin your career in the field of medicine and gradually go up the ladder once you gain experience. Medical Graduates can look forward to the following options after pursuing their Graduation Course: 
Medical Colleges

Nursing Homes

Biomedical Companies

Laboratories

Health Centres

Hospitals
Also Read: List of Pharmacy Courses After 12th
Job Opportunities After MBBS
An MBBS degree can open up a whole world of opportunities for you. Moreover, the fact that it is one of the most lucrative and secure jobs is what makes it all the more desirable. Students are exposed to abundant scopes in both public and private sectors after pursuing their MBBS degree, and can join any of the following job roles:
Orthopaedist

Chiropodist

Nutritionist

Medical Reviewer

ENT Specialist

Enterologist

Radiologist

Bacteriologist

Hospital Administrator

Dermatologist

Physician

Psychiatrist

Cardiologist

Neurologist

Pathologist

Medical Admitting Officer

Gynaecologist

Anaesthetist/Anaesthesiologist

Medical Professor or Lecturer

Gastroenterologist

Chief Medical Officer

Clinical Research Field

General Surgeon

Researcher

Scientist

Junior doctors

Obstetrician

Junior Surgeons

Medical Analyst
Top MBBS Admission 2023 Colleges in India & Their Fees Structure
We have listed below some of the top MBBS colleges in India for you to pick from, along with an estimated MBBS course fees structure:
MBBS Admission 2023 Fees in Government Colleges/ Private Institutes
MBBS fees for studies vary from one college to another. Based on merit and seat allocation, students are assigned institutes where they complete their MBBS course duration in India. One must note that MBBS course fees in government college is lesser as compared to private universities. MBBS fees in India can range anywhere between INR 20,000 - 4,00,000 for government colleges and somewhere between INR 2,00,000 - 50,00,000 for private institutes. The MBBS fees depend on the type of institute candidates wish to study at.

Must read:
We hope that the above article has clarified all your doubts pertaining to MBBS admissions in India, MBBS fees, MBBS course duration, etc. Stay tuned to CollegeDekho for the latest updates on MBBS entrance exams and MBBS admissions. If you have any queries regarding MBBS course or MBBS admissions, post them on our QnA section.