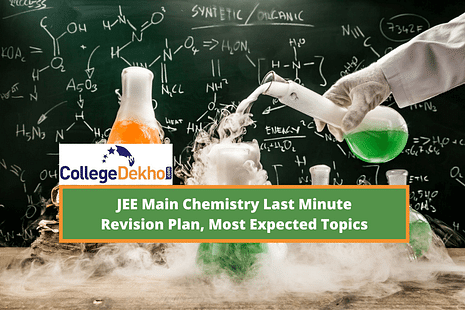 JEE Main 2024 Chemistry Last Minute Revision Plan: Chemistry is considered to be the highest-scoring subject in JEE Main 2024. As per last year's analysis, Chemistry was easy to moderate in the JEE Main entrance exam. Since JEE Main is a national-level exam, almost 1.5 lakh people across India apply for it every year. The National Testing Agency (NTA) will conduct JEE Main 2024 in two phases. The JEE Main 2024 exam for the January session (Paper 1) will be conducted on January 24, 25, 27, 28, 29, 30, 31 & February 1, 2024, and the second phase will be held from April 1 to 15, 2024. The JEE Main application form 2024 is released on November 1, 2024 for Phase 1. 
This article will focus on the important topics from JEE Main 2024 chemistry, the last-minute preparation tips, and some of the best books that can be referred by the candidates appearing for the entrance exam.
LATEST: 
JEE Main 2024 Highlights
For a better understanding, we have mentioned the overview of JEE Main 2024 for the candidates so that they do not have any confusion regarding the entrance exam.
Particulars

Details

Exam Name

JEE Main 

Full form 

Joint Entrance Exam Main

Official website 

jeemain.nta.nic.in

Conducting body

JEE Apex Board or JAB

Exam level

Undergraduate exam conducted at the national level

Mode of exam

Computer-based exam for all the streams.
Only pen and paper-based in B.Arch for drawing

Exam fee

Rs 650 for Male/ OBC/EWS Category
Rs 325 for female/ OBC/EWS Category
Rs 325 for SC/ST/ PWD/ Transgender category

Duration of the exam

BE/B.Tech- 3 hours
B.Arch/ BPlan- 3.5 hours
PwD candidates- 4 hours

Number of questions 

BE/B.Tech- 90
B.Arch-82
BPlan- 105

Total marks 

BE/B.Tech- 300
B.Arch- 400
BPlan- 400

Marking scheme

4 marks for every correct answer
-1 for every wrong answer
No marks for unattempted questions
Also check: List of Best Books & Online Study Materials for JEE Main 2024 Physics
Important Topics for JEE Main 2024 Chemistry
The important topics of the chemistry portion for JEE Main 2024 have been highlighted in the table below. The table will give an idea of the important topics for the year 2024. Candidates should check them before proceeding with the other topics in this article.
JEE Main 2024 Important Topics for Chemistry

Magnetic Properties and Character

Oxidation number

IUPAC Nomenclature - 1

Carbanion

Strong and Weak Bases

Ideal Gas Equation

Reaction of Phenols with dil. HNO3

Photoelectric Effect

Limitations of The Octet Rule

Radius, Velocity, and the energy of nth Bohr Orbital

Classification of Elements: s-block

First Law or Law of Conservation Energy

Addition Compounds or Molecular Compounds

Chemical Properties of Alkali Metals

Coordination Numbers

Sodium Chloride and Sodium Hydroxide

Oxidation State

Carbocations

Isothermal Reversible and Isothermal Irreversible

Reaction with PCI5, SOCI2, PCI3, and HX

Reversible, Irreversible, Polytropic Process

Acylation and Oxidation of Alcohol

Screening Effect and Lanthanide

Lewis Representation of Simple

Line Spectrum of Hydrogen

Molecules (Lewis Structure)

Stoichiometry, Stoichiometric 

Long-form of Modern Periodic Table

Calculations and Limiting Reagent

Ionization Enthalpy of Ionisation Potential

Dalton's Law of Partial Pressure
Also read: JEE Main Admit Card 2024
JEE Main 2024 Chemistry Last Minute Revision Plan
The easiest topic of JEE Main 2024 is chemistry. Candidates score well in this section. The questions asked in the exam are based on simple principles without any inclusion of complex topics. According to last year's analysis, the majority of questions are asked from the NCERT books learned by the candidates in classes 11 and 12. Therefore, candidates are advised to learn the NCERT books before completing the preparation and then proceed with other reference books. Candidates should make the period tables at the tip of their lips. The reference books which can be referred to by the candidates will be discussed below. Let us check the last-minute revision tips for the candidates willing to conclude JEE Main 2024 chemistry with healthy scores.
Revise and revise the NCERT books of classes 11 and 12, again and again

Candidates are advised to understand the concepts of the topic in the JEE Main syllabus 2024 and not mug them up blindly. Mugging the topics will not help the candidates succeed in the exam

Making short notes of the important topics and revising them regularly

Revising the period table every day

The chemical formulae should be learned and remembered 

It is seen that often candidates leave the numerical portions of the syllabus. It is the most scored portion of the syllabus. Therefore, the numerical parts of the syllabus such as chemical kinetics have to be attempted. 
JEE Main 2024 Chemistry Important Topics
The important topics for JEE Main 2024 chemistry have been discussed in the table below:
Important topics for JEE Main 2024 Chemistry 

Chemical kinetics

Chemical bonding 

Surface chemistry

Atomics structure

Nuclear chemistry

Mole concept

Thermodynamics 

Thermochemistry 

Electro chemistry

Solid state

Periodic table and its properties

-
Note: All the topics must be covered by the candidates for JEE Main 2024. The above table is based on the previous year's weightage.
Also check: JEE Main 2024 Exam Day Instructions - Rules, What to Carry, Reporting Time
JEE Main 2024 Chemistry Important Books
The best books of JEE main 2024 excluding the NCERT class 11 and class 12 textbooks have been highlighted in the pointers below:
Organic chemistry by O. P Tandon

The modern approach to chemical calculations by R.C Mukherjee

Concept of Physical Chemistry P. Bahadur

Concise inorganic chemistry by J D Lee

Physical chemistry by P. W. Atkins
Quick Links:

Also Read:
Quick Links:

For more such updates and Education News, stay tuned to CollegeDekho. You can also join our Telegram Group to get the latest updates on JEE Main 2024.