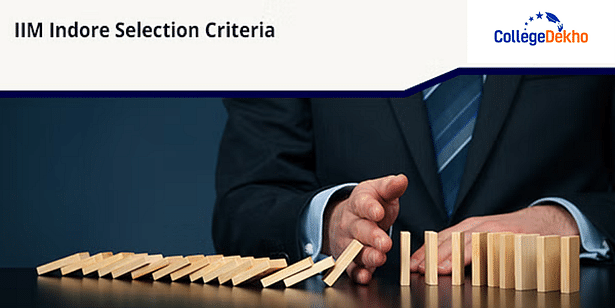 IIM Indore Selection Criteria 2024-26: The admission criteria for IIM Indore for the 2024-26 academic session are specified on its official website- iimidr.ac.in. IIM Indore selects students on the basis of CAT score, overall academic performance (bachelor's degree, class 12th & 10th), and Personal Interview. The admission process at IIM Indore includes three stages - Evaluation of the CAT Score, Shortlisting of Candidates for PI, and Final Selection.
IIM CAP 2024 registration for the 9 new IIMs (IIM Bodh Gaya, IIM Jammu, IIM Kashipur, IIM Raipur, IIM Ranchi, IIM Sambalpur, IIM Sirmaur, IIM Trichy, and IIM Udaipur) will be conducted on the official website (cap2024.iimu.ac.in) in January 2024. The CAT 2023 exam will be conducted on November 26, 2023.
IIM Indore is the sixth IIM that was started as a public business school to promote management studies and business education in India. Apart from postgraduate management courses, IIM Indore also offers a 5-year BBA+MBA Integrated program. IIM Indore also has a presence in the financial capital of India – Mumbai, where it offers full-time PGP programs for non-residential candidates.

Students targeting IIM Indore after the CAT 2023 exam must be aware of the requirements they need to fulfill to get an MBA seat in the college. Let's have a look at the detailed IIM Indore selection criteria 2024-26, important admission dates, and more.
Also Read: CAT 2023 Score vs Percentile
IIM Indore Selection Criteria 2024-26: Important Dates
Check the important dates for IIM Indore selection criteria 2024 from the table provided below:
| | |
| --- | --- |
| Events | Dates |
| CAT 2023 Registration Window | August 2 to September 20, 2023 |
| CAT 2023 Admit Card Release Date | October 25, 2023 |
| CAT 2023 Exam Date | November 26, 2023 |
| CAT 2023 Result Date | TBA |
| Availability of IIM Indore Admission Form | TBA |
| IIM Indore Provisional PI Shortlist Release Date | TBA |
| Personal Interview Dates | To Be Announced |
| Final Admission List | To Be Announced |

Also Read: Top B-schools that Accept CAT Percentile Below 90 other than IIMs
IIM Indore Admission Criteria 2024-26: Key Changes
The selection criteria for a majority of IIMs in India are quite similar to each other with subtle differences depending on the institute concerned. IIM Indore has introduced some major changes to its admission process and selection criteria for the academic session of 2024-26. The significant modifications to the shortlisting and final selection criterion for admission to IIM Indore in 2024 are as follows:
Only 20% of the final merit list that is generated after the PI Round is based on the CAT 2023 score.
Academic achievement in classes 10 and 12 are given 74% of the weight in the selection process for PI.
6.4% Weight is given for Diversity Factor (DF)
Total Maximum Weightage Percentage is now 80 instead of 100.
The final round of selection will not include a Written Ability Test (WAT) round
When generating the final merit list, PI is given 40% weight.
IIM Indore Selection Criteria 2024-26
Apart from the minimum CAT score requirements, IIM Indore selection criteria 2024 is also based on the candidate's past academic performance and diversity factors. After these, candidates are invited for the Personal Interview (PI). The IIM Indore admission criteria 2024 are segregated into the following three stages:
Stage 1: Evaluation of CAT Score
Candidates applying for a two-year PGP program will have to clear the minimum CAT cutoff in order to be shortlisted for the PI round. Following is the cutoff set by IIM Indore:
| | | | | |
| --- | --- | --- | --- | --- |
| Category | Verbal & Reading Comprehension (VARC) Percentile Rank | Data Interpretation & Logical Reasoning (DILR) Percentile Rank | Quantitative Aptitude (QA) Percentile Rank | Overall Percentile Rank |
| General/ EWS | 80 | 80 | 80 | 90 |
| NC-OBC | 70 | 70 | 70 | 80 |
| SC | 55 | 55 | 55 | 60 |
| ST | 40 | 40 | 40 | 45 |
| PwD/Differently Abled | 40 | 40 | 40 | 45 |
How to Check IIM Indore PI Shortlist 2024 Status?
Candidates who meet the overall as well as sectional CAT 2023 qualifying cut off percentile mentioned above are shortlisted for PI rounds, while also keeping their academic records in consideration. If you applied for IIM Indore and have met the required cut off, you can check your PI shortlist status available at the institute website. Given below are the steps to check the status:
Go to the IIM Indore website (iimidr.ac.in)
Click on 'PGP PI shortlist' link
Enter CAT 2023 Registration ID
Enter your registered email ID or date of birth
Click on 'Get Status'
Stage 2: Shortlisting for Personal Interview (PI)
The candidates who clear phase one are called for PI rounds. Here the candidates are tested based on their performance in various other components. It is essential for all candidates to appear for the PI to be considered for final selection. No candidate will be directly promoted for the Personal Interview round.
Components and Their Weights
Components
Maximum Weights That Can Be Awarded
10th Standard/SSC Score
34 [Zcandidate-Zmin/Zmax-Zmin]
12th Standard/HSC Score
40 [Zcandidate-Zmin/Zmax-Zmin]
CAT Overall Score
20 [Candidate's CAT overall score/Highest CAT overall score]
Gender Diversity Factor

6 for female candidates
0 for other candidates

Composite Score
The sum of the above scores (out of 100)

*Z candidates, Z min, and Z max tend for 10th/ SSC score and 12th/ HSC score and are computed using a normalization process. These components are evaluated by normalizing the marks scored by the candidate.
Candidates who have been shortlisted for PI will be notified by email. Candidates who make the shortlist must appear in person for the PI round; the schedule will be provided to the chosen candidates. There will be PI rounds in the following cities:
Indore
Kolkata
Bangalore
Chennai
Delhi
Hyderabad
Mumbai
Stage 3: Final Selection
The institute generates different merit lists for different category students based on their overall performance. Based on these lists admissions will be done in the PGP program offered by IIM Indore. Candidates will be awarded marks for each component once their score is normalized and then the composite score will be calculated. The weights of the components are as follows:
| | | |
| --- | --- | --- |
| Components | Maximum Weights that can be Awarded (for PGP) | Maximum Weights that can be Awarded (for PGPHRM) |
| 10th Standard/SSC Score | 10 | 15 |
| 12th Standard/ HSC Score | 10 | 15 |
| CAT Score | 20 | 10 |
| PI Score | 40 | 50 |
| Composite Score | The sum of the above scores (out of 80) | The sum of the above scores (out of 90) |

Like all other IIMs, IIM Indore also follows the reservation norms set by the Government of India. Candidates who qualify for the third stage are also eligible for scholarships provided by the institute.
IIM Indore Selection Criteria 2024-26: Merit List
Once all the final selection rounds are over, IIM Indore will release the final merit list which will consist of all the names of shortlisted candidates. Candidates whose name is on the merit list will have to pay an acceptance fee in order to accept the offer.
IIM Indore Eligibility Criteria 2024
IIM Indore's eligibility requirements for PGP admission in 2024–25 have altered for applicants who graduated in 2019 or before as well as for those who graduated in 2020 or later. Check out the eligibility criteria for IIM Indore 2024 given below:
For applicants who graduated in the Academic Year (AY) 2019 or earlier: Must have earned a bachelor's degree with at least 50% overall or an equivalent grade point average (45% for candidates who fall under the SC, ST, or PWD categories).
For applicants who graduated in Academic Year (AY) 2020 or later: Bachelor's degree must have been earned with a "promotion/pass" rather than an "award of marks." Candidates holding "promotion/pass" certificates rather than "award of marks" certificates are eligible to apply since different universities across the nation (during academic years 2021 and 2023) may use different evaluation systems as a result of the COVID-19 epidemic.
Candidates who are final-year students with an "award of marks" are also eligible under this modification of eligibility requirements.
One of the most crucial requirements for admission to IIM Indore is that in addition to having a graduate degree from an accredited institution, a candidate must take the CAT 2023 exam and obtain the minimum required sectional and overall scores in order to be considered for admission.
The equivalent used to establish PGP entrance eligibility would be based on the equivalency confirmed by the institution/university where the bachelor's degree was earned if grades or CGPA were given instead of marks. The equivalence would be established by IIM Indore by dividing the obtained CGPA by the maximum possible CGPA and multiplying the result by 100 to confirm the admission eligibility of the candidate in the event that the institution/university does not have any scheme for converting the CGPA into equivalent marks.
Candidates who have completed the criteria for a degree and are awaiting results as well as those who are taking the final year bachelor's degree/equivalent qualification examination are also eligible to apply for IIM Indore Admission 2024. Such a candidate must present a certificate from the institution's principal, department head, registrar, or director attesting that they are in their final year of study, are awaiting final results, and have earned at least 50% of the available points (45% for candidates who fall under the SC, ST, or PWD categories).
IIM Indore Eligibility further explains that such a candidate, if chosen, will not be eligible for admission to IIM Indore unless he or she submits a certificate, issued at the latest by June 30, 2024, from the principal, head of the department, registrar, or director of the institution or university, stating that they have fulfilled all requirements (the outcome may, however, be awaited).
The mark sheet and degree certificate from the final year bachelor's degree exam held on or before June 30, 2024, must be submitted by a final-year student who is provisionally considered eligible by IIM Indore and awarded admission. The mark sheet and certificate must be submitted by December 31, 2024.
Why Choose IIM Indore?
The Indian Institutes of Management are already a reputed chain of highly coveted B-schools in India. IIM Indore is one of the oldest and most prestigious IIMs in India. It was ranked 8th according to NIRF 2023. Here are some important points that make IIM Indore a lucrative choice for management aspirants:
Triple Crown Accreditation: IIM Indore is the second IIM after IIM Calcutta to receive a Triple Crown accreditation, with three international accreditations. The Association to Advance Collegiate Schools of Business (AACSB), the EFMD Quality Improvement System (EQUIS), and the Association of MBAs, London (AMBA—a UK-based certification agency) have all awarded IIM Indore three prestigious international accreditations.
Top Ranked Amongst B-schools: IIM Indore is one of the best management schools in India. It is the 8th best management institute in the top 125 according to the Government of India's MHRD NIRF Ranking 2023. The top 100 management institutions in India, according to B-School Rankings 2023, include IIM Indore at number seven.
MBA Degrees Instead of Diplomas: The IIM Indore now has the legal right to grant MBA degrees. The AIU also acknowledges the MBA program at IIM Indore.
High Number of Student Intake: Each year, IIM Indore accepts more than 640 students into its various Management programs.
Decent Placements: IIM Indore consistently places 100% of its graduates in high-paying jobs. In Placements 2023, the maximum compensation was Rs. 49 LPA, while the average salary was Rs. 25.01 LPA.
Numerous Specializations: There are nine specialization options available at IIM Indore, including Economics, Finance & Accounting, Information Systems, Marketing, Organization Behavior & Human Resources, Operation Management & Quantitative Techniques, Strategy, Communications, and Humanities & Social Sciences.
Balanced Curriculum: Students at IIM Indore participate in a variety of extracurricular and co-curricular activities, such as Utsaha (Rural Marketing Fair) and IRIS (The Annual Management & Cultural Festival) 
International Exchange Programs: IIM Indore has exchange agreements with a number of famous foreign business schools. Many students enroll in these business schools and spend one semester there.
Himalaya Outbound Program: For PGP-II students, IIM Indore offers an outbound program to the Himalayas. While participants are sufficiently prepared for a career in business, encouraging them to participate in an outbound exercise and simulation held in serene settings at various altitudes in the Himalayas improves their capacity to motivate themselves to perform in an unfamiliar environment and work as a team.
Rural Immersion Programs: Rural Immersion programs are also a part of the curriculum at IIM Indore. The purpose of the rural immersion program is to provide learners with a better understanding of the social environment in which organizations operate. The course's design includes a chance to experience Madhya Pradesh's rural areas.
Industry Engagement and Experiential Learning: In the first year of the program, students go to a company once a week. They are needed to conduct research on numerous industries and influential figures within each. It also gives students a background against which to analyze the managerial contexts of various cases, broadening their exposure to companies. A significant number of domain concentrations are offered in the second year of the new curriculum, and they include both conventional courses taught by industry experts and workshop courses instructed by industry practitioners.
Unique Course Structure: In addition to the basic management credits, the PGP-II has a special matrix-based structure in which participants must complete 10% credits in "Industry Vertical Courses" and 10% credits in "Functional Area Courses."
Skill Enhancement: Workshop-based instruction is used to teach skill development courses in communication, leadership, spreadsheet modeling, entrepreneurial orientation, innovation and design thinking, and sustainability.
Highly Trained and Educated Faculty: There are more than 85 highly competent internal faculty members at IIM Indore, and they are supported by carefully chosen adjunct teachers who have extensive industry/domain expertise. The appointment of professors of practice, who enable industry experts with 15-20 years of experience to become a part of the IIM Indore full-time faculty, is an initiative to mix theory with practice. With case-writing assignments on SBI, Godrej, and BHEL and a new consulting practicum to be taught in the second-year PGP, these professors of practice are already making a difference.
Student-Oriented Teaching: IIM Indore provides management education with a participant-centered approach. 25 faculty members from IIM Indore have already been assigned to the Harvard Business School's Participant-Centered Learning Program.
Excellent Infrastructure: The Institute offers top-notch physical facilities for learning, living, and extracurricular activities.
Selection Criteria of Other IIMs
Students aiming to get admission into other IIMs apart from IIM Indore can have a look at their selection criteria provided in the table below:

Candidates must check out the articles mentioned below to learn more about CAT and IIM selections!

Related Articles:
Those who have any doubts regarding the IIM Indore selection criteria 2024 may ask questions on the Collegedekho QnA zone.