There are a lot of good colleges apart from the Indian Institutes of Management (IIM) that accept candidates with less than 90 percentile in CAT. Once the CAT result is out, you can start listing down colleges where you could apply for 2021 MBA admissions. Basis your CAT score, you should immediately start filling application forms of multiple MBA colleges in India. To help you avoid all the confusion surrounding filling CAT application forms, you can also fill the Common Application Form (CAF) to apply to MBA colleges in India of your choice with a single entry! CAF will help you save time and money!
Candidates who have appeared for CAT 2021 must also go through the detailed analysis of CAT 2021 and check out the CAT 2021 Percentile Predictor to evaluate your expected score. In order to find out the best colleges for you, it is also important to have knowledge of the CAT 2021 cutoff. Our CAT College Predictor will also help you find out the best colleges for your requirements.
Shortlist the colleges that can offer you excellent academic experience and help you develop skills that are valued in the business world. Here's the list of the best business schools apart from the IIMs that accept candidates with a CAT percentile below 90.
Colleges Accepting Less Than 90 Percentile in CAT 2021
Listed below are the colleges that require less than 90 percentile in CAT 2021.
Name of the College
CAT 2021 Percentile
Other Exams Accepted
Selection Procedure
Registration Process Ends
International Management Institute, New Delhi
90
GMAT (minimum 650)

Essay Writing
Extempore speaking
Psychometric Test
Personal Interview

December 13, 2021
Institute of Management Technology, Ghaziabad
90
GMAT, MAT and XAT

Critical Thinking
Group Exercise
Personal Interview

November 25, 2021

Birla Institute of Management Technology, Noida
85
XAT

Write Up
Personal Interview

December 02, 2021
T. A. Pai Management Institute, Manipal
85
XAT, GMAT and MAT

Group Discussion
Written Ability Test
Personal Interview

December 11, 2021

K J Somaiya Institute of Management Studies & Research, Mumbai
85
MAH-CET, CMAT, XAT and GMAT

Group Discussion
Personal Interview

January 31, 2022
Balaji Institute of Modern Management, Pune
80
XAT, MAT, CMAT and MAH-CET

Group Discussion
Personal Interview

February 18, 2022
Loyola Institute of Business Administration, Chennai
80
XAT

Group Discussion
Personal Interview

February 20, 2022
Institute for Financial Management and Research, Chennai
80
XAT, CMAT, GMAT and GRE

Written Ability Test
Personal Interview

Round 1: February 28, 2022

Round 2: March 28, 2022

NIRMA University, Ahmedabad
80
GMAT (only for foreign nationals, NRIs)
December, 2021
80
XAT, GMAT

Written Ability Test (WAT)
Personal Interview (PI)

January 2022
75
XAT, GMAT

Group Discussion (GD)
Extempore Speaking
Essay Writing
Personal Interview (PI)

December 7, 2021
Note: The cutoffs mentioned above are based on the information available over the internet and change depending on various factors.
Make sure that you register for the colleges that you are eligible for and read the eligibility criteria thoroughly before applying. There are other good institutes as well that offer various PGDM and MBA programmes to candidates who have a CAT percentile below 90.
Also Read:Steps to Follow for Admission to Top MBA Colleges
How to Choose MBA Colleges that Accept CAT Percentile Below 90
There are many factors that you may consider while selecting an MBA college that accepts CAT Percentile Below 90. Some of the important factors are listed below.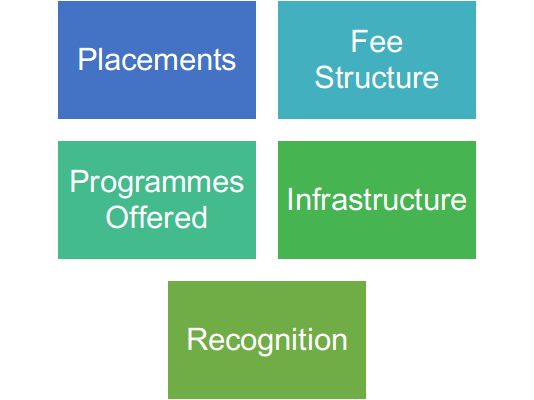 Placements: You should choose an MBA college that has a good placement record. You can also check the tie-ups of the college with industries.
Fee Structure: Fee Structure is one of the most important factors while selecting an MBA college. You should select the college that falls inside your budget. 
Programs Offered: It is better to check the program offered by the college before moving to the admission process. You should check if the college offers your desired course.
Infrastructure: You may check the facilities offered by the college before finalising it. A good college would have at least 4-5 labs where you can practise your learning.
Recognition: It is essential that the PGDM or MBA course offered by the college is recognised or approved by any government organisation. You can check the official website of the college to know further details about approvals and recognitions.
Admission Process of Colleges That Accept CAT Percentile Below 90
MBA colleges adopt an almost common process of admission with slight differences. The steps for admission in MBA colleges that accept CAT percentile below 90 can be found below.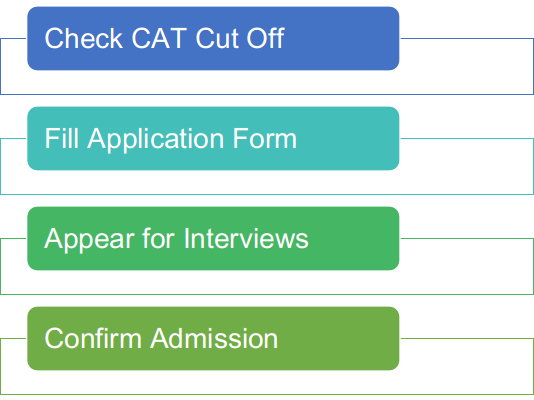 Step 1: Once the CAT 2021 results are announced, check the CAT 2021 cutoff for your desired college. The cutoff must match your score in the exam.
Step 2: Fill the application form for your desired college and submit your CAT scores. A separate form must be filled for every college.
Step 3: If shortlisted, you will be called for the interview process of the college. Every college has a separate interview process, which may include WAT/ GD and PI.
Step 4: Colleges create the final merit list of candidates based on their overall performance. Candidates who are included in the merit list must pay the fee and confirm admission.
Also Read: Top 20 MBA Colleges in South India 2021: Courses, Fees and Entrance Exam
Private MBA Colleges For Direct Admission 
You can also check some MBA colleges provided below if you have scored below 90 percentile in CAT.
| | |
| --- | --- |
| College | Course Fee |
| | INR 1,20,000 |
| SUN International Institute for Tourism & Management, Vishakhapatnam | INR 3,10,000 |
| | INR 1,64,000 |
| | INR 4,00,000 |
| | INR 5,96,000 |
| | INR 6,16,000 |
| | INR 5,00,000 |
| | INR 2,40,000 |
Now that you know the colleges that accept CAT scores below 90, you must also prepare for the subsequent stages of admission i.e. the Written Ability Test, Group Discussion and Personal Interview. Although most of the colleges have their own selection procedure, a personal assessment is often given a lot of importance.
Also Read:Check out the Trending GD Topics & Boost Your Preparation for Admission to Top B-Schools in India
Each stage of personal assessment has its own weightage that is considered while evaluating the final composite score. The final selection and merit list of shortlisted candidates are prepared on the basis of composite scores.
If you want to know details about the admission process of these colleges, you may ask questions at QnA zone or call on our toll-free number 1800-572-9877.