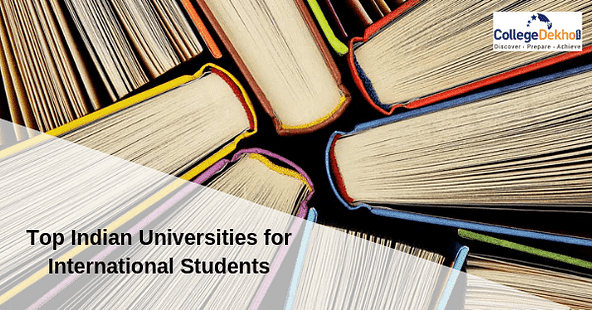 With the establishment of various National-level Universities such as the Indian Institutes of Technology, and different Private as well as State-Level Universities, many international students are choosing India to pursue their higher education programmes. Various educational institutes throughout India along with the help of the government, have been signing various partnerships with different countries and international Universities and Educational Institutions to provide the students with the opportunity to use academic facilities to boost their knowledge in a particular field. Top Institutes and Universities from abroad now work with different Indian Universities to provide doctoral programmes along with various student exchange programmes.
Some of the top Indian Universities not only provide academic opportunities to students, but also provide a platform for various professors and experts in different fields from different countries to talk, learn and teach the students details of the industry or the fieldwork that the students will experience in different parts of the world, once they complete their higher education studies.
Among the programmes that the International students will be able to follow in some of the top Indian Universities are Engineering, Management, Information Technology, Law, Arts, Commerce and Science. With nearly 900 different Universities to choose from in India, the students will be able to find a course or programme as per their requirements.
Also Read:Here Is the List of Central Universities and Colleges in India
Top Colleges and Universities as per QS India University Ranking 2019
This year, many Indian Universities have got top ranks as per the QS World University Ranking 2019. Check out the list of some of the top colleges best suited for International Students. The universities have been ranked as per the rank they have received in the QS India University Ranking 2019.
| | | | | |
| --- | --- | --- | --- | --- |
| S. No. | Rank Obtained | Name of College | Status - Private/Government | Place |
| 1 | 1 | | Government - Self Financed | Bombay |
| 2 | 2 | | Government -Self Financed | Bangalore |
| 3 | 7 | | Central Government | Hyderabad - Telangana |
| 4 | 8 | | Central Government | Delhi |
| 5 | 11 | | State Government | Kolkata - West Bengal |
| 6 | 12 | Jadavpur University | State Government | Kolkata - West Bengal |
| 7 | 13 | | State Government | Chennai - Tamil Nadu |
| 8 | 14 | | State Government | Mumbai - Maharashtra |
| 9 | 15 | | Central Government | Varanasi - Uttar Pradesh |
| 10 | 17 | | Private | Pilani - Rajasthan |
| 11 | 19 | | State Government | Pune - Maharashtra |
| 12 | 20 | Alagappa University | Government | Karaikudi - Tamil Nadu |
| 13 | 23 | Symbiosis International (Deemed University) | Private | Pune - Maharashtra |
| 14 | 26 | Manipal Academy of Higher Education | Private | Manipal - Karnataka |
| 15 | 28 | | Central University | Delhi |
Among the top Universities in India, you will be able to find some of the top technical educational institutions which have not been mentioned in the list. Among those institutions, several Indian Institutions of Technology, National Institutes of Technology, Indian Institutes of Information Technology are also included. The rest of the Universities that have been mentioned in the list are the list of state and central governments that have been mentioned along with few Private Universities.
Admission Process for International Students in Indian Universities
It is also important that international students who wish to study at Indian Universities have an idea regarding the admission process so that it gets easier for them to consider applying in Indian Universities.
Foreign students need to have completed 12 years of schooling and the foreign students studying in Indian schools have to submit their 10+2 mark sheets within 10 days from the result declaration to the Students Cell, Room No. 1009, Ministry of External Affairs, Akbar Bhavan, New Delhi.
There is no provision for direct admission of international students in engineering, medical and dental courses at public institutes. For the students from nations such as Africa, Latin America and Asia, few seats are reserved in the BDS/MBBS courses. Students who are looking forward to admissions against the reserved seats have to submit their applications via the Indian missions abroad or through the diplomatic missions of the respective countries in India.
Foreign students can get admission in UG courses in dentistry, medicine and engineering in private colleges but the NRI/PIO quota is limited.
International students who want to apply via NRI quota still qualify through NEET and seats are allocated on the merit basis in that quota from all the NRI students who are eligible.
International students can apply under the Foreign/NRI category. These candidates are not required to appear for the entrance exams conducted for Indian students.
UG admissions are merit-based depending upon the grades one has in the qualifying exam (equivalent to 10+2 exams in India). Foreign exam equivalent to 10+2 is recognised by the Indian Association of Indian Universities. International students who wish to pursue PG admissions should have a UG degree equivalent to Indian graduate degree.
Visa Requirements for International Students
International students who are studying in India at recognised Universities get a multiple-entry visa for a period of study. Students who have to study in an Indian institute need a letter from their host institute in order to get a student visa, which is valid for the duration of study approved by the institute where the student has been given admission. These students can also get a provisional visa for three months if the admission is pending, and if the student is unable to get admission during those three months, the student will be required to leave the country. International students' should have a valid passport for at least 6 months with at least two blank pages, including one visa page. Along with visa, students have to submit two passport size photos, proof of financial support for covering the tuition fee, other expenses and stay in India.
Also Read:Check Out The List of State Universities Available in India
If you are looking for some of the courses to pursue from these Universities, you can check out the list of courses that are offered by them and connect with Collegedekho counsellors who can guide you and help you in shortlisting the universities in terms of your preference as well as your choices.