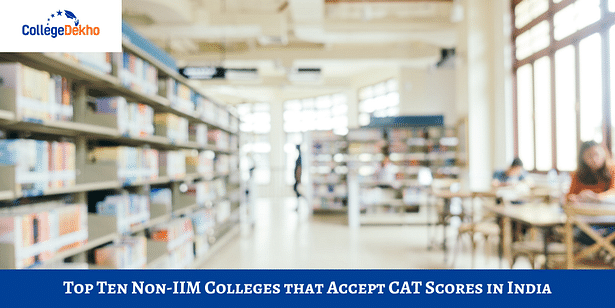 The top 10 non-IIM colleges that accept CAT scores in India include IIT Delhi, XLRI Jamshedpur, FMS Delhi, IIT Bombay, MDI Gurgaon, JBIMS, SPJIMR, IMT Ghaziabad, IIT Kharagpur, and MICA Ahmedabad. While the IIMs are considered the crème de la crème of management institutes, these colleges are also known for their exceptional teaching staff, infrastructure, practical and industrial training, placement opportunities, and more.
So, even if you can't get into IIMs with your CAT scores, you still have the chance to get admission into many other prestigious B-Schools in India. The CAT 2023 exam has been conducted by IIM Lucknow on November 26, 2023, in three slots in 155 test cities across India. Check out the list of the top 10 non-IIM colleges that accept CAT scores in India.
Also Read: Top 10 Non-IIM MBA Colleges to Apply to Before and After CAT 2023 Exam
Top 10 Non-IIM Colleges Accepting CAT Scores 2023
Here is the list of the top 10 non-IIM colleges you can apply to using your CAT results 2023. The list has been curated keeping in mind the quality of education, teaching staff, infrastructure, placements, rankings, and more factors.
Name of the Non-IIM College

NIRF Rankings 2023

Courses Offered
Course Fees

5

INR 11.20 Lakh
INR 12.6 Lakh

10

13

Post Graduate Programme in Management (PGPM)
Post Graduate Programme in Human Resources (PGP-HR)
Post Graduate Programme in International Business (PGP-IB)
PGDM (Executive Management Program)

INR 24.16 Lakh
INR 24.16 Lakh
INR 28.16 Lakh
INR 10.70 Lakh

15

20

Post Graduate Diploma in Management (PGDM)
Post Graduate Programme in Management (PGPM)
Post Graduate Management Program for Women
Post Graduate Executive Management Programme (PGEMP)

INR 16 Lakh
INR 17 Lakh
INR 9.7 Lakh
INR 8 Lakh

27

MBA – International Business
INR 21.77 Lakh

34

Post Graduate Diploma in Management (PGDM)
Post Graduate Diploma in Human Resources Management PGDM(HRM)
Post Graduate Diploma in Management (Banking & Financial Services)
Executive PGDM

INR 8.57 Lakh
INR 8.57 Lakh
INR 8.57 Lakh
INR 6 Lakh

38

Post Graduate Diploma in Management (PGDM)
PGDM Dual Country Programme
Executive PGDM

INR 8.8 Lakh
INR 8.8 Lakh
INR 9.8 Lakh

59

NA

Master of Business Administration (MBA)
Executive MBA

INR 48,000 (Per Semester)
INR 50,000 (Per Semester)
Also Read: CAT 2023: Check Seat Reservation Policy at IIMs
Other Non-IIM Colleges Accepting CAT Scores
Apart from the institutes mentioned, several non-IIM MBA colleges accept CAT scores for admission. Aspirants must be aware of all these colleges to make an informed choice when selecting an MBA college for admission. We have mentioned some of the most popular Non-IIM colleges in India that accept CAT scores in the table below:
Name of the Institute

Course Offered

Total Course Fee

Average Placement CTC

Post Graduate Programme in Management (PGP)

INR 34.13 lakhs

INR 34.20 LPA

DoMS, IIT Madras

MBA

INR 8 lakhs

INR 12.44 LPA

INR 21.77 lakhs

INR 29.1 LPA

INR 3.27 lakh to INR 37 lakh

INR 26.63 LPA

MBA

INR 15.9 lakh - INR 22.2 lakh

INR 23.06 LPA

MBA in Business Management

INR 21.30 lakhs

INR 20.03 LPA

Post-Graduate Program in Management (PGPM)

PGDM

INR 17.15 lakhs

INR 14.50 LPA

PGDM

INR 14.6 Lakhs

INR 11.4 LPA

Postgraduate Diploma in Rural Management, Rural Management Fellow Programme, Executive PGDRM

INR 5.54 Lakhs

INR 12.84 LPA
Why Choose MBA from a Non-IIM?
A Master of Business Administration course is one of the most demanded qualifications for students who wish to pursue higher education for a multitude of reasons. Since an MBA degree opens so many doors and opportunities for individuals to explore right after graduation, it has become a highly sought-after course not only for students who have a background in Business and Commerce but also for individuals who are from different backgrounds and fields of study. With the rising demand for MBA courses, the types of MBA courses offered by B-schools and management institutes have also evolved. Today, an aspirant can choose any specialization they wish to pursue during their MBA course depending on their own interests and strengths.
Thus, there is no doubt about the fact that choosing an MBA course for higher education is a lucrative investment, especially if the candidate is passionate about the field of management and also has a certain set of skills and qualities that will make them successful managers. That being said, aspirants must always weigh their options and make the right decision when it comes to pursuing an MBA course since several aspects need to be considered.
MBA Admission Process for Non-IIMs
One of the important criteria that applicants must meet to be considered for MBA admissions is the MBA eligibility requirements. Regardless of how strong their academic background or management knowledge is, candidates who do not meet the prerequisites for an MBA degree are not qualified to pursue further management education. A student who satisfies the eligibility requirements for an MBA would be able to comprehend and utilize the concepts and knowledge taught during an MBA course to manage a business successfully, which is one of the main reasons for meeting the requirements. 
While the core standards for MBA eligibility are consistent across management institutes and business schools, there are several exceptions and additional requirements that applicants may need to meet when applying to a particular MBA program. Therefore, before applying for admission, candidates must ensure that they have reviewed the exact eligibility requirements for an MBA course at their desired MBA college. Some of the basic MBA eligibility criteria have been mentioned below:
Academic Qualification: Candidates must meet certain academic requirements to be considered for MBA courses, including obtaining a Bachelor's degree in any stream from an institution recognized by the UGC or receiving equivalent accreditation from the MHRD. For students in the General Category, a minimum cumulative grade point average of 50% is required (it is 60% in some elite B-schools, such as the IIMs). For any MBA entrance exam, students from the Reserved (SC/ST/PwD) category must receive at least 45% aggregate marks.

Final-Year Applicants: Candidates who are in their final year of undergraduate study may also apply for MBA admission or the MBA entrance tests. The results of the bachelor's degree final exam, however, must meet the eligibility requirements to be admitted to the MBA program. The candidate's admission will be cancelled if they do not receive the required aggregate score.

Entrance Exam Scores: Candidates must have valid scores on MBA entrance tests like the CAT, MAT, XAT, SNAP, NMAT, CMAT, etc. (whichever is relevant) to be selected for MBA course admissions at management colleges and B-schools that recognize entrance exam scores for MBA admission.

Work Experience: The majority of MBA colleges do not demand work experience as an additional prerequisite. It is not necessary to have job experience to enrol in a general MBA course. Before applying for admission, applicants must, however, review the college's selection requirements. Work experience spanning three to ten years in a related field is required for Executive MBA courses. Depending on the college, different amounts of job experience are required.
These were some of the top non-IIM colleges that accept CAT scores. If you are unable to satisfy the IIM 2024 Cutoff, you still have a lot of options to go for. You can access our CAT 2023 College Predictor to choose some colleges that meet your CAT percentile!
Also Read:

If you are seeking admission to MBA colleges, you can apply through the Common Application Form (CAF). For any queries, call our helpline number 18005729877.