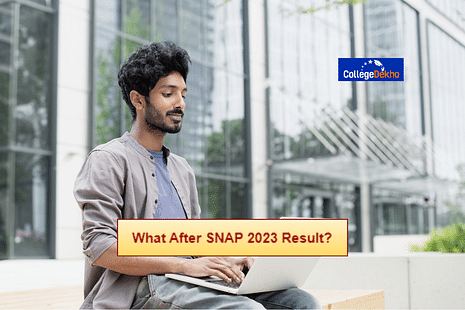 What After SNAP Result 2023: The SNAP 2023 is the national-level entrance exam conducted for admission in over 16 MBA colleges affiliated with the Symbiosis International Deemed University, Pune. Every year, around 50,000 aspirants sit for SNAP and the exam is conducted in online mode. From 2020 onwards, SNAP is conducted in three slots on different dates. The SNAP 2023 Results will be announced most likely on January 10, 2024. This article covers information about all the different rounds conducted after the SNAP 2023 Results. Candidates can find in-depth information about all the selection rounds of Symbiosis.
What After SNAP 2023 Results?
Once the SNAP results 2023 are announced, candidates have to be ready for the selection process of the colleges. The SNAP 2023 Selection Process is conducted by SIU Pune after the announcement of SNAP 2023 Results for admission in its various affiliated colleges. The MBA Admissions Process through SNAP will be followed by all the SNAP participating colleges. The Symbiosis admission process is called GE-PIWAT as the selection rounds of SNAP 2023 will include three stages:
Group Exercise (GE)
Personal Interaction (PI)
Writing Ability Test (WAT)
Many business schools, such as Symbiosis Institute of Business Management (SIBM) and other Symbiosis International (Deemed University) institutes, use SNAP scores as a criterion to shortlist candidates for the  above-mentioned rounds.
Also Read: 
SNAP 2023 GE-PI-WAT Dates
The important dates relating to the shortlisting and selection process for SNAP 2023 have been provided below.
| SNAP Admission Events | Dates |
| --- | --- |
| Shortlist for Group Exercise and Personal Interaction Announcement Date | First week of February 2024 |
| Group Exercise, Personal Interaction & WAT | Third week of February to Last week of February 2024 |
| First Merit list Announcement Date | Second week of March 2024 |
| Last date for fee payment for candidates in the First Merit List | Last week of March 2024 |
| Commencement of classes | First week of July 2024 |
Shortlisting of Candidates After SNAP 2023 Result
Every candidate who has appeared for SNAP 2023 is eligible to take part in the GE-PIWAT round of the Symbiosis admission process. However, candidates can only appear for the selection rounds of their chosen colleges in the SNAP registration 2023. The shortlisting of candidates is based on their SNAP 2023 Percentile. Every individual college releases its SNAP cutoff 2023 as the benchmark for shortlisted candidates for GE-PIWAT.
The admission process after SNAP is conducted individually by each college separately for each of its programmes. A candidate has to apply for each course separately in the SNAP application form. Information regarding GE-PIWAT dates and cutoff of each college is released on their respective websites. The cutoff is calculated separately for each category and program offered by the college. If a candidate is shortlisted for more than one program, they will be required to attend the GE-PIWAT for each program separately.
Also Read:Emerging MBA Specialisations in India
What After SNAP Results 2023: Start Applying to Preferred Institutes
After receiving your SNAP scores, you may begin submitting applications to the Symbiosis group's preferred business schools as well as any other colleges or universities that accept SNAP scores. Each institute may have its own deadlines, eligibility requirements, and application procedures. Visit their websites, fill out the application forms, submit the required documentation, and follow their directions for paying the application fees.
What After SNAP Results 2023: Research Alternative MBA Programmes
If you are highly interested in obtaining an MBA but haven't made up your mind about which institution to enroll in, take advantage of this opportunity to look into and explore alternative MBA programmes that are offered by various universities or institutes. Analyze their admission requirements, course offerings, faculty members, infrastructure, connections to industry, and placements. To make a well-informed decision, compare these components to your professional objectives and aspirations.
Expected Cutoffs After SNAP 2023 Result
Candidates can check the expected cutoff of various SNAP 2023 Participating Colleges in the table below. 
Also Read:Direct MBA Admission Without Entrance Exam
Appearing for GE-PIWAT after SNAP 2023 Result
Shortlisted candidates are invited for the GE-PIWAT round of the SNAP admission process. The GE-PIWAT is conducted separately for each course for which a candidate is shortlisted. Shortlisted candidates must appear for all tests of GE-PIWAT to be considered for admission to the various MBA specializations offered by the MBA colleges accepting SNAP scores. All of the three tests in GR-PIWAT have been discussed in detail below.
Group Exercise (GE)
GE is the group discussion round of SNAP MBA admissions.
Groups of candidates are formed and each group is given a case study to discuss.
The group has to discuss the topic and come up with a solution.
Finally, the solution has to be presented to the invigilators.
Also Read
Written Ability Test (WAT)
In this Written Ability Test (WAT), candidates are given a topic on which they have to write a short essay.
This is a very short test of a candidate's writing skills lasting about 5 to 10 minutes.
The essay written by the candidate can be limited to 150 to 200 words.
It must explain the topic concisely but analytically.
Also Read:
Personal Interaction (PI)
This is the interview round of SNAP MBA admissions.
Candidates have to appear for the interview with a panel.
The interview questions depend on what answer a candidate gives.
Usually, questions related to families, hobbies, academics, choice of subject, etc. are asked so it is better to prepare some points on common topics.
Also Read:
How to Prepare for WAT/GD/PI After SNAP 2023 Result?
A combination of knowledge, skills, and practice are necessary for WAT (Written Ability Test), GD (Group Discussion), and PI (Personal Interview) preparation. The following tips will assist you in getting prepared for these selection parameters:
Enhance Your General Knowledge: Stay updated with current events, nationally as well as internationally. Regularly read magazines, newspapers, and online news. Gain knowledge in a variety of subjects, including politics, economics, social issues, technology, and sports.
Develop Critical Thinking: By examining various perspectives on numerous issues, you may improve your capacity for critical thinking. Develop the ability to establish your own opinions and support them with logical justifications and facts.
Practise Writing: Write about a broad range of topics to prepare for the WAT. Improve your sentence structure, grammar, and vocabulary. Concentrate on using the allotted number of words to clearly and simply convey your ideas.
Improve Communication: Establish effective verbal and nonverbal communication techniques. Develop your speech and thought-articulation skills as well as your body language. Join debate groups or participate in group debates with friends to improve your communication skills.
Develop Leadership and Teamwork Skills: Participate in group activities, team projects, or volunteer work to develop your leadership and teamwork skills. Selectors may be impressed if you demonstrate these abilities in GDs and PIs.
Prior to GDs and PIs, conduct research about the company, business, or industry you are applying to. Learn about their mission, basic values, most recent accomplishments, and any industry trends that may be of interest.
Declaration of Merit List after SNAP 2023 Result
After GE-PIWAT has been conducted, SIU considers the overall performance of all of the candidates and creates a merit list for admission. A candidate's SNAP 2023 scores and GE-PIWAT scores will be considered in the creation of the SNAP merit list. Some candidates are also placed on the Wait List of SIU MBA Admissions. The cutoff score for both, the Merit List and the Wait List, is released by individual colleges on the official website of the college.
Weightage of Different Parameters in SNAP Selection Process
Given below is the weightage of various parameters considered when creating the Merit List for MBA admission based on SNAP 2023.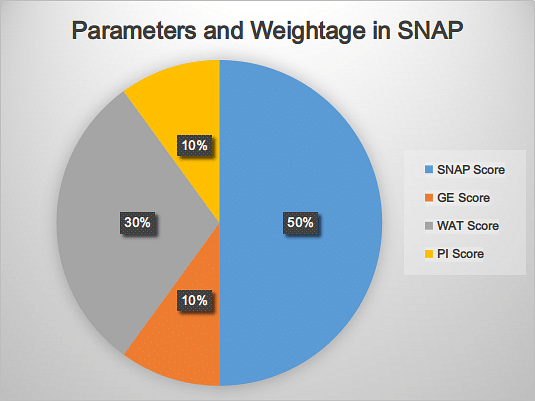 Parameter

Weightage / Score

SNAP 2023 Score
(out of 60, scaled to 50 marks)

50

GE Score

10

PI Score

30

WAT Score

10

TOTAL

100
Final Admission after SNAP 2023 Results
The candidates who are on the Merit List are granted provisional admission to their respective courses until they finalize admission to a course. The final admission is only confirmed after a candidate has paid the required admission fee. Fee payment must be completed before the deadline specified by the college. In case a candidate withdraws from the admission process or fails to complete the fee payment before the deadline, their seat will be transferred to a Wait Listed candidate, who will then be asked to confirm admission.
What After SNAP Results 2023: Preparing and Appearing for Other MBA Entrance Exams
Prepare for other MBA entrance exams, such as the CAT (Common Admission Test), XAT (Xavier Aptitude Test), NMAT (NMIMS Management Aptitude Test), MAT (Management Aptitude Test), or CMAT (Common Management Admission Test) if you were unable to obtain the SNAP score you intended or if you're thinking about applying to other MBA programmes. These exams are administered by various institutions and could be recognised by a variety of MBA programmes.
What After SNAP Results 2023: Take Work Experience Into Account
Some MBA programmes favour applicants with professional experience. If you are interested in these programmes but lack relevant work experience, you should think about getting some pertinent work experience first before applying. This can be accomplished by participating in internship programmes, working part-time, or spending a few years in the industry before reapplying for MBA admissions.
What After SNAP Results 2023: Take SNAP Exam the Following Year
Drop a year and start the SNAP preparation process over again if you intend to pursue MBA at SIU only. Rectify whatever mistakes you made during the SNAP preparation previously. During the one-year interval, you can pursue employment and gather relevant work experience, which will give you an advantage in the final selection. Not to forget, having job experience is viewed as an added advantage in MBA programmes.
Candidates who wish to know about the MBA admission process in detail can check the link available below.
In case of any queries, please feel free to post on the CollegeDekho QnA Zone. For any help regarding admissions, fill out the Common Application Form (CAF) or call our helpline number 18005729877.