Every year, roughly more than 1.5 lakh students apply for CAT but only 2-3% aspirants are able to score between 99 to 100 percentile marks. The difficulty level of the CAT exam is higher as compared to other management entrance exams such as SNAP, IIFT, CMAT and MAT. The exam was conducted in two shifts until 2019 but due to the modification in the exam pattern, CAT 2020 was conducted in three shifts. Result of CAT 2020 was declared on January 02, 2020. The final result was prepared after considering the number of candidates appeared for the exam and difficulty level of all the three slots of the exam. Candidates who have scored more than 90 percentile marks have higher chances of getting a call from the top IIMs. However, those who have scored low in CAT need not fret since there are many other good B-Schools that have a low CAT cutoff. This article will provide a complete solution for the candidates with low scores in CAT.
Is it Possible to Get Admission in IIMs with Low Score in CAT?
Yes, you can apply for admission in new IIMs such as IIM Sirmaur, IIM Bodhgaya, IIM Amritsar, IIM Nagpur and IIM Shillong. The cutoff of these IIMs range between 85 to 95. The cutoff of all the IIMs depends on many factors such as the number of candidates who have appeared for CAT, past year cutoff of CAT, number of seats available at the IIM and difficulty level of the exam. You can check the article provided below to know the cutoff of all the IIMs.
Is it a Better Option to Choose Newer IIMs for MBA Admission?
Choosing new IIMs for admission in MBA is not a bad option. Although they are new, they have a good reputation. MBA degree completed from any IIMs whether it is new or old is highly valuable in the job market. IIMs graduates are hired by some of the top recruiters of India.  However, you are advised to check the campus, infrastructure and rankings of the respective IIMs before selecting one. You can also get in touch with the old students and the teachers of these IIMs to know more about the college. You can also check the official website of these IIMs to know their detailed selection criteria. The table provided below will help you know the selection process of newer IIMs.
List of MBA Colleges for Low CAT Percentile
Apart from IIMs, you can also look for admission in some other B-Schools in India. Some of the well-know B-Schools in India that accept low scores in CAT are provided in the table below
| | |
| --- | --- |
| College | Expected CAT Cutoff |
| | 90 |
| | 85 |
| | 80 |
| | 75 |
| | 82 |
| | 80 |
| | 75 |
| | 75 |
| | 80 |
| | 81 |
| | 79 |
| | 83 |
| | 78 |
 Note: Candidates can use the CAT College Predictor 2020 of Collegdekho to find the colleges satisfying the marks secured by them.  
Admission in Top Private MBA Colleges with Low Score in CAT 
There are many other alternate options for applying for MBA admissions in the top MBA colleges in India. You can check the points provided below to know some alternate options to get admission to the top private MBA colleges with low scores in CAT.
OR
OR
OR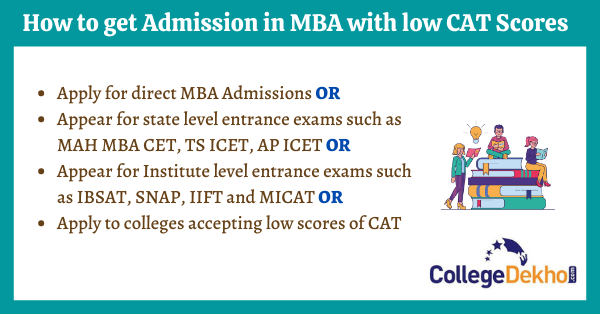 What if I do not Score Well in MBA State level Entrance Exams?
Do not worry, if you do not score well in MBA state level entrance exams. You can appear for the entrance exams conducted at the institute level.  You can also seek admission in any college through management quota. You can check the official website of the college to know more what options are available to get admission in the college.
Can I get admission in any of the top 50 MBA colleges in India with low scores in CAT?
Yes, you can get admission in any of the top 50 MBA colleges in India with low scores in CAT. You can download the college brochure to check what other entrance exams are accepted by the college. After that, you can apply for admission to the college on the basis of those entrance exams. You can ask the selection procedure by any of the top B-Schools in India at Collegedekho QnA zone. 
Is there any benefit of having good academic scores despite scoring low percentile in CAT?
Yes, there are many colleges that give more weightage to a candidate's academic performance in comparison to the CAT scores. IIM Indore and IIM Amritsar also give more weightage to the candidates' academic scores. Some of the colleges also offer MBA scholarships on the basis of your academic performance. 
CAT Counselling and Admission Related Articles 
Provided below are some CAT related articles. 
If you need any admission related assistance, you can fill our Common Application Form.